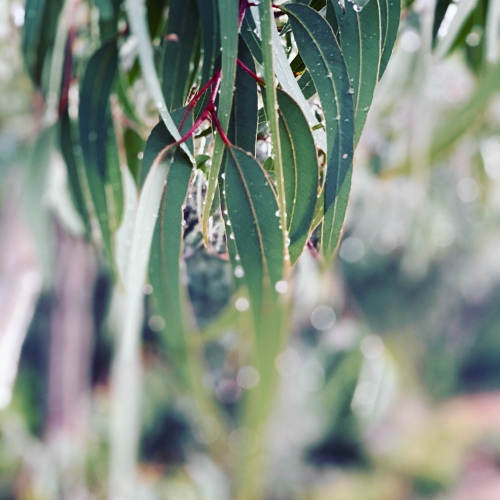 When the sun comes out, drops of rain hanging off the eucalyptus leaves sparkle like diamonds. I look out my window and feel the forest around me twinkling and smiling.

It's winter Down Under and the dry earth of Perth, Western Australia is being pelted with seemingly unending amounts of water. The days are cold and wet. Our climate can be harsh, and these winter rains are much-needed.
AND YET…
Every time there is a storm, I feel a sense of deep unease and rising panic. I have to work hard at reminding myself it's just a storm, and everything is actually ok. I am safe.
It hasn't always been like this – I used to LOVE storms. Summer storms would sometimes see Greg and I racing outside, prancing about in the rain!
But ten years ago, around this time of year, Greg was diagnosed with Stage IV cancer, turning our lives upside down. 
It was the middle of winter, the weather was wet and wild, and the roof sprung a leak – directly onto the television and all Greg's electronic gear. Weak and ill and stuck in a wheelchair, Greg was unable to do anything about it. And all I could do was place buckets and towels everywhere, while we waited till it was safe for someone to come fix the roof. 
Greg was strong, resourceful and courageous. If you had to be stuck in extreme weather conditions with someone, he'd be your guy.  
But we were both in the early, tender stages of dealing with what was to become a four-year journey of chemotherapy and uncertainty. The pounding rain, leaking roof and Greg's helplessness just amplified all my fears and mirrored my tears.
It's been ten years since that day, and six years since he died. I've come a long way since then. And even though the pain of his loss has never left me, I have found my way back to my strong centre …
…until it rains.
And then for a few moments, I'm right back in 2010: the house is leaking, my Gregory is dying, and cold fear is clutching my heart.
Then I pull myself back into the present. It takes discipline. An act of will. A gentle inner voice that spells out the facts and pushes away the fear.

The roof is intact. I've survived it all. I'm safe.

And it's just beautiful rain … soon to be diamonds on my leaf-tips.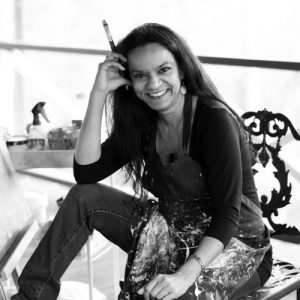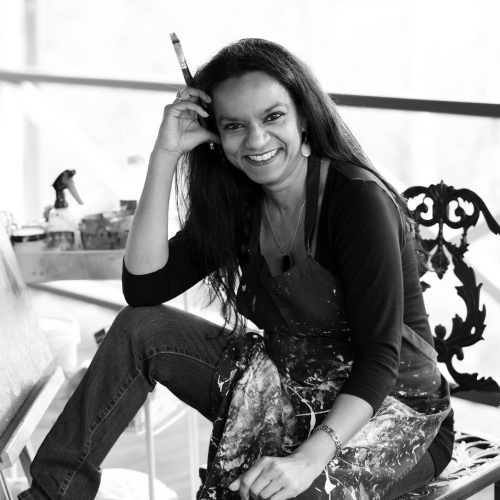 Hi, I'm Malini, artist, writer and teacher,
and I thank you for reading my story!
I'd love to meet you in my home studio
in Perth, Western Australia,
where we will make art together
amongst eucalyptus trees and bird-song!
More on my art classes here. 
 www.maliniparker.com
UPCOMING EVENTS FOR YOU in the STUDIO …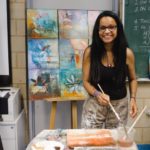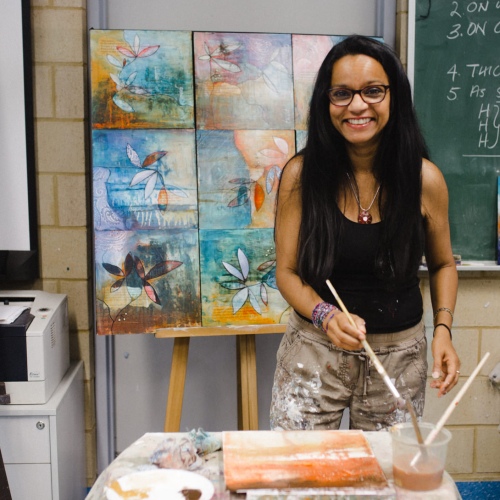 PAINTING FOR BEGINNERS – the ONE DAY intensive
PAINTING FOR BEGINNERS is back in Spring! This is the workshop for you if you want to learn a whole bunch of things about creating art quickly and easily with texture and colour, in my seven-step process. If you're curious about this workshop, see if you'd like to join 1500 other beginners who have taken this class by clicking here.
Sun Sept 20: SOLD OUT – waiting list only
Sat Oct 24: BOOK HERE
Sun Nov 15: BOOK HERE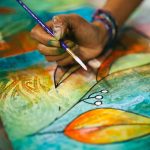 FINDING YOUR WAY HOME – a Two Day Art Workshop

This workshop was designed to help us return to our strong centres. To see the gifts of our lives, using art, reflection, yoga (and chocolate) no matter what the turmoil is around us (or within us).
Imagine making a unique tapestry of NINE paintings and finding yourself replenished by your creativity and by the tranquillity of the forest outside my studio in the tranquil Perth hills.
Any level is welcome, especially beginners and dabblers, you have a special place in my heart, as you have SO much ahead to discover. 
Curious? Read more, watch a short video, read student's feedback and FAQs, and if it calls to your heart, book online HERE.
DATES: 
Sept 12-13: SOLD OUT – waiting list only
Oct 17-18: (BOOK HERE)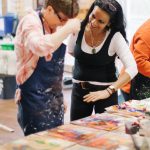 CREATIVE MENTORING for individuals – a NEW OFFERING!
I'm excited that I can now offer private creative coaching and mentoring in my studio! If you've been yearning for personalised, intimate guidance in your creative practice over a period of months, I'm ready to help. How does it work? We set up your goals and vision, we make a plan and move together to take you forward.
I have just one spot left for this personalised programme, so if you're interested to know more, email me for details: info@maliniparker.com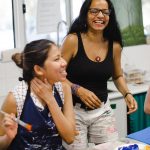 IMAGINE – THE ART WORKSHOP

Once a year, I teach the new IMAGINE art workshop. This one day class for you if you'd to learn all about what I call 'creative imagineering' – intentionally using your creative practice to expand your dreams. 
Einstein said, "Imagination is everything. It is the preview of life's coming attractions." 
Our CREATIVITY is that tool inside each of us that can harness our imagination and do amazing things!
Creativity + Imagination = Infinite Possibility!
I share how I "imagined" my beautiful studio into reality, how I used my painting to navigate some of my hardest challenges, and how you can cut through the noise to amplify your vision for your own life. Full of stories and activities, you can find out more about the new IMAGINE ART WORKSHOP:
Sun Oct 4: MORE DETAILS AND BOOK HERE