Wow! No words can describe what this workshop meant to me. To me it was a very personal experience and it moved me to a very, deep, emotional place in myself where I could just be and quietly go about making "beautiful" abstract paintings. Malini creates a safe space for everyone and by sharing a little bit about her own journey she allows her students to look at life and their own journeys with new eyes. I loved our group; they were caring, gentle, kind, warm and quiet - at peace - which reflects what Malini "brings" into the studio. Dankie Malini. I'll be back with a friend." -Heila

I really enjoyed your workshop today. Probably the best 1 day workshop I have ever been to (period)." -Darryl

Thank you so much for everything on Sunday. You have created a wonderful haven in the hills and you're so generous and thorough with your information. I'm ready to chuck in my job like you did and dabble in art full time!!! Can't wait to come for another workshop!" -Nicola

Thank you so very much Malini for just being you. You are a very inspiring woman, so strong and brave. Your stories touched my heart on Sunday and I still reflect on the words you used and ways you get through life.
I've learnt so much in the way of art and colours, but I also took away a few positive thoughts and affirmations that I'm using in everyday life. The art of detachment, how you described it, is already making my life a little easier. Thank you again.
You are truly special and wonderful." -Melissa

Such a fun day, we enjoyed every part!" -Sue

I was a little anxious that an all-day art workshop might be not up my alley (as I do not consider myself a very creative person and this was surprise gift to me) BUT I really liked the systematic way you went about it and all the snippets of learning that you wove into the day. It was different to how I expected it to be and I'm very grateful for the experience! One of my paintings was inspired by the view from your Studio and now whenever I look at it I am reminded of the special & unique day I had to just focus on art with a wonderful group of people." -Gillian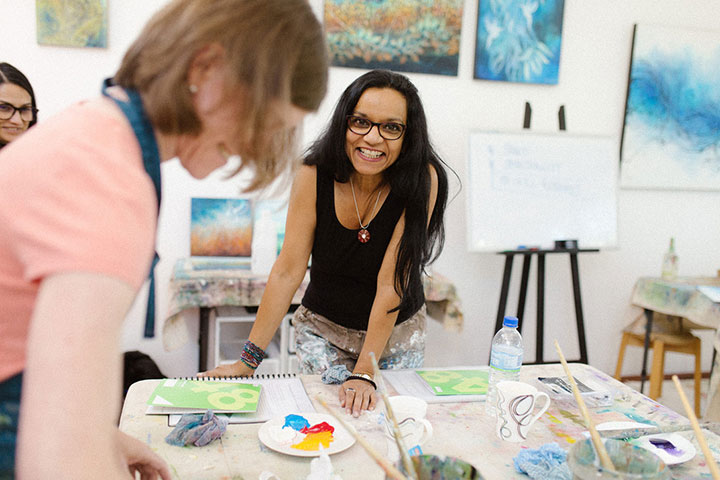 The beginners class was a fantastic day. I loved learning about texture and how colours work together. The class was a great pace and Malini was so kind and inspiring throughout the day. I'd definitely recommend this class and know you'll be looked after regardless of your confidence or skill level." -Haidee

Lovely Malini! Thank you so very much for such a wonderful arty farty day yesterday! I had so much fun and am so inspired to create more! Guess what, this morning I enrolled into your Jan class – Start with Art! So freaking excited! Thank you again, this is exactly the type of art and art class I was looking for, and the dogs are adorable!" -Michelle

I found you very inspirational, uplifting and knowledgeable. So many people could learn from you not just in art... but life. I would love to buy your book too if you had a hard copy that would be amazing." -Jacqueline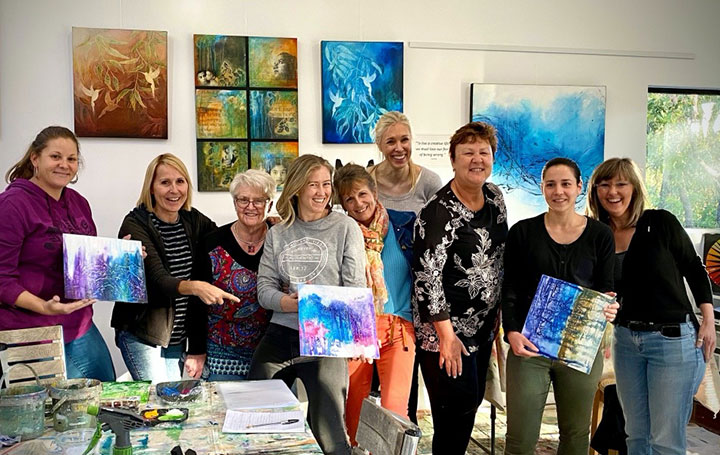 Such a fantastic day! Malini gently guided us through the process of creating 4 beautiful pieces of art. I was initially feeling a bit anxious, but the clear step by step instructions allowed me to relax and enjoy the process. Malini's warm and encouraging personality, set against the backdrop of the breathtaking Hills forest made my first formal art class unforgettable. I look forward to creating more art on my own, and going back to learn more. Thank you so much for opening your home and your heart to us yesterday. I came away not only with a new desire to create art, but a feeling of peace and healing." -Susan

Malini makes everyone feel at home in her beautiful studio and inspires the inner artist in everyone to fly free. I would highly recommend taking one of her workshops, there's no other art workshop in Perth like Malini's. -Laura

A great beginners workshop, it was everything and more than what was promised. Having all the materials provided removes any uncertainty about lack of knowledge if you had to buy materials or whether you would ever use them again. We learnt a lot in one day and yet it didn't feel overwhelming. Malini is a very welcoming and encouraging teacher, she is well organised, and provides a lovely atmosphere and environment to learn in. I came away feeling happy with my artworks and inspired to create more! I woke up this morning after dreaming about textures that I could create. What a wonderful way to wake up, feeling inspired and thinking of ideas that I might expand and explore. I had not thought about how effective textures can be … Thank you so much for creating such a welcoming and inspiring environment to learn in and for sharing your knowledge, ideas and your 'beautiful soul'.-Karen

I thoroughly enjoyed myself ... You are truly a gifted teacher, mentor, life couch and wise woman! Thank you so much!" -Crispin

Thank you so much! You have an incredible teaching style and a beautiful heart and presence about you. I can't wait to come again in the future." -Claire 

Thank you for creating a safe, reflective and fun space for us!!!! -Felicia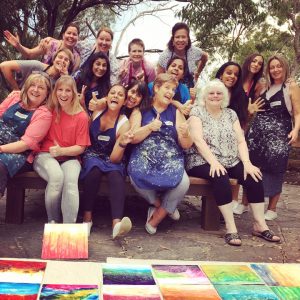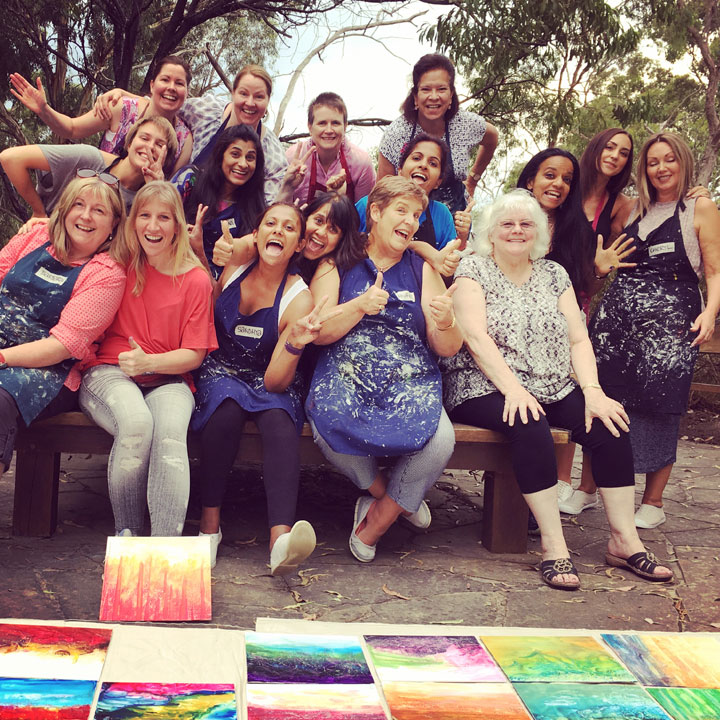 Thank you so so much for the most amazing art weekend ever!! Painting had become a drudgery which I had been avoiding for more than 12 months but after the weekend I was inspired & reignited with a desire to paint some more!! When I have time!! I always love attending your workshops. Your anecdotes & metaphors are a great teaching tool. Plus you are truly inspirational and I admire your courage to share challenges you've endured & overcome.
The weekend was pure joy & so much more than simply an art workshop but rather a personal life development mini retreat for me. I went home feeling energised, enthusiastic, courageous & ready to step forward boldly. As an added bonus, I also have 12 art works to enjoy, reflect upon & remind me of some intentions to be mindful of!! Thanks again Malini. Can't wait for the next one!!" -Ashima

I feel like I've made contact with a kindred spirit. Being in your presence has been such a pleasure and the two-day workshop will always be very significant in the chapters of the rest of my life! I came ALIVE and felt a sense of Peace ... an almost 'Coming Home" feeling... THANK YOU for who you are and how you make people feel. You are blessed with a rare gift...A Magical two days." -Preet

I am writing to say 'thank you' for the weekend Art Workshop. I enjoyed myself thoroughly ... learning from you and spending time with all the beautiful ladies. It has been a very positive experience ... something I am going grow from!" -Kuljit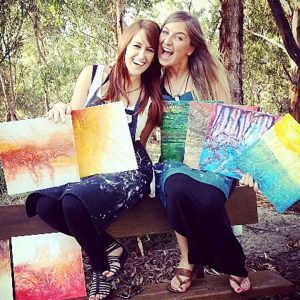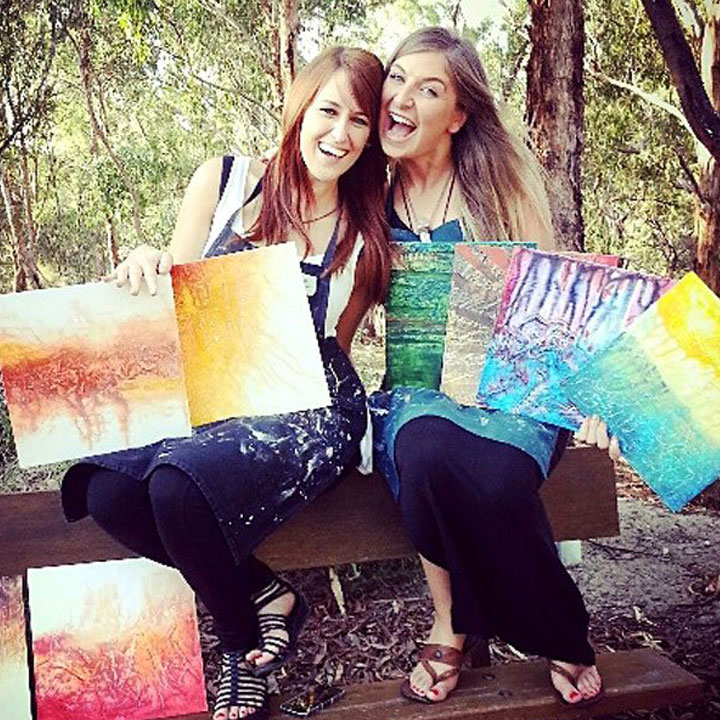 Thanks Malini for such a lovely day... your studio is just stunning... I enjoyed my day immensely in such lovely surroundings" -Lea

"You have created a beautiful home and workspace - your studio is magnificent! You make difference to so many people's lives. And you've done it by yourself! I not only loved the workshop, but I loved how it made me feel. This is how you've made a difference. Your ability to connect with people and to weave your stories into your teaching is something that am in awe of. I have strived to do this myself as a professional presenter and yet I find it so challenging to tell my own personal stories. You do it with humour and dignity and have everyone fully engaged throughout the day. It is much more than just art. Art is just the vehicle." -Brenda

I would like to think something divine was in motion those two days.... that it brought together the diverse, yet so connected- souls to the sanctuary of your workshop.... The alchemy of art transmuted something in all of us... Thank you for channelling beauty, wisdom and guidance so thoughtfully into the workshop...You have curated this experience with such care and tenderness that I am humbled by the generosity of your spirit.
I have read "The most beautiful people we have known are those who have known defeat, known suffering, known struggle, known loss, and have found their way out of the depths. These persons have an appreciation, a sensitivity and an understanding of life that fills them with compassion, gentleness and a deep loving concern. Beautiful people do not just happen". - Knowing that, I recognise you are no mistake of nature... You have been in the making for so long.....your light has touched us and brightened our paths forward.... closer to home. - G V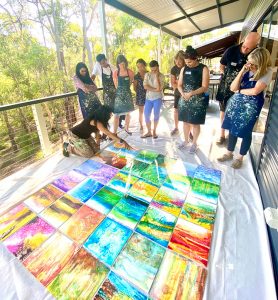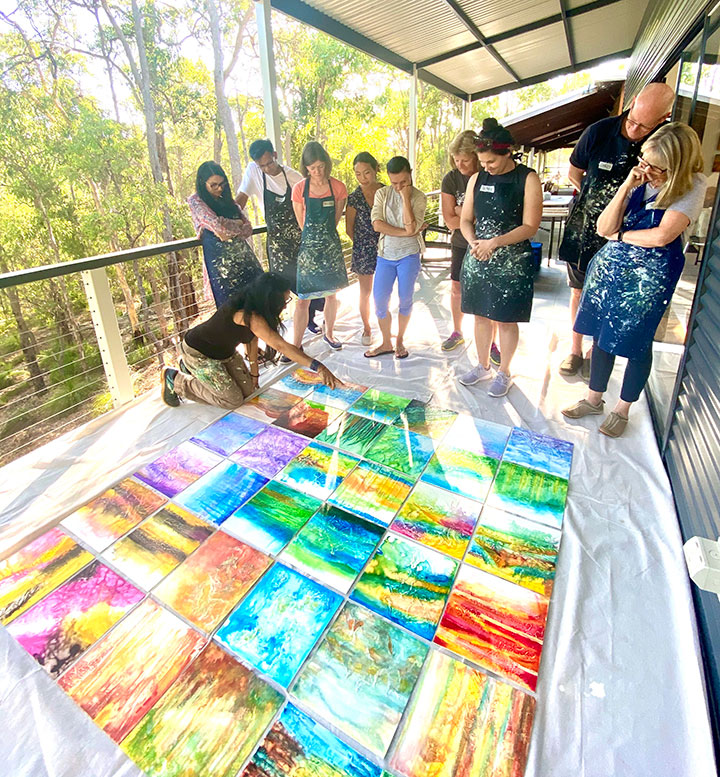 Dear Malini, Thank you for the most amazing weekend. It was so great to be completely lost in the moment – in the process of creating something beautiful. I did not know acrylic painting could be so rewarding. You are a brilliant teacher who nurtures her students to find their essence and by guiding and gently lovingly making suggestions and sharing your story we arrive to a place of wholeness. As one who has not done art even at school this was such a rich experience. I will be coming to another workshop and hope to do more art next year when my life settles down and I cut back on work and give myself more time to be. Thank you again for being you and bringing such joy and light to the lives of others and igniting a passion in me to do more art now and to be more creative. I have found my way home.
Thank you. - Sally

I think I've found a way to grow and expand in love and joy. Friggin awesome! Thank you Malini, you are an amazing teacher and have ignited something deep within me. Thank you." - Kelly

Thank you Malini for sharing your personal journey, inspiration and your incredible strength. You didn't just teach me a painting process, you also gave me a way to view the world a bit different… I just couldn't have wished for anything more. It was more than I expected and will be something I can now inspire myself with…. When I found this workshop online, I knew straight away that that was the one I needed to enrol in. And I was right. Even more so than I knew at the time. I don't have enough words to express this, but this workshop literally changed the way I thought about my recovery, my way forward in life and with art. This was truly awesome, amazing, wonderful, inspiring and uplifting." - Angela