PAINTING FOR BEGINNERS - A ONE day intensive
Have you ever gazed longingly at a beautiful work of abstract art, and thought, "I wish I could do that, but I don't don't have a clue how!" Do you yearn to express your creativity? Can't go to weekly classes because you're at work? Yes, yes and yes? Well then, things may be about to change !
WHO THIS ART
WORKSHOP IS FOR
The ABSOLUTE BEGINNER: You're the one who's always been curious about your artistic side, but you don't know where to begin. Or never had the time to learn. Or perhaps its all seemed too overwhelming … maybe you feel you've left it too late. Hey, I designed this workshop for YOU! In one jam-packed, fun day, you'll lose that fear of the unknown. And learn absolutely heaps. I've got you covered!
The NOW-AND-THEN-DABBLER: So you paint a little. But you love it a lot! And you dream of one day learning how to do it all 'properly'. Now's your chance. My seven step process will give you some clear structure and my intensive class will give you SO much content in just one day. You'll be painting with more purpose and passion in no time!
(If you can't make it to Australia to attend this live, in-person workshop, I'll let you know the minute I launch an awesome e-course that you can take from anywhere in the world. Just subscribe to my updates here.)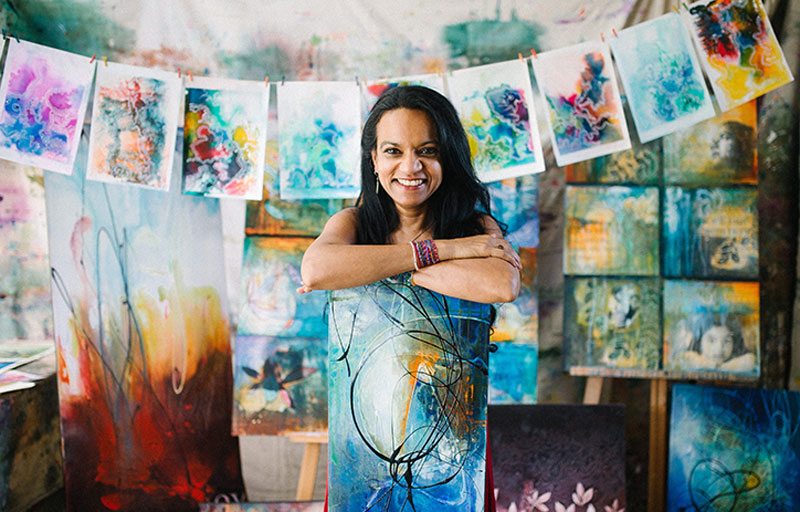 PAINTING FOR
BEGINNERS IN DETAIL
SUPPLIED: FOUR panels (each!) to paint on, paint, mediums, texture pastes, brushes, spatulas, palettes, aprons, a folder chock full of comprehensive notes, a notebook for you to take MORE notes ... and a VAN-full of supplies!
PRICING PER TICKET (incl ALL supplies and notes):
$295: SUPER DUPER EARLY bird special for a short time only
$347 BRING-A-FRIEND: choose this option when you book together
$369 EARLY bird: 14 days in advance and what most people pay
$395 FULL price: for the last-minuters!
UPCOMING WORKSHOP:
Sun Sept 15:BOOK HERE NOW to get $100 off the full price!
Want to stay updated on future workshops? Scroll down and leave your details to receive my lovely free e-book, 5 Ways Your Creativity Might Just Save Your Life, and we'll stay in touch!
Looking for a stunning, personalised GIFT VOUCHER? This flexible option can be made up to any value you choose, and is valid for one year. Your loved one can pick how and when they redeem it! EMAIL me to arrange a loving message on your beautiful gift, and the voucher will arrive in your inbox within a short time.
Looking for something outside of Perth? FINDING YOUR WAY HOME-The Ecourse is available an an instant access E-course. You can download the entire workshop immediately, from wherever you are in the world over here!
And if you'd like a very special two days of creating with me by the river in Perth, FINDING YOUR WAY HOME, the live workshop is coming up - ONLY on Jul 6-7 - more details HERE.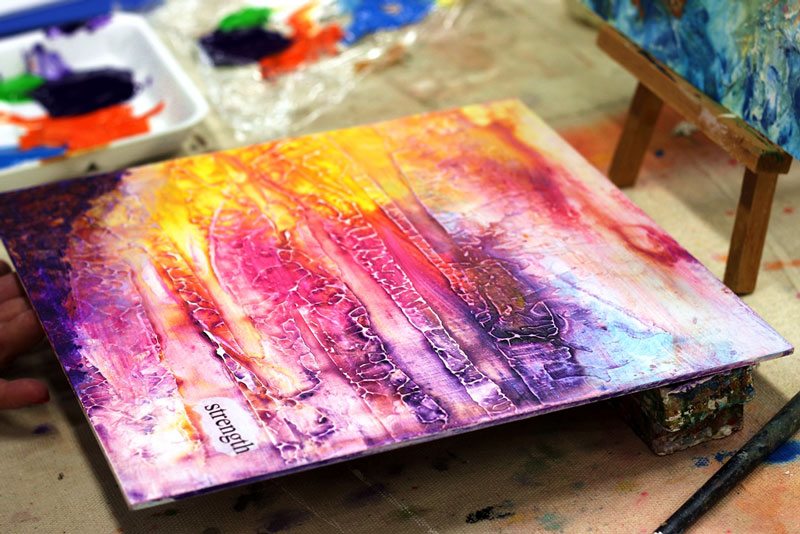 WHAT PREVIOUS
STUDENTS HAVE SAID
"I came to your workshop and found peace, and dare I say it joy. There is much kindness and love in you and I thank you for sharing that with a room full of strangers. I've never felt so proud of anything as I do my four paintings. Thank you for a little respite and a lot of hope."
–Deepa Nadarajah, Analyst, Melbourne
"Worth every cent!"
–Peter Morley, Racehorse Trainer, Perth
"I learned more from you in A DAY than I did in a WEEK long class I did last year."
– Sarah McNeill, Arts journalist.
"There are a lot of artists around, but it's very rare and special to be a great artist plus such a great teacher as well! You are so well organised, I want to thank you again for all your preparatory work, the takeaway notes, all the equipment you supplied and your humorous demonstrations and comments. We covered so much in one day I can't believe it!"
– Andrew McDonald, Building Illustrator
"I never thought of myself as artistic (thank you, high school art teachers!), until I did Malini's Beginner's Workshop…Creating art is now a regular part of my life – thank you, Malini!"
– Verna Sim, Geologist
"Super-organised, accomplished, inspirational, supportive and great fun. We learned so much and I can't wait for the next class".
– G. Jenkins, Education Consultant
"An exciting and motivating day. I have really been inspired to push out in directions I never would have thought about a year ago. I attend so many presentations, lectures and training sessions that one comes become quite jaded with them. The positive and warm manner in which you engaged with us was refreshing and inspirational."
– Peter O'Donnell, photographer.
It's called 5 Ways Your Creativity Might Save Your Life and you can grab it by dropping your details in below. You'll also receive my updates on events and inspiring tales to help you live YOUR creative life!