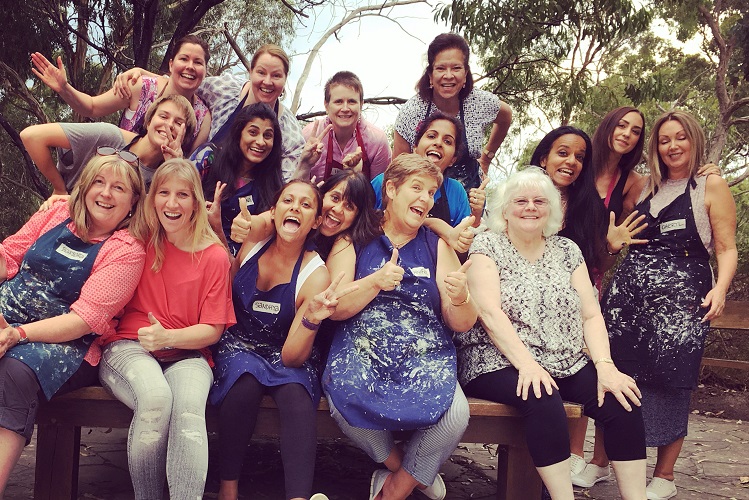 WHERE DOES YOUR IMAGINATION TAKE YOU?
Einstein said, "Imagination is everything. It is the preview of life's coming attractions."
My imagination has taken me to some wild places 🙂 sometimes it's just been a distraction, a container of my longings, but at other times, it has lit fires of possibility and change when reality seemed cold and indifferent.
Most importantly, imagination helps us to expand our lives. For me, that showed up late - when I switched professions from Science to Art - and it has given me a way to express HOPE.
And now, my imagination has rewarded me with something I only held in my dreams for nearly twenty years ... my beautiful studio.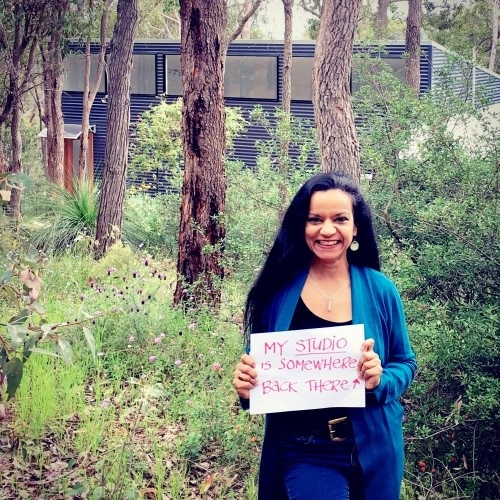 I PLACED THEM INTO MY ART
I imagined a light-filled place where I could create beautiful things, surrounded by nature, with a wonderful view and huge clean white walls to hang my work. I imagined a place where I could invite others to make art and feel all the possibilities that they don't have access to, in their regular lives. I imagined an amazing giant stainless steel sink!
I didn't create a vision board or write affirmations (though I have on other things!) … I simply imagined it, and I placed all these imaginings repeatedly into my paintings in a form that sometimes only I could see.
One day, when the time was right, I imagined I wouldn't have to paint at my kitchen table, or stack my completed paintings against my walls. I wouldn't pack my van and drive to a hired space to teach. I'd walk across to my studio, and welcome my students! I'd just walk across to my studio and make art, and I'd have my own gallery walls to hang them on!
My art was the container of my Dreamings and Imaginings ... my "preview of life's coming attractions."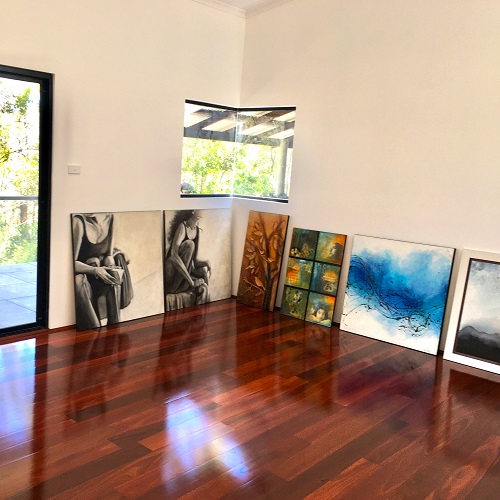 CREATIVITY + IMAGINATION = INFINITE POSSIBILITY
And now it's happened.
I'd like to invite you to join me as we create some beautiful art, inspired by our Dreamings and Imaginings, by the wonder of nature around us, by the fragrance of the eucalyptus and if we're really lucky, the laughing of the kookaburras.
In the new IMAGINE Art Workshop.
Our CREATIVITY is that tool inside each of us that can harness our imagination and do amazing things.
Creativity + Imagination = Infinite Possibility!
When: TBA
Where: Glen Forrest, Perth (my studio)
Bring: Tiny, easy list of things to bring will be sent later.
Cost: Super Duper Early Bird $345. Full price $395.
(And yes, I accept instalment plans!)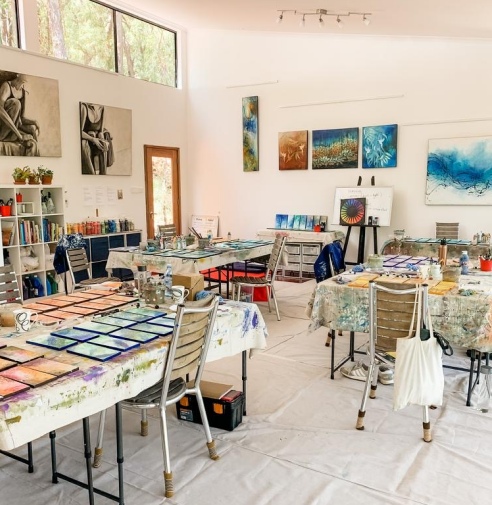 What level is this workshop for? 
All levels! Like all my workshops, IMAGINE is suitable if you're a total newbie OR if you've done all my classes. Doesn't matter. You are WELCOME.
Is your studio hard to find? What about Parking? And where the heck is Glen Forrest?
Glen Forrest is a lovely, small leafy suburb of Perth in Western Australia, about 10 minutes east of Midland and 30 minutes from the CBD.  It's super easy on Google maps, I have plenty of parking, and it's sign-posted as Malini's Studio.
Is your studio air-conditioned?
Yessssssss! I have reverse cycle airconditioning … HOOOOOORAAAAAY!!!
Will there be chocolate?
What a question! It is NOT possible to make art without chocolate. So YESSSSSS!
SUBSCRIBE TO MY MAILING LIST and GET MY E-BOOK FOR FREE
It's called 5 Ways Your Creativity Might Save Your Life and you can get it by dropping your details in below. You'll also receive my updates on events and inspiring tales to help you live YOUR creative life!