WATCH this delightful 2 minute clip that captures the feel of this workshop…
WHY "Finding Your Way Home"?
On May 16, 2014, I lost my husband, Greg, to cancer. I was his carer for four years, and he died at home, surrounded by his loved ones. In the years that I was looking after him, I noticed that his passion for life and for service increased as his health diminished. Greg was a musician, and he leaned into his creative practice for strength and inspiration. In fact, he staged, with great difficulty, five shows in the four years of his illness! I looked after him while simultaneously tending to my own creative practice as a visual artist, writer and teacher. The experience not only strengthened me, but strengthened my belief that creativity has magical powers! However, I digress…

When he finally passed away, even though it was not unexpected, the grief I felt was all-encompassing. I lost myself. It took months, but in allowing myself to be lost, I gradually found my way home by leaning into my own creative expression. And now, this is what I believe:
"Getting lost will help you find yourself" (from the Holstee Manifesto)
Even if you may not, as I did, have suffered some Great Loss… Life sure has its way of knocking us off kilter at times! If you find that it sometimes seems hard, perhaps overwhelming, to find stillness amidst the storms of life, I welcome you to this workshop. Here, you start to re-claim your centre and find your way back to yourself using art, writing, yoga and nature …
How? I share my own experiences, and the patterns that emerged in my own journey. I gently guide you to share some of those "patterns" in the creative activities we immerse ourselves in… and feel the magic of creativity work its way into your heart :) You come away with your own rich tapestry of nine paintings that are unique to you.
So, this weekend is not about learning "how to" paint. It is about gently learning about yourself. We will explore our amazing and complex journeys with laughter and a light heart … by making delicious, personal, beautiful art :) And as a special bonus, my lovely friend and yoga teacher, Chioni Hicks, will make a guest appearance, gently helping us to bring balance and peace to our mind and body.
Sound appealing? Then join me on the banks of the beautiful Swan River in Perth, and be prepared to … gaze out over the Swan River, (we might see dolphins!) get sand between your toes, make art, make new friends, stretch your body and spirit, and take a lovely journey into your life.
If you are from another State in Australia or overseas, I welcome you with extra open arms! There are Airbnbs and hotels within walking distance of our workshop. Perth is a shining, clean city, the most isolated in the world, situated in Western Australia, the largest State in the world! It is brimming with wonderful cafes and stunning beaches, and is built around a gorgeous river. Recently Perth was named as the 7th most liveable city in the world… I love this city. Don't take my word for it. Read a recent NY Times article here. And come.
** Note: This is a 2 day workshop over Sat/Sun, from 9.30 to 5.30 daily. Not a sleepover :)
And there are no prerequisites. You are all welcome!
Questions? Ask me anything.
Upcoming Workshops:
Oct 7-8, 2017
SOLD OUT (CLICK HERE for waiting list)
Venue: Waylen Bay Scout Hall, 1 The Strand, Applecross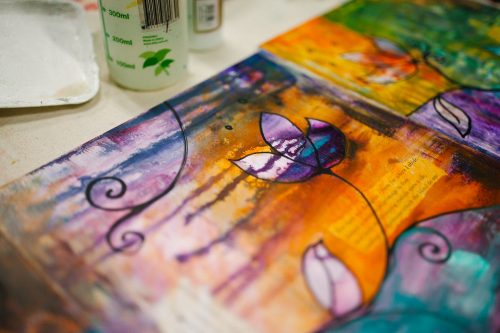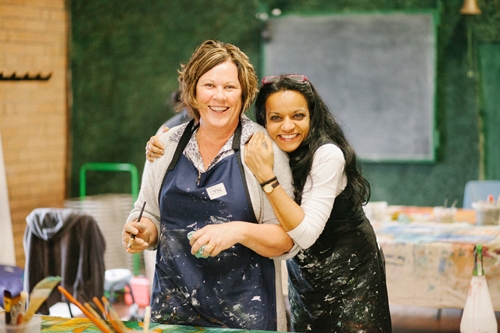 WHAT THEY SAID About Finding Your Way Home:
"Everyone who comes into your orbit comes away enriched. I adore your innate kindness and generosity of heart. You give much more than art lessons. I come away inspired and now I don't feel right if I don't grab the paint brushes and while away the hours. Many, many thanks." Helen Gerrard Xxx
"It was a magical journey truly exhilarating and I was in such a state – as if a switch has been turned on in an abandoned dark room. I also felt my soul at peace, knowing that all will be well because I have found my way home." -Sothie Laxhmie
"Malini, you have had an exquisite life journey. Your courage to share is amazing. You helped me bring out of myself the hidden grief that lies deep within. Many of us have succumbed to grief but you give us hope and joy that we can see the light at the end of the tunnel." – L. Cooper
"Thank you so much for a lovely weekend. I really like what I did, thanks to you … really got my juices flowing. You are an amazingly generous woman." –Jeni Smith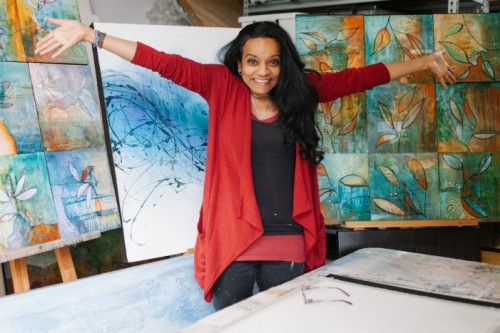 UPCOMING DATE:
Oct 7-8, 2017
SOLD OUT (CLICK HERE for waiting list)
VENUE: 1, The Strand, Applecross, Perth, Australia
COST: Full Price $595, Early Bird $550, Bring-a-friend $525 (includes GST).