WHY 'FINDING
YOUR WAY HOME?
On May 16, 2014, I lost my husband, Greg, to cancer. I was his carer for four years, and he died at home, surrounded by his loved ones. In the years that I was looking after him, I noticed that his passion for life and for service increased as his health diminished. Greg was a musician, and he leaned into his creative practice for strength and inspiration. In fact, he staged, with great difficulty, five shows in the four years of his illness! I looked after him while simultaneously tending to my own creative practice as a visual artist, writer and teacher. The experience not only strengthened me, but strengthened my belief that creativity has magical powers! However, I digress…

When he finally passed away, even though it was not unexpected, the grief I felt was all-encompassing, and it was almost as if I lost myself. However, in allowing myself to be lost, I gradually found my way home by leaning into my own creative expression. And now, this is what I believe:
"Getting lost will help you find yourself"
(from the Holstee Manifesto)
Even if you may not, as I did, have suffered some Great Loss … if you're alive, it's likely that you have experienced adversity and sorrow. Life sure has its way of knocking us off kilter at times!
It can be hard, perhaps overwhelming, to find stillness amidst the storms of life, and it can help to be in an environment that helps you re-claim your centre and find your way back to yourself. 
"There is an underlying, in-dwelling creative force infusing all of life - including ourselves." - Julia Cameron
When we tap into this creative force, it strengthens and supports us. It centers us. Very little thinking is required. Instead we feel the magic of creativity work its way into our hearts.
In this workshop, I share my own experiences, and the (universal) patterns that emerged in my own journey. I gently guide you to find some of those patterns in your own life, and weave them into creative activities. So, is this art class for you?
DON'T COME if you want to just learn painting techniques! We definitely go through some processes in detail, but that's not the primary purpose of this workshop.
DON'T COME if you feel that it's not your thing to do a bit of thinking and reflecting, (or that's not where you're at right now, you just want to make art).
DO COME if you are curious about how your own experiences will manifest themselves in your paintings!
DO COME if you'd like to harness that amazing "in-dwelling creative force" within you and create NINE paintings in one weekend!
DO COME if you are curious about creating a tapestry of colour and texture that will surprise and delight you even if you've never painted before! In fact, beginners and dabblers are my favourites, so I assume no previous knowledge or experience in art.
DO COME if you love the idea of making art (even if it's for the very first time!) in a bright and peaceful studio in the forest, surrounded by bird-song and fresh, fragrant air.
Art + Reflection + Laughter + Trees + Birdsong = A Perfect Combination!
Sound appealing? Then join me in my tranquil and spacious art studio, perched above the gum trees in the Perth hills ... let's make art, make new friends, stretch your mind and spirit, and take a lovely journey into your life.
Making art is so gently therapeutic, and everything I share and guide you to do, I have done and experienced myself! So let's explore our amazing and complex journeys with laughter and a light heart … by making a delicious, beautiful tapestry of nine paintings unique to each one of us. And most importantly, using the 'creative force' within to centre and guide us back home.
"You have created a safe space for creativity to flow, kindness to blossom and shone light on the healing power of making art. The workshop title is very apt, it is a transformative journey, and I feel like I am starting to find my way home to myself at a time when I had lost a great deal of hope, courage and confidence. My husband has already commented on how he can see a change in me. I am excited about what the future may bring for the first time in a long time!" - Di H.
"'Thank You' can't even begin to cover my gratitude for such a staggeringly beautiful experience that was the workshop. I would like to think something divine was in motion those two days.... that it brought together such diverse, yet so connected- souls to the sanctuary of your workshop...Each piece that was created was so personal and profound...a testament to the rejuvenating power of art...your light has touched us and brightened our paths forward.... closer to home..." - G.V.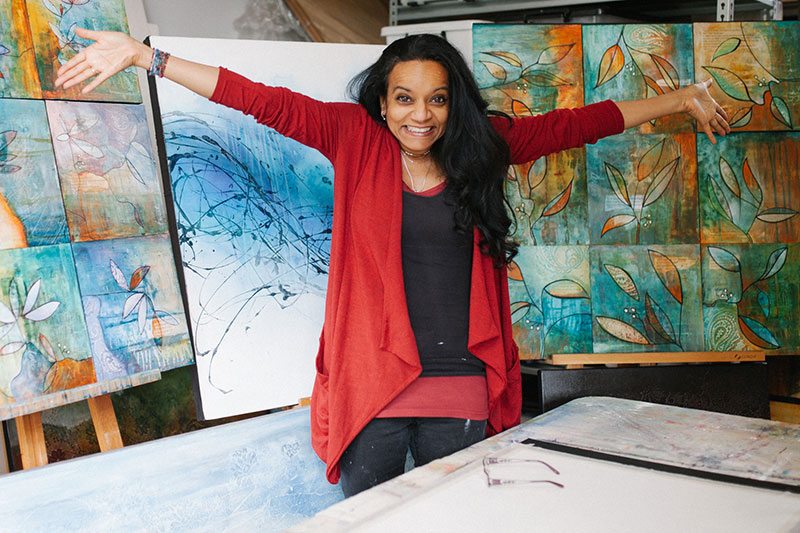 UPCOMING DATES:
Sat-Sun Jun 11-12: SOLD OUT
Sat/Sun Jul 2-3: SOLD OUT
Can't get a spot? Email me info@maliniparker.com to go on waiting list. 
Time: 9.30am to 4 pm, Sat and Sun
Venue: My peaceful, light-filled studio in the Perth Hills
Bring: just a few simple things but mostly just your lunch 🙂
SUPPLIED BY ME: almost EVERYTHING else that you need!
COST (includes most supplies):
$595 (FULL price)
$550 (EARLY BIRD price)
$497 (SUPER DUPER EARLY BIRD price!)

WHAT PREVIOUS
STUDENTS HAVE SAID
"Thank you for the most amazing weekend. It was so great to be completely lost in the moment – in the process of creating something beautiful. I did not know acrylic painting could be so rewarding. You are a brilliant teacher who nurtures her students to find their essence and by guiding and gently lovingly making suggestions and sharing your story we arrive to a place of wholeness. As one who has not done art even at school this was such a rich experience... Thank you again for being you and bringing such joy and light to the lives of others and igniting a passion in me to do  more art now and to be more creative. I have found my way home." Sally S.
"Thank you for channelling beauty, wisdom and guidance so thoughtfully into the workshop....You have curated this experience with such care and tenderness that I am humbled by the generosity of your spirit."
- G. V.
"Everyone who comes into your orbit comes away enriched.  I adore your innate kindness and generosity of heart. You give much more than art lessons. I come away inspired and now I don't feel right if I don't grab the paint brushes and while away the hours. Many, many thanks."
– Helen Gerrard
"I experienced and gained so much over the weekend. Not just art but a calmness that is hard to explain."
– D. Flyger
"What a weekend of storytelling and self-discovery. Malini is a brilliant teacher. I've enjoyed all the three courses I've attended but this one is by far my favourite. I really enjoy Malini's process - she puts her heart and soul in her workshops. The people, the place, the processes are exactly what any art enthusiast will love! Malini, your workshops have been so heart provoking for me. I love your heart-centred way of teaching. I feel very grateful for what you bring."
- Diane Skender
"This was a total new experience for me. Dealing with one's journey through paint and finding new friends on the same path allowed me to just let things happen in a total fun creative way and trust myself to create work I would have never imagined creating. Malini made us all feel so welcome from the moment we arrived. She is an amazing artist and teacher. This was my first "me" weekend I have had for a very long time and I enjoyed every moment of it, even when I was holding my breath! Thank you Malini!"
- Leanne Beeck
"Imagine: a stunning setting, an inspiring woman teaching us how to create our own set of nine paintings, old friends and new, a soundtrack of gorgeous jazz & contemporary music, mindful gentle yoga, all weaved together with a backdrop of heart-felt tender inspiring stories of finding joy in hardship ... AND CHOCOLATE !!! This was such a delightful & special journey for me to revel and find acceptance in the beauty and tenderness of my inner world - the good, the bad, the ugly - through the process of making the most delicious gorgeous art with the divine Malini Parker. Thank you, thank you, thank you!!!"
-Katie Lee-Gee
"'Thank you' seems inadequate and utilitarian, it doesn't quite convey my message to you but I know you take my meaning (a big hug would work better)."
– Debra Perkins
"You probably will not know to what extent the experience of Finding My Way Home has left imprints on my soul. I feel the learnings I gained will be far reaching and ongoing for a long time to come. Thank you always."
– Lynne Cartwright
"It was a magical journey truly exhilarating and I was in such a state – as if a switch has been turned on in an abandoned dark room. I also felt my soul at peace, knowing that all will be well because I have found my way home."
– Sothie Laxhmie
"Malini, you have had an exquisite life journey. Your courage to share is amazing. You helped me bring out of myself the hidden grief that lies deep within. Many of us have succumbed to grief but you give us hope and joy that we can see the light at the end of the tunnel." 
– L. Cooper

FREQUENTLY ASKED
QUESTIONS
Q. I notice you make a LOT of paintings in one weekend! I've never made ANY art before. Will I be out of my depth?
A. Many students have never made any art before or come because they feel they had lost their creative or personal mojo. My style of teaching is to welcome anyone who is open to possibilities, and willing to take a chance on themselves. No experience is necessary in ANY of my workshops. Come to FINDING YOUR WAY HOME if you are wanting to use your creativity to help you reflect on your life, to make art that is personal, to think about your unique journey. You will make nine paintings that will surprise you. But if you want a workshop where the focus is on teaching you HOW TO paint – then my one day intensive workshop, PAINTING FOR BEGINNERS would be a better fit.
Q. Is this a weekend to talk about grieving? I am happy to engage in a new and different creative experience but not particularly interested in exploring people's grief.
A. It's very hard to describe this workshop - it's actually a joyful one, although it could sound like it's all "about grief" - 'finding the way home' is really just my phrase to mean 'coming home to oneself ' whatever that may mean for you.
Most of my students who attend have suffered some setback in life that resulted in a feeling of being "off course". At no point talking about this a requirement EVER, but in the sweetest and most powerful workshops, we do form a safe space to hear about challenges others are facing.
Q. I'm a private person and don't like talking about my feelings. Is there a lot of self-disclosure?
A. The amount of self disclosure is varied. Some share, some listen. If it happens, it's minimal and gentle as I don't have qualifications in art therapy and don't claim to. So I don't try to open any Pandora's boxes! But sometimes making art provides a beautiful channel to very naturally examine our life journey, and this can be shared with others, or not.
You WILL hear stories from my own journey, as it places each art or reflection activity into context. And I will encourage you to think about your own lives and have you direct the art you make to reflect what's true for you.
SUBSCRIBE TO MY MAILING LIST and GET MY E-BOOK FOR FREE
It's called 5 Ways Your Creativity Might Save Your Life and you can get it by dropping your details in below. You'll also receive my updates on events and inspiring tales to help you live YOUR creative life!