FINDING YOUR WAY HOME E-COURSE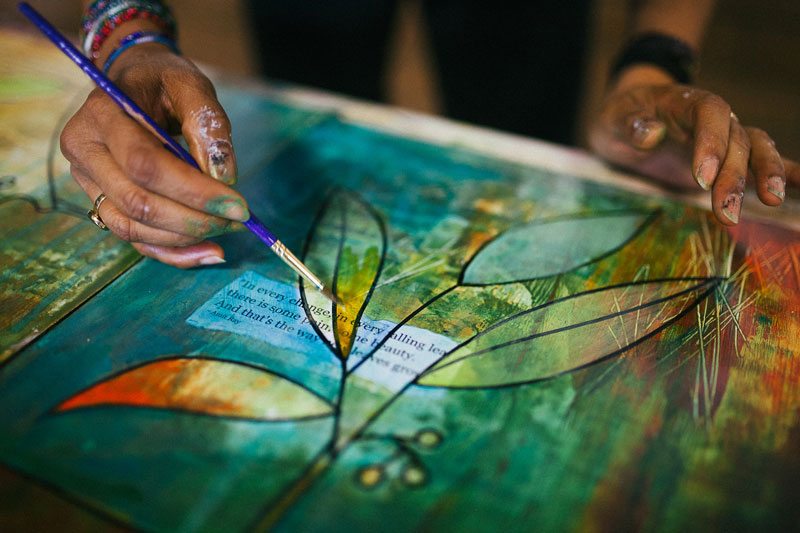 WHY 'FINDING YOUR
WAY HOME'?
When I lost my husband, Greg, to cancer, after being his carer for four years, even though it was not unexpected, the grief I felt was all-encompassing. I lost myself. It took months, but in allowing myself to be lost, I gradually found my way home by leaning into my own creative expression. And now, this is what I believe:
"Getting lost will help you find yourself"
(from the Holstee Manifesto)
In the years that I was looking after Greg, I noticed that his passion for life and for service increased as his health diminished. Greg was a musician, and he leaned into his creative practice for strength and inspiration. In fact, he staged, with great difficulty, five musical shows in the four years of his illness! I looked after him while simultaneously tending to my own creative practice as a visual artist, writer and teacher. The experience not only strengthened me, but strengthened my belief that creativity has magical powers!
Even if you may not, as I did, have suffered some Great Loss… everyone finds it hard at times to find stillness amidst the storms of life. This e-course is where I help you to re-claim your centre and find your way back to yourself using art, writing and nature …
I share my own experiences, and the patterns that emerged in my own journey. I gently guide you to share some of those "patterns" in the creative activities we immerse ourselves in… and feel the magic of creativity work its way into your heart 🙂 You gradually and easily create your own rich tapestry of paintings that are unique to you. (Even if you've never painted before in your life).
Finding Your Way Home – The E-course is based on the live, in-person workshop of the same name that I hold in my hometown of Perth, Western Australia. But not everyone can make it to Perth! You can now join us in this journey home, in the comfort of your own home, with this beautiful, downloadable pdf, that you get to keep forever, embedded with clear, high quality videos, lots of written content, stunning imagery taken during my in-person workshops (so you get the feeling of what it is to 'be there') and a few surprise bonuses!
The video below will give you a peek into my in-person Finding Your Way Home workshop. BUT in this E-Course, you will get to experience this type of art-making, without having to make the trip to Perth, Western Australia!

In SUM, in FINDING YOUR WAY HOME – The E-Course you will receive:
A downloadable, stunningly designed full colour eBOOK complete with videos, written information, and beautiful inspiring images.
Clear guidance that takes you through my process to create multiple unique paintings step-by step, regardless of your experience.
A list of materials that is easy to understand and acquire.
Forever access to ALL the content. When you purchase this e-Course, it doesn't disappear after a period of time. You GET TO KEEP IT FOREVER, and go over the content in your own time and at your own pace, again and again.
Access to me personally, by email, if you have any questions or queries, anytime.
And some surprise bonuses!
All for just AUD$147 (about USD $100)
WHAT PREVIOUS STUDENTS
HAVE SAID
"I've always admired beautiful, complex, layered paintings, but not until I started watching your videos did I ever imagine I might create such a thing."
- N. Gorton, California
"Your workshop is absolutely exquisite and moving."
– Connie Solera, Dirty Footprints Studio, USA.
"It was fantastic.  I have health problems which makes in-person art workshops hard to manage so I am so thrilled when people like you do online workshops.  Learnt so much from your workshops. Thanks for your love and courage."
– S. Hosken, Melbourne, Australia
"I am Totally Blown Away by how professional the videos are, how warm and encouraging you are and how simple you make it - weaving the wisdom of what you've been through and learned. I'm really excited about trying out what you demonstrate, and can already feel new ideas coming from such a forgiving and deceptively simple process. I'm quite in awe of what you've created and how courageous you are."
– Tara Leaver, www.taraleaver.com, Cornwall, UK
"Over the last couple of days I have gone over and over your e-course.  I feel very blessed by your calm nature and what you shared."
– Mary Blakney, Washington State, USA