Artist's Statement
An artist's experience of life is a rich one, in that so much of what life offers is being noticed, interpreted for colour, form, perspective, light, greedily soaked up to then be re-interpreted in paint. In recent years I have been drawing greater and greater parallels between my painting process and my experiences with adversity. It's as if all that background noise, all that lifetime of internal discontent had gradually, imperceptibly, been replaced by Acceptance. Whilst I don't exactly welcome them, I can now view challenges as part of the texture of my life, places of interest in life's story that I can build on with the colour and light of the more joyful times.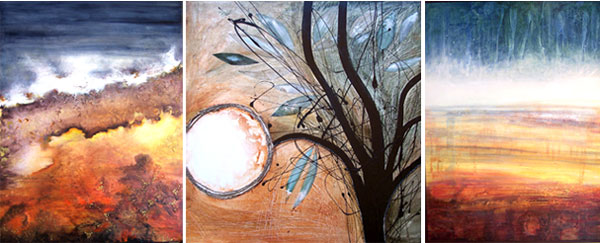 Most of my paintings have a story. I'm often asked if my spiritual beliefs inform my work, and as a Bahá'í, I would have to say a most definite yes, but in a fairly tangential way, as what I paint are more ideas and internal processes rather than concepts. The most direct influence my faith has on my work is the idea from the Bahá'í writings that life's challenges are really gifts of Grace, to be welcomed, not feared. In general terms, the dark and textured parts of my painting represent adversity and growth, whilst Grace weaves itself through it all, represented by light or fluid lines.

A passage in the Baha'i Writings that has influenced my work is one where the Divine speaks to us, and says, "My calamity is My providence. Outwardly it is fire and vengeance, inwardly it is light and mercy." I have found this to be true, even though it hasn't entirely made the hard times easier for me to bear. In some ways, my obsession with dark and light in my paintings, with exploring the idea that beauty and growth can arise from periods of 'calamity' is my effort to visually capture an idea that I want to sear into my soul. If I paint this theme often enough, my hope is that I will 'get it' and face life with the courage and fortitude that comes from knowing "only good will come from this".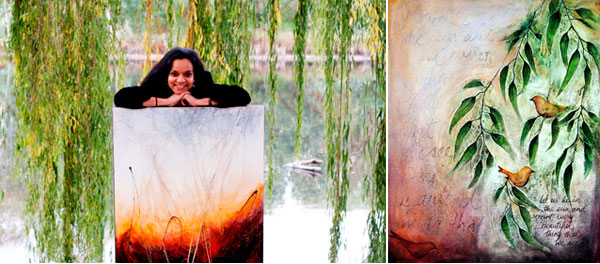 PERSONAL DETAILS
Born in Penang, Malaysia, 1962, Australian citizen
SOLO EXHIBITIONS
Joy, Victoria Park Centre for the Arts, WA, Dec 2013
Tapestry, Naked Fig Cafe, March, 2011
Trust Hope Joy, Riverview Church, Burswood, April, 2010
Grace, Old Bakery on Eighth Gallery, Maylands, Jan 2010
Regeneration, Old Bakery on Eighth Gallery, Maylands, Aug 2008
Southern Art Trail, Denmark & Albany, Sept 2007
New Work, Bibbulmun Foods Café, Denmark, WA, Dec 2005-Mar 2006.
Looking Both Ways, Croft Garden, Perth, WA, Dec 2005.
JOINT EXHIBITIONS
Movement and Stillness, with Phil Doncon, Kingfisher Gallery, West Perth, 2010
SELECTED GROUP EXHIBITIONS
Foodbank Art Auction, Albany Library, Dec 2013 (by invitation)
Artists At Home & Abroad, Broadway Gallery, New York City, New York, USA, Sept 2012
Act Belong Commit Spring Festival, Mukinbudin, September 2011, 2012 (by invitation)
Emergin8, Metamorphosis Art Gallery, September 2011
Art for Africa, Gadfly Gallery, June, 2011 (by invitation)
Supporting Young Mothers, Old Bakery on Eighth Gallery & Cafe, April 2011 (by invitation)
Spring in the Valley, La Salle College's 25th Annual Art Exhibition, October 2010 (by invitation)
St Hilda's Contemporary Art Fair, March 2010
Spring Festival, Muckinbudin, October 2009 (by invitation)
Around the Palette in 21 Days, Old Butter Factory Galleries, July 2009 (by invitation)
Myths, Stories and Legends, Midland Town Hall, Midland, WA, June 2009
Noah 2X2 Exhibition, Old Butter Factory Galleries, Denmark, Aug 2008
Darlington Arts Festival Art Exhibition, WA, Sept 2007, (by invitation)
What is an Art Moment, Art Moment Gallery, Bondi, NSW, 2007
Mullalyup Muster, Mullalyup Gallery, 2007
Harmony Week, Vancouver Arts Centre, Albany, WA, 2007
Harmony Week, Vancouver Arts Centre, Albany, WA, 2006
Waverley Art Prize, Bondi, NSW, 2006
Norville Art Prize, NSW, 2006 (pre-selected)
Off the Wall Gallery, Albany, 2005
Rites of Passage, West Australian Museum, Albany, 2005
Inhouse, Vancouver Arts Centre, 2005
SELECTED PUBLICATIONS
Art Fairs International, Vol 20, Winter 2013
The Examiner, Kensington to New York, Oct 21, 2012
The Examiner, Experience Joy of Art, Feb 15, 2012
Subiaco Post, Art Triumphs Over Adversity, April 16, 2011
Southern Gazette, Classes for the Anxious Novice, Feb 15, 2011,
Canning Times, Inmycommunity, Classes for the Anxious Novice, Feb 15, 2011
Hills Gazette, Western Suburbs Weekly Works Give Artist Peace, Sept 28, 2010
The West Australian, Artist Dedicates New Exhibition of Grace to Late Mother-in-law, Today, January 6, 2010
Albany Advertiser, Albany Artist's Work to Grace Perth Walls, January 14, 2010
Subiaco Post, Artist's Gifts of Grace, Timeout, January 16, 2010
The Perth Voice, Graced, Voicearts, January 16, 2010
The West Australian, Rooms with a View. Today, August 27, 2008.
Albany Extra, Showcasing Volunteers, May 4, 2007.
The Weekender, Harmony Week Aims for Understanding, March16, 2006.
Albany Extra, Week to Inspire Harmony, March 3-9, 2006.
Echo, Artist Looked Both Ways for her diverse Hills Exhibition, Dec 3, 2005.
Albany Advertiser, Parker Ready to Showcase Work, Dec 1, 2005.
Albany Advertiser, Dramatic Response Draws Accolade, Jan 23, 2003.
AWARDS & GRANTS
WA Premier Arts Partnership Fund, AbaF, 2010
Packers Prize, Albany Art Prize, 2006
Visual Art Dept Excellence Award, GSTAFE, 2005
Four Highly Commended works, Nannup Art Exhibition, 2005
Academic Excellence, GSTAFE, 2004
First Prize, Ron Carter Award, GSTAFE, 2002
EDUCATION
Diploma of Visual Art & Craft – 2006 (Great Southern TAFE, WA)
Certificate 1V Visual Art & Design (2004, Great Southern TAFE, WA)
Certificate III Visual Art & Craft – partial (2002, Great Southern TAFE, WA)
Masters Medical Science (1992, University of Western Australia)
Grad Dip Dietetics (1984, Curtin University)
BSc (1983, University of Western Australia)
MEMBERSHIPS
National Association of Visual Artists (NAVA)
Artsource