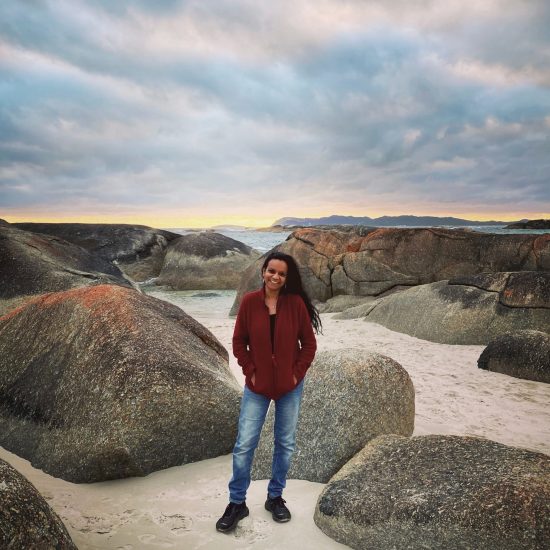 "On my morning walk today, it occurred to me how difficult it was to walk and run on the red dirt of Western Australia.
Nature trails here in the Perth hills are slightly treacherous: hard and dry and uncompromising. Covered in tiny little slippery round pea-sized bits of rock. You need good shoes, and you need to pay attention. 
It's not easy to walk when the ground is shifting beneath us. We have to adapt second by second. 
And yet … when we look at the bigger picture of our lives, haven't we been doing JUST that? Haven't we adapted, even as the ground seemed to be shifting beneath us?
Learning to walk. Going to school. Leaving home. First kiss. First heartbreak. First job. First child. Travelling. Dealing with Unbelievably Sad Things. Seeing Unimaginably Beautiful Things. Learning to dance or paint or repair a broken life. Surviving, when we thought we couldn't.
The ground shifts. We adapt. We let go of our old selves every single time and become something just a little different.
Our lives are a tangle of new experiences and old learnings, past regrets and bold new moves. I mention regrets cos there are a TON of things I wish I'd had the wisdom or discipline NOT to do, but I know this:
I have NEVER regretted doing something that took me COURAGE to do. Never."
***
I wrote those words eleven months ago, at the start of 2019. And now, two years later, as I look back on the Year of Covid – The Year of C – I am struck by how much 2020 felt like we were collectively walking on shifting ground.
For some of us, that 'shifting ground' was quicksand. Unimaginable suffering on a world-wide scale. For others, it was less dramatic.
For all, it was a Year of another C-word: Courage.
Living in Perth, Western Australia, I was spared the widespread sickness and death that Covid-19 brought. (Living in the biggest state in the world, in the most isolated city in the world, on the biggest island in the world, has its advantages!)
But spared or not, my heart was with the millions who lost loved ones, health or livelihoods as this pandemic spread. And my heart broke for my brothers and sisters in other lands, as I watched fragmentation caused by political turmoil, morgues spilling over with dead bodies, and the despair and rage of the oppressed.
Then, as Black Lives Matter protests spread around the world, eventually reaching Perth, I re-examined my own beliefs and behaviours, had many meaningful, thought-provoking conversations … and resolved to do better in my own life.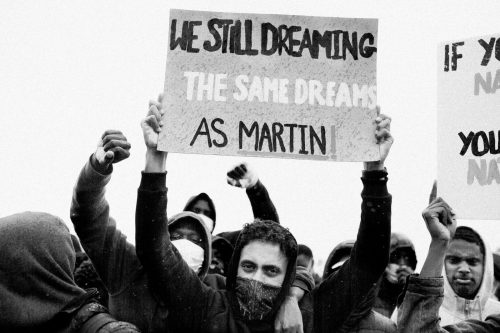 I also marvelled at the other growing pandemic that was finding its way around the world and onto my street – a contagion of Kindness and Compassion. From frontline workers risking their lives, to neighbours supporting each other with food and friendship, it was rare and beautiful to be part of a collective change in consciousness. All of us, every human, for a brief time in history, shared a common experience. We smiled more at strangers. We valued each casual conversation with a neighbour. And for the most part, we were kinder.

So 2020 was also the Year of Compassion. 
And … I made a lot of art. Judging by the empty shelves in the local art stores, so did everyone else: 2020 was a Year of Creativity! There seemed to be many more hours in the day. With my studio workshops on pause, I was able to spend my time making art with no agenda, no plan, no haste. Those unusual, quiet months were less difficult for me as an introvert, than for many others – at times, they were a bit of a gift for a creative.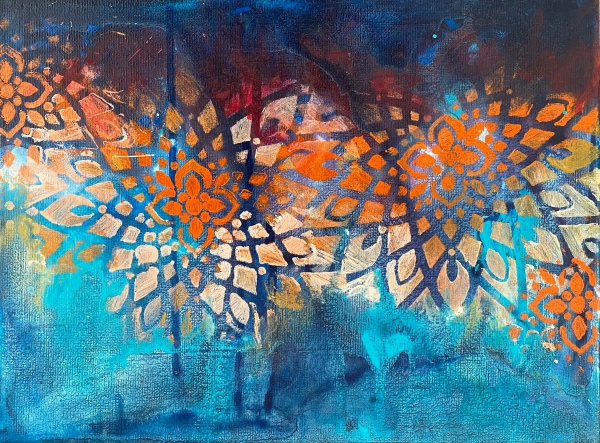 I even surprised myself by filming my own videos (without the usual help of a team + lights + equipment) and made a small free painting course, intriguingly titled (even if I say so myself!), The Blob and Brayer Project. My tech-challenged mind was definitely helped along by the presence of my beautiful daughter, Mary, who came home from England just in time to miss Covid in the UK. Her fabulously-timed return also meant she could help me edit those videos in a fraction of the period it would have taken me on my own! You can access this free mini painting e-course over here.
My studio workshops eventually resumed in with full vigour, with much joy and laughter. I LOVED having beautiful, brave people back in my studio and witness their surprise as they made gorgeous art! (Here are my classes in 2021. January classes are fully booked, and Feb is heading that way, so be quick).  I also began a new private, one-on-one Creative Mentorship Programme, for a more intimate, bespoke experience. (First term is full up,  but do email me info@maliniparker.com to enquire about April commencement.)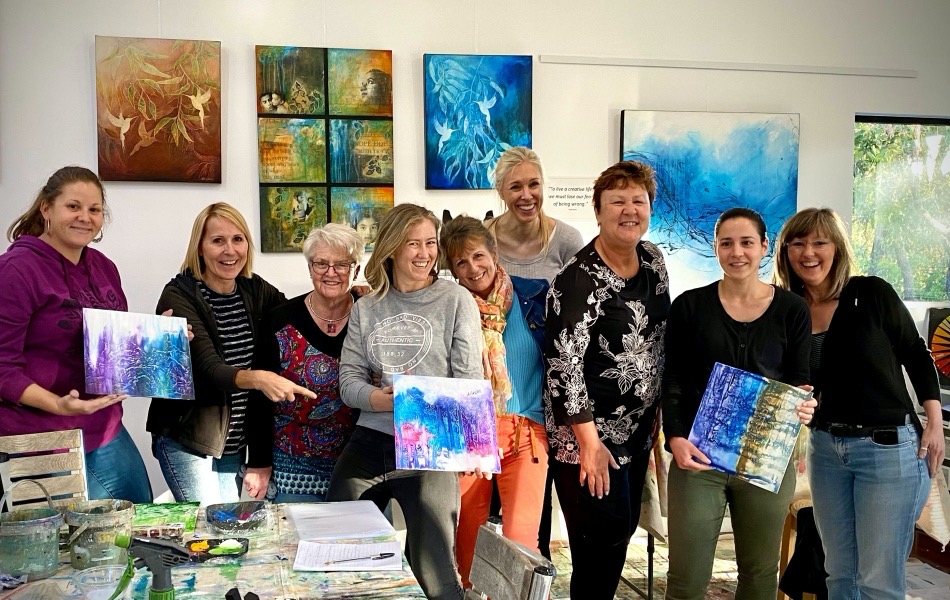 In 2020, I cleared the understory of my forest. I have over three thousand square metres of jarrah and marri forest, most of it carrying a HUGE fuel load in an understory that was choked with weeds, dead leaves and highly flammable detritus. With the help of friends, family and students, multiple borrowed rakes and hoses and SEVEN burnoffs, I can now walk through my forest for the first time, and feel the earth breathing beneath my feet.
The clearing of my forest understory held many metaphors. Not coincidentally, this was also the year that I worked with a psychologist to clear and make sense of some of the demons of my childhood. It was powerful work, and I'm beyond grateful to him for his kindness and skill and insight. A good therapist is invaluable. Most of us had very imperfect childhoods and expend a lot of energy emotionally tripping ourselves up from the life-long patterns that emerged from them. I know I certainly have.
And so, 2020 became my Year of Clearing.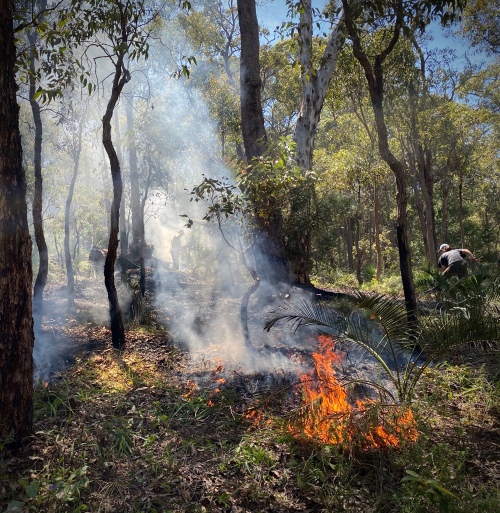 And finally, a Year of Connection: Through local community groups on Facebook, I received help when I needed it most,  got to know some people in my neighbourhood, and even acquired a couple of gorgeous handbags! I even took part in a gentle, low-key street party just outside my house, once social distancing restrictions ended. There are some good people out there, and it felt wonderful to meet the folk who share my slice of the world. And in the last days of December, I had the audacity to invite myself into my sister's end-of-year family vacation break on the beautiful south-west coast of Australia. If that wasn't naughty enough, I asked if Mary could come too! We had a marvellous few days together, united by our love and kinship, masses of hair (or lack of it 🙂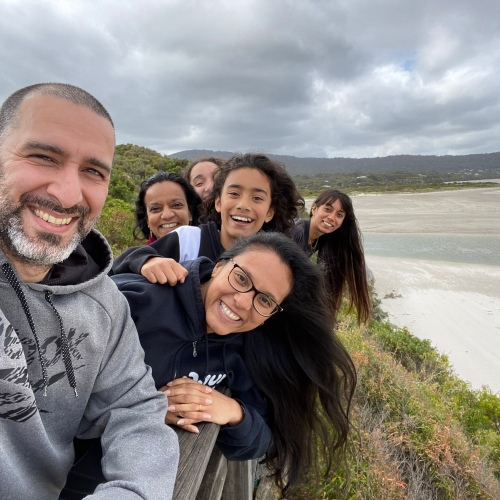 As we look back on 2020: The Year Of C, let's find beautiful things to be grateful for, no matter forces shaped our world.
And as we look forward to the new year ahead, let's resolve to make it a good one. We cannot avoid adversity, but we can make very good lives out of challenging circumstances. The best way I've found to do this is to magnify every Tiny Good Thing that happens: every sweet moment, every friendship made, every beautiful conversation, every juicy colour we add to our palette.
2021 can be made of whatever we choose to focus on. Let's make it a beautiful, textured, layered piece of art.
With all my love,
Malini x
PS If you would like support over the course of 2021, I highly recommend Your Year of Miracles mentorship programme, which is commencing in mid January. I've been part of this programme for years, and have learned a great deal from the kind, wise and helpful mentorship of Marci Schimoff and her co-facilitators. They have some free resources available right now for a short time that you can access here, and a fabulous year-long mentorship that changed my life.
"When all your desires are distilled,
you will cast just two votes,
to love more, and be happy."
– Hafiz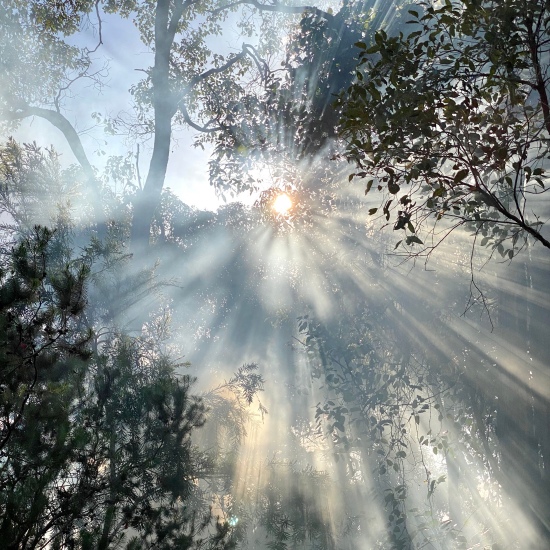 www.maliniparker.com