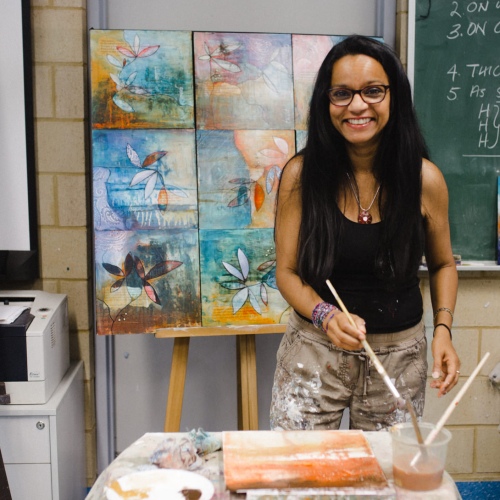 I started making art eighteen years ago. I started painting in front of groups of students ten years ago.
Facing a blank canvas can be extremely intimidating, but years of facing this fear in front of an audience, and most often doing it upside down (so that the painting faces my students, not me) has knocked the fear out of me.
Or so I thought.
After all those years of epic inner battles and fear-facing-moments, I thought this was one ONE area of my life that I had conquered my fears.
Until that day, almost exactly three years ago.
Let me take you back.
——————————————————–
It is Wed June 22, 2016.
My beautiful daughter Mary has just left home for the first time, most likely forever. She didn't, however, move to the next suburb. She moved to the other side of the world. (No, it wasn't because she hates me 🙂
I am alone. For the first time in my entire life, I am entirely alone.
Most days it is ok. Today it is like a knife in my gut.
Greg died two years ago. Mary's left home. She's NOT HERE. Even though I am deeply grateful she is very much alive, I am still crippled by grief and loss.
For 24 years, I've been her protector, her advocate, her guardian, her teacher, her friend, her mum. I am still those things, but it's different from 14,500 km away.
I simply cannot give in to grief.  I have to keep going. To remember how proud I am of my baby. To use my courage. Just like she has. I have to work.
Work! I must work. I have a GIANT CANVAS to complete! To start! It is a commission – the biggest painting I have ever done. It's 2.4 metres long and I can't even lift it myself.
My client is so excited about it, she's sending me messages like, "how's my baby coming along?"
How do I tell her that her 'baby' is NOWHERE near being born? It's not even an embryo yet?!
How can I possibly create anything when there is a knife in my gut?
I am overcome with fear and uncertainty.
I simply CANNOT face this blank canvas.
Then Mary calls me on the phone and we chat. She is struggling, but she is struggling bravely.
I remind myself, "Mary has left home and is using all her courage to start a new life in a new country. She's survived anorexia, depression, constant, unrelenting anxiety. She's far away, without me as her safety net. Malini, WHAT are you doing? You're afraid of a blank canvas? How can this be? You are better than this.
Just start the painting. Let go of fear."
With the phone on speaker, with the knife in my belly, I start to paint ANYWAY.
And as I paint, I remember why I do this. Gradually, everything starts shifting. Something familiar and beautiful starts spreading through my being. I recognise that magical feeling that comes from walking through fear, eyes open. The extra sparkly magic of doing this while making art.
I am constantly re-learning how to live from the process of making art. And I am constantly re-learning how to make art from the process of living.
My client LOVED the painting. (Phew! Happy Ending!)
"Looking at this painting, I am reminded of the many journeys I've made in my life. It is like a window into my soul. A meditation." – Sahba Salekian, client, friend and awesome human.
As I relive this memory, I am reminded again of what an honour it is to make art, and what a priceless journey it was to create that piece. It was a gift of learning and courage, where I was once again a beginner, afraid my creativity would fail me, hands bound by pain and grief. It was my daughter's courage, in the face of such mountains of adversity, that woke me up and reminded me of the magical powers of using creativity with intention.
Even after all these years, I still needed a reminder 🙂
_____________________________________
PS I'd like to think we can all relate to The Blank Canvas, even if we've never picked up a paintbrush. Every un-started project is a blank canvas. Full of possibilities, waiting for us to move through our fear and give it life. To unbind our hands, to free our art.
If you'd like to feel what it's like to use creativity with intention, with me by your side to help "unbind" your hands and unlock your art, there is just ONE spot left in this weekend's 'Finding Your Way Home' by the beautiful Swan River in Applecross, Perth. Nine paintings will emerge from YOUR journey. Nine, unique, amazing pieces that you didn't know were in you, as you take a gentle gander through your life and stretch those creative muscles (and actual muscles, in our wonderful yoga class with Chioni, who somehow helps bring together our creative journey with the journey of the body in her lovely approach to yoga).
This last spot is for you if you feel that now is the time to allow art to help you re-connect to that strong centre, the one that gets lost in the day to day craziness of life. July 6-7. Never painted before? It's ok. I've got your back.More information and enrol here to grab that that special one spot 🙂
PPS If you're looking for a straight up, one day intensive art workshop, Painting for Beginners is starting up again in Spring, on Sept 15. One day to make four paintings, learn my techniques, get a TON of content that you can apply to all types of art-making, or just give it a go for one day and never again 🙂 There is an extra special $100 off the full price at the moment, more information and enrol here. 
PPPS If you'd like to to enquire into the process of commissioning a piece of my art for your home, I'd be delighted to talk to you, just email me!
PPPPS Here's some images to inspire, entertain, enjoy. Most are from previous workshops, except the first one – me trying to fit The Long Painting into a tiny frame! (Oh and scroll all the way down for a beautiful quote, which I wish I'd written.)
"The process of painting and creating art is a beautiful playground
in which to learn a ton of life's lessons around healing, courage, imperfections, change …
what comes up for us on the canvas also comes up for us in life,
and when we're willing to truly allow and surrender to the process of creating art,
our entire lives open up."
– Kelly Rae Roberts