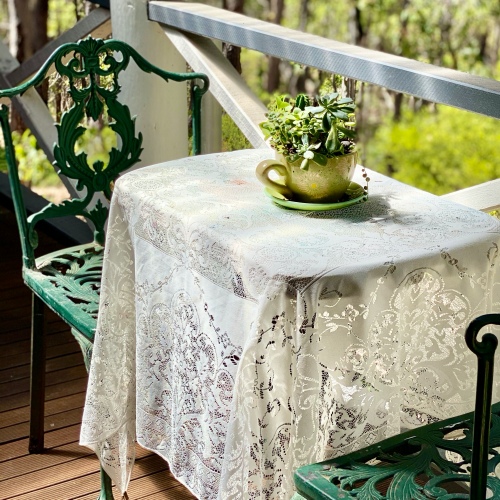 Shortly over a year ago, a friend kindly offered to "lend me some succulents" to complement my art at my first exhibition in my new home. After the show, I ended up buying one of her beautiful creations. From that single, generous gesture, I embarked on an unexpected journey of mindfulness and creativity, one I could never have anticipated!
I now have about forty different varieties of succulents (I think) thriving on my deck and in my studio. Most of them have been grown from tiny cuttings or even single leaves.
Occasionally, I have weird thoughts like, "If you were a plant, what sort of plant would you like to be?" and no, it's not a majestic oak, or a graceful bamboo, or even a fragrant rose. Not even the maidenhair fern, a life-long fav, which needs perfect conditions to thrive.
I think I'd like to be a succulent.
Pick off a leaf and place it on a surface. Any surface. With adequate light and really nothing else, it will start to grow a teeny tiny cute little succulent baby.
Stick that baby into earth and it is content. With very few demands other than light and occasional water, it will happily grow and have more babies.
Succulents have a will to survive in even the harshest conditions.They have amazing forms colours, and textures and lines. They get along well with their succulent friends, and don't mind a bit of over-crowding. They hang, curl, twist, dangle …  Beautiful. Undemanding.
Almost … polite.
"Just give me some water, but not too often (I don't want to bother you with a lot of fuss). And pop me somewhere sunny. I'll just get on with it."
Life can be beautiful and also very very tough. We need to constantly adapt.  Yet we also need to be completely ourselves – whether we are hairy, spiky, soft, sinewy, fern-like or flowery, enormous or tiny.
Grow. Demand little. Give a lot.
That's a succulent. That's what I want to be.
With love,

♥♥♥♥♥♥♥♥♥♥♥♥♥♥♥♥♥♥
SPECIAL ANNOUNCEMENTS and BRAND NEW OFFERINGS in 2020!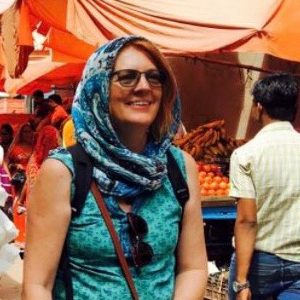 An INDIAN ADVENTURE! My dear friend Ashima is leading a creative and amazing tour to Rajasthan, India very soon!! If like me, going to India feels like a 'cool but scary to do on my own' thing, then Ashima's familiarity with India will make this a safe and awesome experience. Ashima is brilliant, generous and warm-hearted. And she is a gifted artist with her own textile art business! She has been to India roughly a gazillion times and she's a bit of an expert on the plethora of creative awesomeness that is India – fabric block printing, dabu, shibori, painting, rug weaving, pottery, music, dance and more. Doesn't that sound like an amazing and heavenly adventure? At least one of my students has just booked her last minute spot, and Ash says there's room for one more! Is that you? For more info  CLICK HERE.
COMING UP AT MY STUDIO: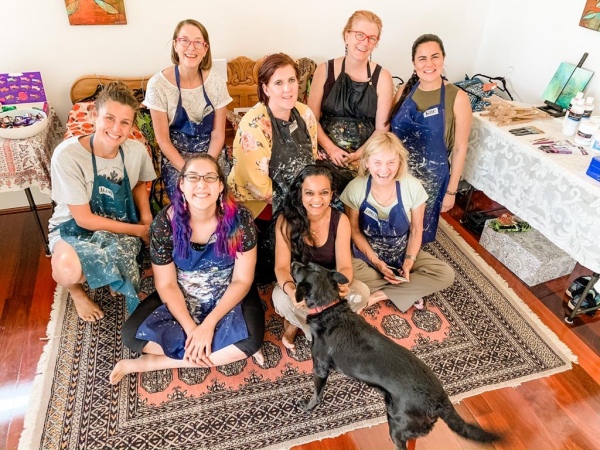 GUEST TEACHER – YOGA and MEDITATION! This Saturday, Feb 1, I will be hosting my first guest teacher, the lovely Melanie Hood, with a mini yoga/meditation retreat from 3-5pm at my gorgeous studio. Cost is just $40. There is only space for a couple more peeps, so if you'd like to come email me asap for details.
And watch this space for MORE guest teachers – Art, yoga, meditation and more…
PAINTING FOR BEGINNERS  My popular one day intensive art class in Perth is running ONLY on these upcoming dates, before I break for the rainy season: Sun Feb 9 (SOLD OUT), Sun Feb 23, Sun Mar 22, Sat April 18. Perfect for you if you've never picked up a paintbrush before, and you want to explore your creativity in a safe and supportive, action-packed, fun environment! If you've been wanting to paint and you just don't know where to start, CLICK HERE.
"I was a little anxious about an all-day art workshop … (as I do not consider myself a very creative person) BUT I really liked the systematic way you went about it and all the snippets of learning that you wove into the day." – Gillian
PAINTING WITH TEXTURE on March 28/29: This is the place to really get up to your armpits in texture, colour and swirlies (the motifs that regularly appear in my work) for two whole days! Using actual leaves from my forest we'll create marvellous, nature-inspired work, and so much more. If you've done a workshop with me and you've been struggling to find the time to paint more OR if you're a complete beginner and this sounds like a lovely way to start … this is for you! MORE HERE.
"I wish it had been five days instead of two!" – L. Steele
♥♥♥♥♥♥♥♥♥♥♥♥♥♥♥♥♥♥
***NEW OFFERINGS FROM ME in 2020***
ONE-ON-ONE COACHING in a personalised programme with me. I've been asked for YEARS if I teach one-on-one classes and I've always said no, as I didn't have the space for it. NOW I DO! I'm introducing a new IN-PERSON programme where you can work JUST with me, to realise whatever your creative dream is, over 3-6 months. This offering is highly personalised and tailored to YOUR specific needs. Limited to 3 spaces (by application only so that I know we will be a good fit). Interested? Email me for an information pack. 
A 3-day ART RETREAT IN THE PERTH HILLS I'm hosting an intimate and cosy special retreat in my beautiful hills studio think … infinity forest, birdsong, peace and tranquillity, on May 30-Jun 1 (long weekend in WA). Three whole days to make some awesome art, work on your personal projects, get one-on-one coaching from me, and relax in the hills. You can come from anywhere as there are so many beautiful AirBnbs in the area. I'll even provide meals so you don't have to lift a finger, just relax and paint! INTERESTED? For more information and to be first in when I open for booking email me here!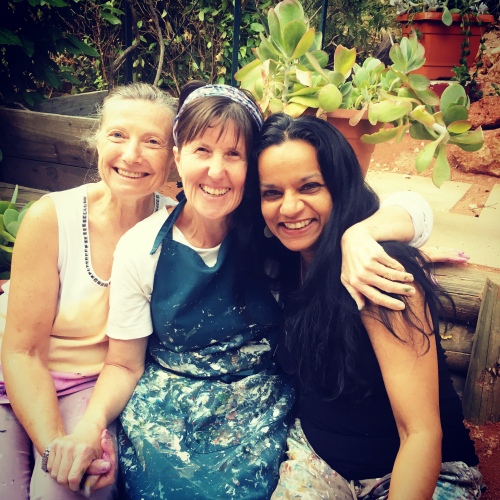 ♥♥♥♥♥♥♥♥♥♥♥♥♥♥♥♥♥♥
Malini Parker is an artist, writer and teacher.
From her home studio perched over a fragrant forest,
she runs beginners art classes in Perth, Western Australia
that help awaken creativity and amplify joy!