PAINTING WITH TEXTURE - FOR BEGINNERS AND DABBLERS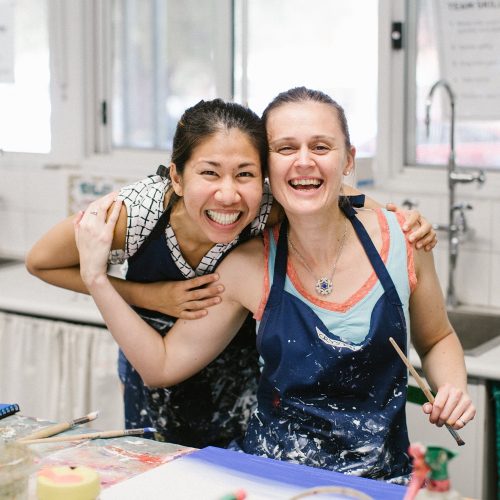 Does a whole weekend of learning how to create beautiful textured, layered art sound like heaven? Then come with me on a gentle art class in Perth - a journey into my personal painting process. Let me share a whole lot of different texturey goodness with you in the peaceful and inspiring surroundings of my own purpose-built studio.
Don't worry if you're a complete beginner, or if you haven't been painting for ages! (We all have wonderful intentions, but life gets in the way!)
Let's ignite those creative fires, and delve deep into texture and colour, using my signature lace, leaves and swirly lines. Your paintings will be gorgeous, rich and mysterious … (And that's just part of it!)
WHO THIS ART
WORKSHOP IS FOR
Would you like to find out my tips and secrets to creating beautiful art? Here's what's in store:
A wonderful 2 days to lose yourself in your delicious creativity!
Learn my secret ways of creating beautiful semi-abstract, very textured paintings using lace (actual lace that you can re-use again and again!) and leaves from the garden into your paintings (yep, real leaves!).
Have a ton of fun with the fluid, swirly lines that you see in my work – I show exactly how.
Learn about colour and it's impact in art and life.
Cultivate and enrich your creative life.
If you've attended Painting for Beginners – refresh and expand on what you learned.
Learn how to use your art to embed thoughts and ideas that you'd like to invite into your life.
Meet and create with like-minded people. There's nothing quite like it!
As with all my workshops, you'll go home pretty tired, very happy and the proud creator of several lovely new paintings 🙂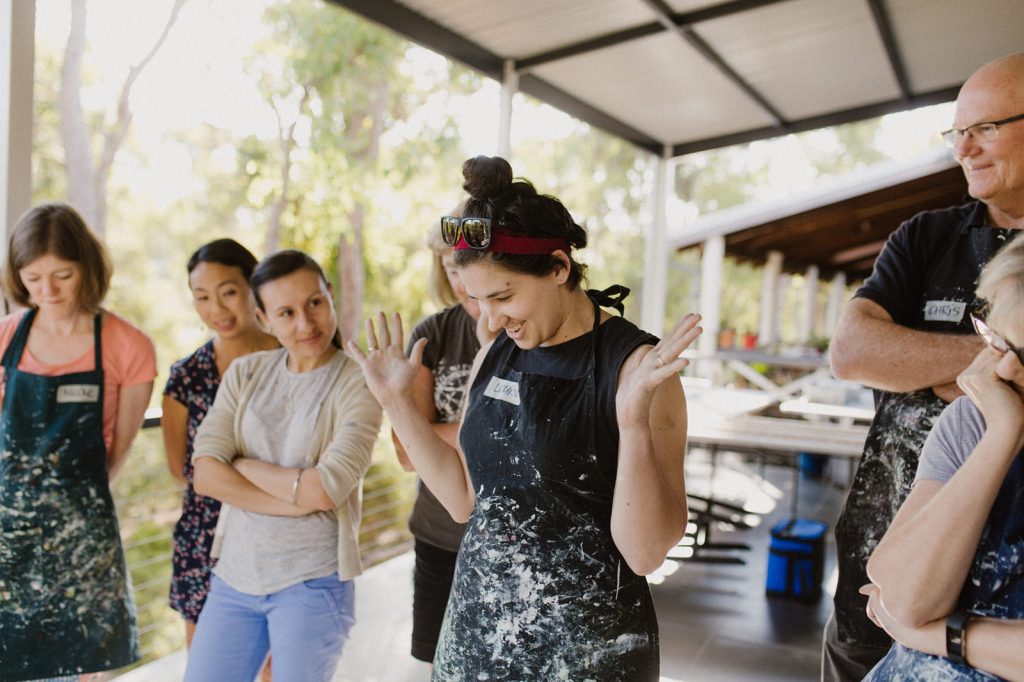 PAINTING WITH
TEXTURE IN DETAIL
UPCOMING DATES 2023:
This workshop will open for enrolment later this year. 
Time: 9.30am to 3.30pm Sat and Sun
Venue: my purpose-built, peaceful studio in the hills of Glen Forrest, Perth
Bring: Just your lunch, everything else is provided!
Supplied: Four primed wooden panels to paint on, texture pastes, and stacks of wonderful arty things!
Cost: (flexible payment options can be arranged, just email me: info@maliniparker.com!)
$550 (FULL price)
$525 (EARLY bird)
$497 (SUPER DUPER Early Bird - available now for short time!)
BOOK your spot now at the limited time SUPER DUPER EARLY BIRD PRICE!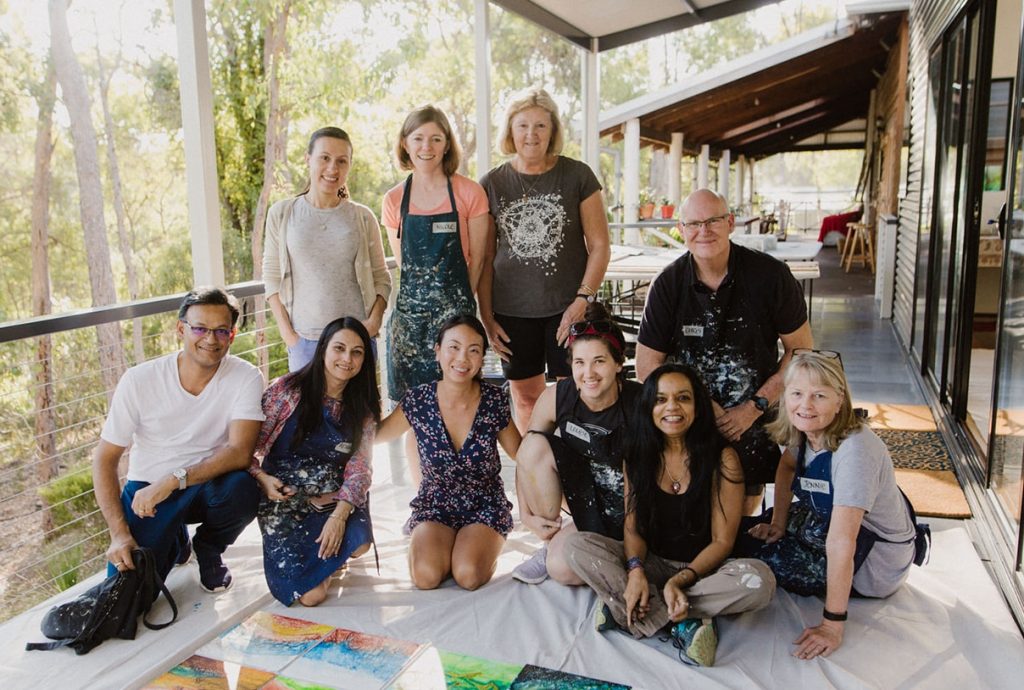 WHAT PREVIOUS
STUDENTS HAVE SAID
"Malini was such a calm and nurturing teacher, who led us step by step to create our paintings. She talked about how life and art are intertwined and made us feel valued as people and artists. Pure joy."
– Linda Steele, Melbourne
"Thank you darling for the wonderful time making art. You are an awesome woman who has left me thirsting for more! Luv you to the moon and back!"
– Ginny Jones, Hairdresser, Adelaide
"You bring something peaceful and special into my hectic work life."
– Stephanie W, international corporate consultant
"Painting with texture is something I've never done so I was fascinated to give it a go. I learnt so many awesome techniques & can't wait to use texture on my newest paintings! Not only is she a wonderful teacher Malini is funny, kind & caring. At the end of just 2 days she had our whole class so comfortable with each other that we felt like a big family! This fun fulfilling work shop is definitely something you will benefit from & you won't regret."
– Ebony Taylor, Graphic Designer, Perth
"I enormously appreciate your opening me up to painting. You are an incredibly good teacher: you've got it goin' on girl!"
– Crispin Rapsey, Teacher
"I wish it had been five days instead of two."
– L. Steele
"The way you structured the course is fantastic. You're a very innovative and passionate teacher. I finished feeling inspired."
– Dr. T Browne, Dentist
"Once again, I had the best day. Malini gives so much of herself it is such a fulfilling day. Much more than just an art class, she shares many invaluable life lessons and urges you to express then in your art. I had not found the opportunity to paint since High School, often hoped I would get back to painting one day. Malini has nurtured and encouraged that and so much more in her wonderful day seminars."
– Sheli Kohn
SUBSCRIBE TO MY MAILING LIST and GET MY E-BOOK FOR FREE
It's called 5 Ways Your Creativity Might Save Your Life and you can get it by dropping your details in below. You'll also receive my updates on events and inspiring tales to help you live YOUR creative life!