"The universe buries strange jewels deep within us all,
and then stands back to see if we can find them."
-E. Gilbert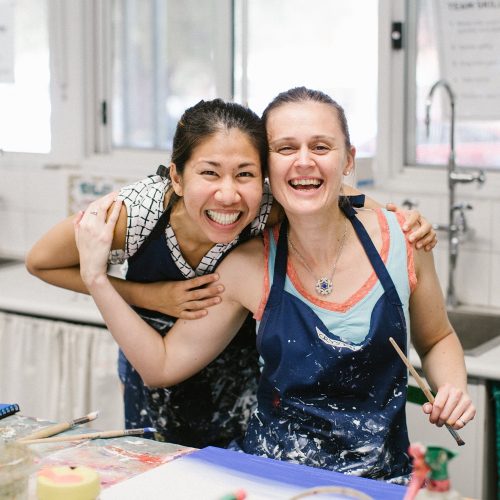 Does a whole weekend of learning how to create beautiful textured, layered art sound like heaven? Then come with me on a gentle journey into my personal painting process, and let me share a whole lot of different texturey goodness with you! My art workshops are held in Perth and in Melbourne, Australia.
Don't worry if you're a complete beginner, or if you haven't been painting for ages! We all have wonderful intentions, but life gets in the way :)
Let's ignite those creative fires, and delve deep into texture and colour, using my signature lace, leaves and swirly lines. Your paintings will be gorgeous, rich and mysterious … (And that's just part of it!)

Would you like to find out my tips and secrets to creating beautiful art? Here's what's in store:
A wonderful 2 days to lose yourself in your delicious creativity!
Learn my secret ways of creating beautiful semi-abstract, very textured paintings using lace (actual lace that you can re-use again and again!) and leaves from the garden into your paintings (yep, real leaves!).
Have a ton of fun with the fluid, swirly lines that you see in my work – I show exactly how.
Learn about colour and it's impact in art and life.
Cultivate and enrich your creative life.
If you've attended Painting for Beginners – refresh and expand on what you learned.
Learn how to use your art to embed thoughts and ideas that you'd like to invite into your life in 2017.
Meet and create with like-minded people. There's nothing quite like it!
As with all my workshops, you'll go home pretty tired, very happy and the proud creator of several lovely new paintings :)
And here's a video to inspire you and give you a peek inside my workshops!
If you are from another State in Australia or overseas, I welcome you with extra open arms! Perth is a shining, clean city, the most isolated in the world, situated in Western Australia, the largest State in the world! It is brimming with wonderful cafes and stunning beaches, and is built around a gorgeous river. Recently Perth was named as the 7th most liveable city in the world… I love this city. Don't take my word for it. Read a recent NY Times article here. And come.

PAINTING WITH TEXTURE

details

UPCOMING dates:
PERTH – Sat July 29-Sun July 30, 2017 BOOK NOW (just 2 spots left)
Time: 10am-4pm, Sat and Sun
Venue: Art Building, Kyilla Primary School, Selkirk St, North Perth
Bring: Lunch and just few art materials
Supplied: Four primed wooden panels to paint on, texture pastes, and a VAN-full of supplies!
Cost (includes GST) :
$450 (BRING-A-FRIEND)** Best Option!
$495 (EARLY bird – 14 days advance payment)
$550 (FULL price)

You can pay by credit card (transactions incur a small merchant fee). BOOK NOW
To avoid the merchant fee, pay by direct transfer or by installments! EMAIL ME

TO ENROL or PURCHASE A GIFT VOUCHER
Click

here to book your spot now.
Click here to purchase a Gift Voucher, delivered instantly to your inbox with a personal message to your loved one!

"I enormously appreciate your opening me up to painting. You are an incredibly good teacher: you've got it goin' on girl!" – Crispin Rapsey, Teacher
"I wish it had been five days instead of two." – L. Steele

"The way you structured the course is fantastic. You're a very innovative and passionate teacher. I finished feeling inspired." -Dr. T Browne, Dentist
"You bring something peaceful and special into my hectic work life." – Stephanie W, international corporate consultant.

"THANK YOU with all my heart … talk about "in the zone!" It was terrific :-)" – Gaye McPhie
"I came away from the day with such inner peace, what you teach comes from the soul and then transforms a painting…it has given me a gift that I will treasure forever, thank you!" –Nicole Langford