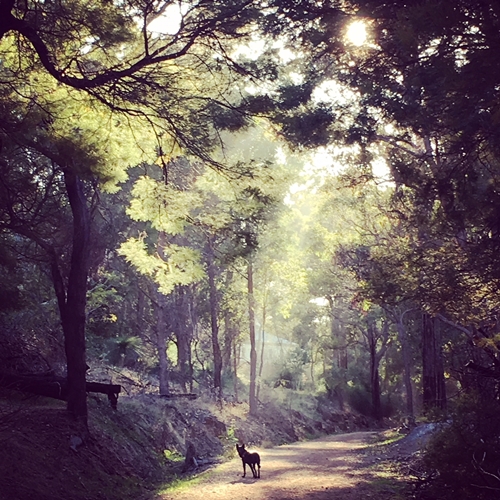 We exist in the space between where we are and where we would like to be.
So much of our life force is spent in imagining we should be other than what we are, where we are, who we are. We are conditioned to yearn.
What if we could accept life as it is now? See a field of possibilities in our future but be gloriously, joyously content with our present?
I have a confession to make. I didn't write that for you. I wrote those exact words in my own journal, where I regularly have some of my best conversations 🙂
I'm a "yearner" from way back. As a child, I yearned for a father that didn't yell and a mother that had time for me. In high school I yearned to be better at Math. To not feel awkward at parties. To have a flat tummy, just like my best friend. To understand what the heck my Physics teacher was talking about. (I'd still like to be better at Maths and less awkward at parties. Thankfully, I had the good sense to drop Physics 35 years ago… and as for my tummy, well, my new best friend is stretchy jeans.)
As a fully fledged grownup my yearnings are a little different. There are days when I yearn to change the past and have Greg not die from cancer. To have been a better wife to him for those 28 amazing years. To have appreciated each moment we had together instead of spending them yearning.
Unfortunately Time Travel remains in the realm of Star Trek, and no amount of yearning is going to change the past.
Greg died four years and one week ago. Four years. It still felt like a fresh wound in my soul. I forget that each May 16th always leaves me anxious and bewildered. Instead I expect it to get easier, and it just doesn't. When do the stages of grief end? Do they end? Last Wednesday the thought crossed my mind that I had somehow failed at bereavement.
Then, out of the blue, my dear friend Marie Williams, (of the tender and beautiful Green Vanilla Tea), shared this with me about bereavement:
"It holds in it some of our dearest memories. Sacred and true. It still brings me to my knees 11 years on. And then I wake up on another day, cleansed by those tears. One thing I know, grief has made my life bigger. There is more sadness and there is more love too. There are more tears and I'm laughing more now too. I am more aware of pain and I am grateful for so much which has made room for more joy. Joy and sorrow, they can sit together quite nicely if we let them … honour your sadness."

Perhaps Greg reached out to me from the World of Mysteries and sent me comfort through Marie.
——————————————
I've recently moved to the hills of Perth. After eleven years of renting, I now own my very own house, for the first time, without Greg. It's a small cottage, perched on 3200 square metres of gently sloping woods. I wake to birdsong and the sound of the wind rustling through the trees. Kookaburras regularly laugh at me. It's really quite spectacular.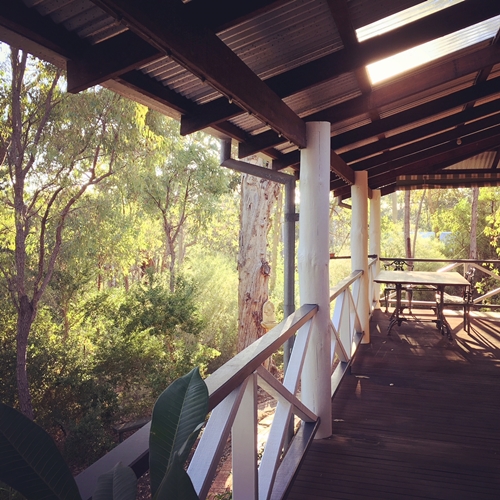 But.
After a 2 hour eye-opening walk around the property with a Bush-fire Officer, I realised that my land was a tinder box, not so much because of the trees, but because highly flammable weeds, and fallen, decaying matter that has built up on the forest floor.
So my days are now spent clearing firebreaks. Lopping dead wood off trees, cutting away weeds and clearing the ground of years of detritus that is choking the earth and providing fuel for bush-fires. It's going to take … a Very Long Time.
The apparent enormity of this task, when viewed logically, is actually impossible for me to complete on my own. I'm a short, spindly-legged, little Indian woman who is not known for upper body strength (or indeed anything that requires normal-ish muscles) and, according a recent MRI, has dodgy, degenerating bits of vertebra in her spine. Additionally, I spent 28 years living with someone who was quite the opposite of all of those things. Basically, Greg's superior physical strength made me lazy and entitled. But if I want to significantly reduce the chances of dying in a bush-fire, I have little choice but to rise above my poor musculature and pretend like I can do this.
What an AMAZING metaphor for life! How often are we actually fully equipped for whatever life deals us? I know I've never been. I've just faked it, and at some point, (sometimes after years of pretending like I know what I'm doing), I've surprised myself with a whole new set of skills.
So I pretend. I clear small areas, thirty minutes at a time so my delicate body doesn't freak out too much. I make pile after pile of leaves, ready to be burned in the rainy season. I've no idea how to do that safely, but I'm pretending like I will become an expert at this. As I rake, I discover tiny plants struggling for light and air. I uncover the textures of a long-forgotten path around my property. I pull away masses of dead material with my tiny, aching hands and realise that gloves are my absolute best friend, because (who knew?!) a lot of the Australian bush is covered in sharp thorns. I even invite friends to come over with rakes.
Clearing my land has become enormously satisfying. And every time my thoughts stray to the BIG-NESS of the task, I pull myself back to the here and now.
I hear Greg's voice in my head."Chip away, my love, just chip away at this." 
So with my dog Ruby watching from a safe distance and making sure I stay on track … I focus on this path. This stretch of 5 m. That's all.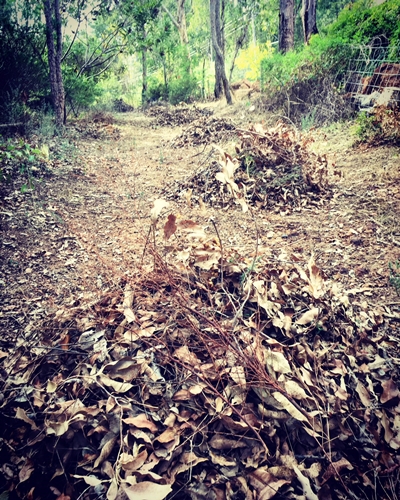 Our hearts leap into the abyss of our yearnings and we forget that right now is ALL we have. Clearing these leaves. Cutting back this dead wood. Removing these weeds.
Little by little, I keep raking. What textures and colours will I uncover next?
———————————————————-
The concept of 'HOME' has come to take on many meanings for me. Buying my first home on my own was thrilling and scary, but it gives me enormous comfort to know that every tree, every leaf and every single blossom is mine. However, while a physical home can bring a sense of security and peace, I've also learned that any change, EVERY change, can destabilise me, if I let it… and the most important 'home' to feel secure and stable in, is my own heart.
Finding Your Way Home is my upcoming workshop, where I share my own experiences at at being 'lost and found', and I offer unique, powerful, yet gentle creative activities to help each of us find our way back to our own centre – the safest place in the world! If life has thrown you off kilter at times, and you'd like to use your own creativity to wield its magic on your heart, this is the workshop for you.

Join us by the Swan River in Applecross, Perth, over two beautiful days on June 30/Jul 1 OR Jul 7/8. Both dates are open for enrolment now, and absolute beginners are absolutely welcome.
Come take this journey to find YOUR way home.
"You probably will not know to what extent the experience of Finding Your Way Home has left imprints on my soul. I feel the learnings I gained will be far reaching and ongoing for a long time to come. Thank you always."
– Lynne Cartwright