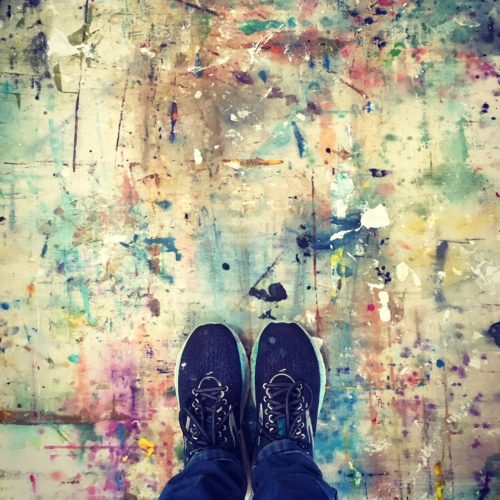 The end of every year is a weird time for me. There is a combination of panic (oh my god, the year's ending and I haven't actually started it yet), unrealistic anticipation of change (next year I'm going to grow 5 cm and be super chilled about everything), and extreme fatigue (is it ok to just spend the whole day dreaming of being asleep?) Paradoxically, I also tend to hatch Big New Projects towards the end of a year.
More on that later.
At the end of 2017 I decided it was time to buy myself a house. Eleven years of renting in the city, low property prices and the need to write the next chapter in the book of 'Greg's never coming back and you need to re-claim your life' were pushing me into this decision.
I also had a stack of money sitting in the bank, more than I'd ever had before, because I'd sold the family home in the seaside town of Albany, (sold it almost by accident to my lovely tenants without even putting it on the market), and it was the obvious that the Universe was sending me huge signals.
Unfortunately, that stack of money wasn't quite high enough to buy me a home in the swanky riverside suburbs I'd been renting in. And nearly four years after my husband Greg passed away, it was finally dawning on me that he wasn't about to walk through the door and tell me his death wasn't a Big Mistake and he was actually fine and strong and alive.
I had to work out where I was going to live the rest of my life, alone. I picked the Perth Hills. Property prices were affordable, blocks were large, I could build my studio, and most importantly, my sister Susheel lived there and it felt comforting to have family just down the road.
So I started looking, and my niece Carmel and my brother-in-law, Kevin both at various times, kindly offered to be my house-hunting buddies. We looked at 18 houses in total. I hated them all. Then, 10 minutes before the 'home open' closed on a house that had just popped onto the market, Kev and I walked into it and my world changed.
Just like that.
The house sat on the gentle slope and seemed to be suspended in the middle of a jarrah forest. As soon as I walked in the front door, my gaze was led to the uninterrupted view of trees just outside the big glass windows. It took my breath away.
But then I glanced to the right and it felt like my heart actually stopped.
Three paintings hung on the wall. Three paintings that looked incredibly familiar, so familiar I felt like I knew them. Actually, I did. I painted them.
Twelve years ago, while I was still a student, I was represented by a small, beautiful gallery that sold my art. I remember the day those paintings sold. I got a call from the gallerist. "Malini, we just sold 3 of your latest paintings before we even got a chance to label them and hang them on the wall! They were just unpacked and a lady walked in and bought them off the floor! Literally!"
That lady, a total stranger, happened to be the owner of this house that I had just walked into.
Greg had named those paintings The Wine of Astonishment I, II and III. Twelve years later, you could say astonishment was one of the many emotions I was feeling. We spent the ten minutes we had left before the agent closed the house, walking around the house and block, with me trying to think rationally and forget the three paintings. Finally I asked Kev what he thought.
"It has a nice feeling about it."
Now Kevin is a much-published Professor of Biochemistry at the University of Western Australia, and I hadn't ever heard him talk of "nice feeling houses" in the 38 years I'd known him. First the paintings, now Kevin is talking about feelings. Interesting.
But wait there's more. At the very end of the block stood a large tree. On that tree was painted a green door with the word "Baggins" written on it.
And the name of the company that built the house? The Hobbit Building Company.
Why does this mean anything? To say that Greg and I were Lord of the Rings fans would be a bit of an understatement. Well before the movies came out, I had read all the books multiple times. We loved the imagery, the artistry, the poetry, the damn good story telling. We'd been to Hobbiton in New Zealand, which was almost a sacred experience for us. I wrote about it here. We were basically LOTR nerds.
If Greg had've materialised from the other side and said aloud to me "buy this house" it couldn't have been clearer.
I felt a little drunk on the Wine of Astonishment. And I've never had a glass of wine in my entire life. ——————————————————–
I moved in 4 months later, and shortly after that, through a chance encounter with Neil Elliott, the organiser of the Mundaring Artists Open Studios, I was invited to be a part of this wonderful initiative where artists in the region open their studios to the public to show and sell their creative offerings.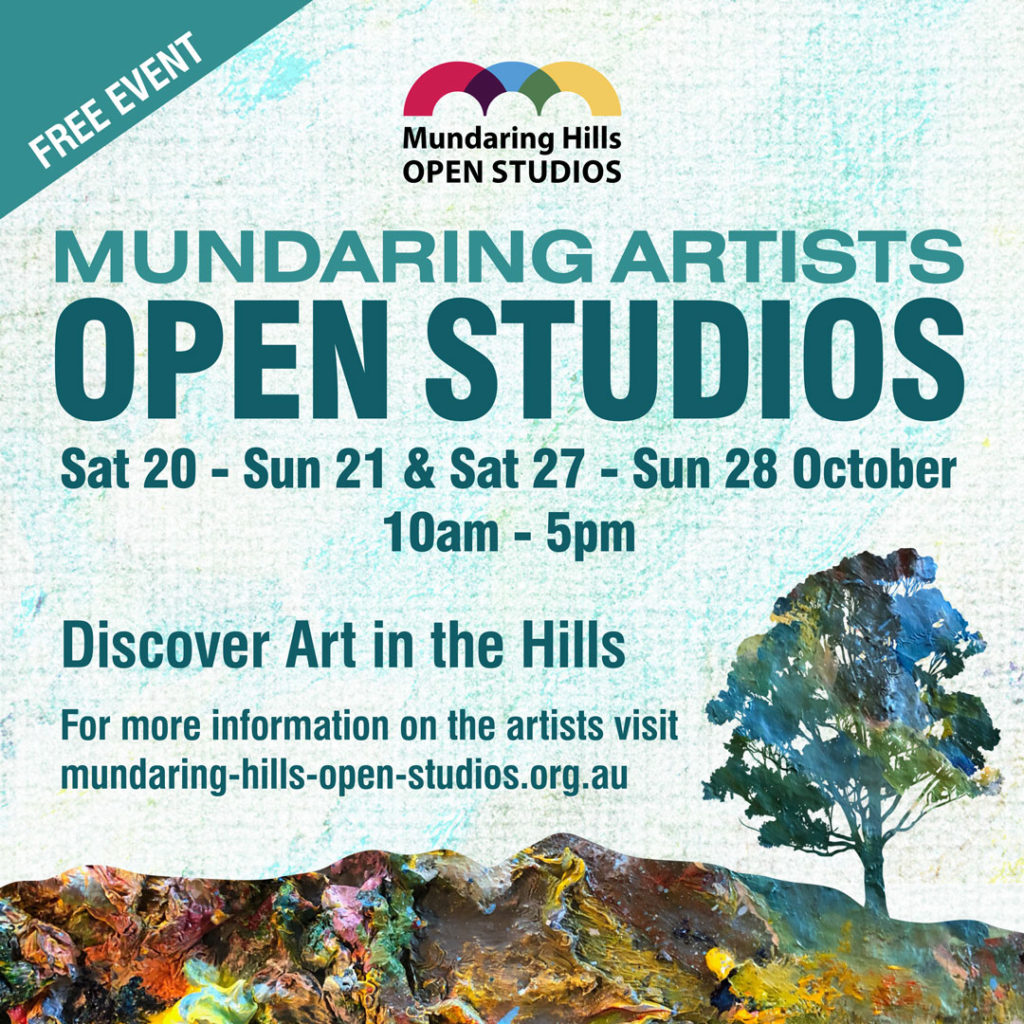 Just like that, 2018 became the year I finally broke the artistic drought that has been stopping me from holding a major exhibition since Greg died.
I don't have a studio (yet). So I'm using the outer walls of my little cedar cottage and the large deck that hugs it, as my gallery space. And I've converted part of my lounge into my painting room. It sort of looks like creative hell exploded in my living room and had babies.
My dog is befuddled by the constantly changing surface area of our home. Her fur is covered in paint. My fingers are stiff from holding a paintbrush and my arms ache from the unaccustomed workload of creating art day and night. My heart soars one minute and panics the next. Making art is a risky business. You put your heart and soul into your work, that's essentially destined to hang on someone else's wall … or to be stored under your bed. You just don't know. So you give in to the creative addiction and just keep making art with no certainty, absolutely none, that your work has value in the eyes of the beholder. Its equal parts frightening and exciting.
I'm calling this, my 11th solo exhibition, Coming Home.
Like my paintings, the title is multi-layered. On the very obvious level, I'm inviting you all to come on over to my home 🙂 Then there is the story of me buying my own home, for the first time, on my own, and this choice leading to this show. And then, perhaps most importantly, there is the journey we're all on… of coming home to ourselves, which has been accelerated for me since I lost Greg.
I've had many guides and mentors in my life. But making art has been my greatest teacher. My faith, my service, my devotion has rolled into one activity, that requires me to practice my core beliefs and see them taking shape under the brush. When I lose sight of where I'm going, my painting reminds me that no one actually knows where we're going, we just make a mark and let go, trusting that it will all come together at the end. And that every single messy, imperfect stroke, bump, image, line and dot is just part of a layer that eventually unfolds into another layer. Just like every single messy imperfect bit of our lives.
Creating something, when before there was nothing, is a mysterious phenomenon. It's been the single most important phenomenon in helping me find my way home.
So my friend … pick one of the last two weekends of October, come on over to my house and see what I've made for you 🙂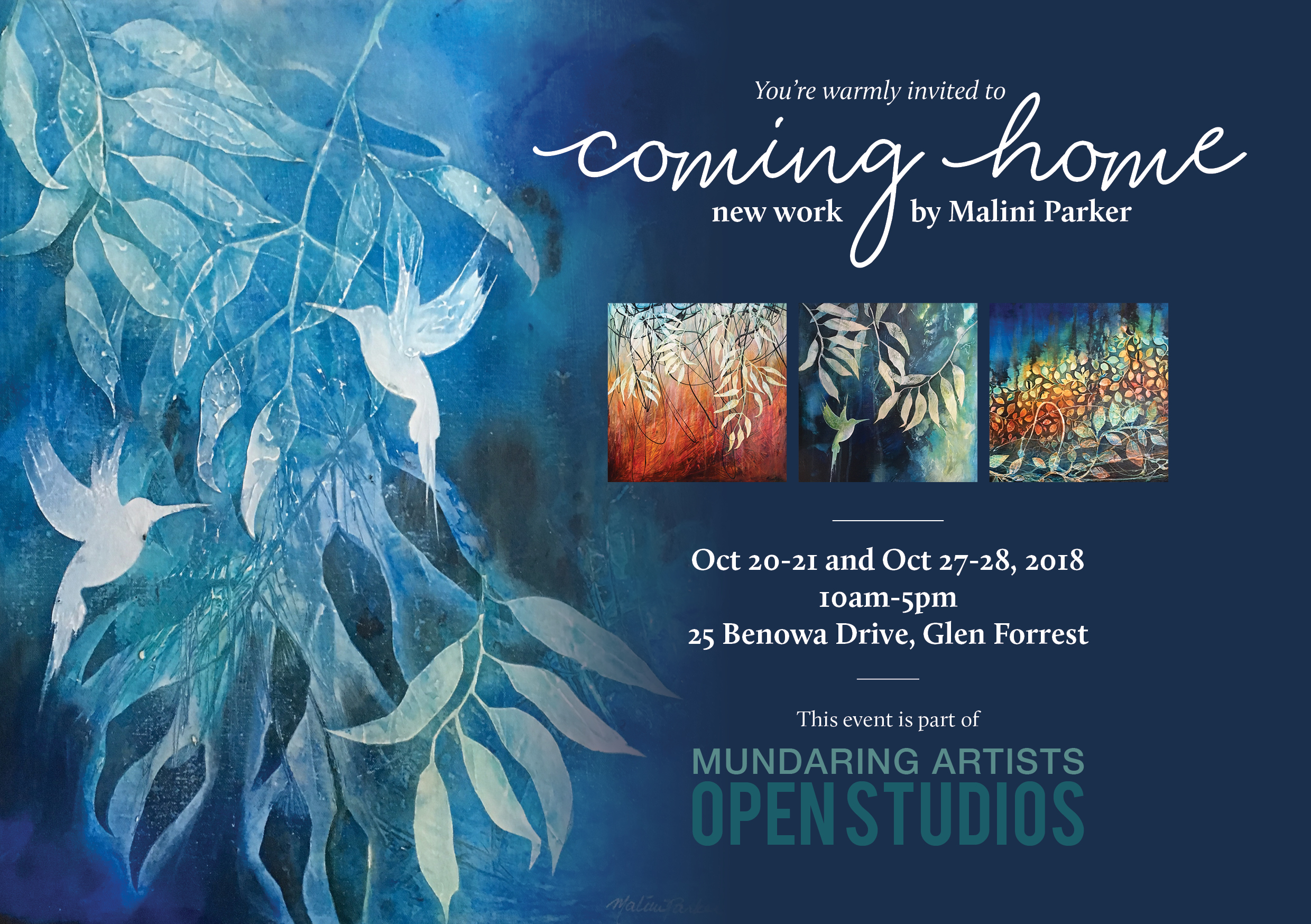 "It's a dangerous business, Frodo, going out your door. You step onto the road, and if you don't keep your feet, there's no knowing where you might be swept off to."
― J.R.R. Tolkien, The Lord of the Rings