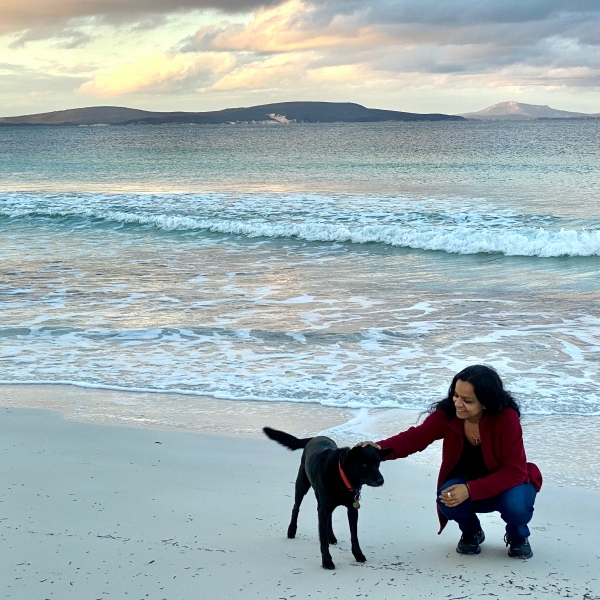 My Ruby Dog is ageing very fast all of a sudden. One minute I had a beautiful, agile Kelpie who could outrun almost anyone and anything, and the next, she's walking into glass doors, and can't hear me when I call. When I clap and yell loudly to get her attention, she runs in the EXACT opposite direction. 
Ruby senses that she cannot manage on her own anymore. So, on our walks, if I wander off and let go of her leash, she will stop, stand at attention and await my return …  only moving when she once again feels the gentle pressure of my hand on her leash, guiding her forward. She is such a sweet example of adaptation and acceptance. 
"Her skin is in fabulous condition," said Alastair the Vet, as he stroked Ruby at a recent checkup. "And her fur, really great," he continued approvingly. "She's also in good shape, I can see a great curve in her waistline, and her teeth and gums are very healthy. So is her heart," he added, as he put the stethoscope away.
It's so nice to know that despite being unable to see and hear, her skin, fur, teeth, gums and heart are healthy, and she has a lovely waist!
Proud as I was of my blind and deaf dog, I almost wished someone had said something similar about my skin, fur, heart and waist. Unfortunately, my cholesterol is elevated. My sister gave me hair products for my birthday as a subtle nudge. And my waist is becoming increasingly barrel-shaped. So THAT observation ain't going to happen anytime soon!
Ageing…
I've been thinking a lot about it recently. 
I was born with nice hands – slender and long-fingered. One could say, the hands of an artist (who didn't do any work!). Of course, the length of my fingers remain unchanged, but they are now considerably less slender. My knuckles seem to have a mind of their own, and have swollen for no apparent reason. And my skin? Well, I now possess the hands of an artist who works hard and doesn't take care of my skin. Rough and wrinkly, my hands don't seem to match my arms. Constantly covered in paint and gesso and various mediums, they haven't stood a chance against the rigours of twenty years of art-making. 
Perhaps my hands are keeping pace with my spine: A recent MRI showed so much degeneration in my vertebrae that I wondered how I was still standing up. No wonder I love my couch so much. 
Ageing…
I could always rely on my late husband, Greg, to tell me the truth. At times he'd just stay quiet instead of saying what he actually thought, but Greg never lied, not even to save my feelings. This drove me to distraction at times, but not this one time.
It was Wednesday, May 14th, 2014, his last day of consciousness. I was told he might only have hours to live. I was stroking his hand and saying my goodbyes. His skin was icy, and I found myself gently observing,
"Your hands are so cold!"
And he replied, eyes shut, his voice as clear as a bell,
 "Your hands are so rough!"
Aaah Greg. Truthful to the end. And you made me laugh even as you were leaving me.
Greg handled ageing with grace. He embraced every single milestone. And when Death came calling, thirty years earlier than it should have, he embraced that.
His art – his music – kept him alive in the true sense of the word. He used the Divine power of Creativity to navigate the fires of cancer hell. That and Love. Love for life, for everyone around him, for his faith, for God. 
I'm still a little cross at him for leaving me, when we were supposed to get old and wrinkly together… And just today, I bawled into my coffee as I watched something beautiful that he would have loved. But I am still grateful that I got to experience the kind of messy, imperfect love that we shared for three decades.
Now, as I enter my seventh year without Greg, I look at my hands and my life and wonder. Is it possible I'm at peace with ageing, in a way that I never previously was?
Perhaps the grace with which Greg handled his last years, the grace with which my Ruby Dog is handling her blindness … maybe it's all (finally) sinking in. 
Ruby places such trust in me to guide her. It has been an example to me that we all have this Guidance, even when we can't see it. I see myself using her as an example of how to tackle the "blindness" that life's uncertainty brings: 
Be still. Be patient. And trust you will be guided.
And now for something I rarely do outside of exhibitions: introduce one of my own paintings! I'd like you to meet: AWAKENING!
At every season of life, there is potential inside each and every one of us, and none of us have reached it yet. I wanted to paint something of that unseen realm: what is inside, waiting to be birthed. 
My beautiful, seemingly endless eucalyptus forest is a daily reminder to me of that potential. As I prepare for the coming bushfire season, clearing the forest understory and burning away the dead, flammable matter, something else is happening. I find I am now able to walk under the trees and feel the forest awakening, as the earth is uncovered from decades of detritus. 
My forest is awakening, as am I.
AWAKENING is textured and evocative, painted on wood. It measures 90cm by 60 cm (about 35 x 23 inches). If this painting calls to your heart, it can be yours, securely packaged and shipped anywhere in the world. AUD $950 (about USD $690) + postage and handling. If you'd like to make an enquiry or purchase AWAKENING (payment plans can be arranged), please email me info@maliniparker.com, I'd love to hear from you!
With love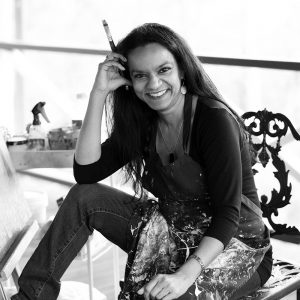 PS COMING UP IN MY STUDIO:
Are many art classes and workshops for you to make your own stunning and unique art … Could it be that there is much creativity to be unleashed from within you? Or could an art workshop make a unique and creative gift for a loved one… check them out here: MALINI'S ART CLASSES and you can book your spot online, or email me info@maliniparker.com for a personalised, stunning Gift Certificate.