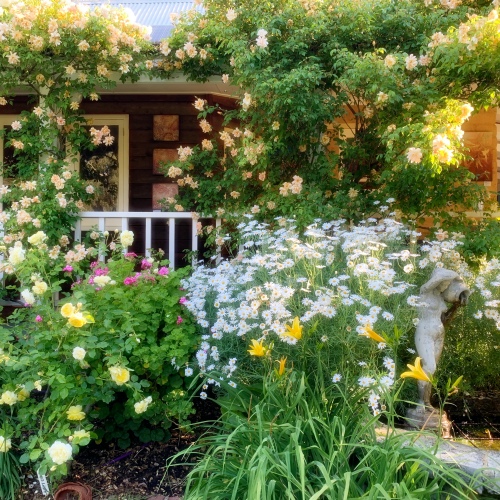 Fourteen years ago, an event in a garden forever changed my life. 
My sister, Susheel allowed me to use the outer walls of her historic mud-brick home in the Perth hills, to hang my art for the public to enjoy. It was my very, very first solo art exhibition, and I had her magnificent garden as a backdrop!
I called it 'Looking Both Ways' because I was a very very new artist, (still in art school), wondering how I got there and what I was doing holding an art exhibition with three Science degrees under my belt. I wasn't sure which way to look! 🙂
Opening day was amazing. My sister knows more people than the Queen, and she invited them all to my show!! There were over three hundred people there, including … the late Robert Juniper, one of Australia's most legendary artists!
I'll never forget seeing him walk in. He was a tall striking figure, dressed in his signature black from head to toe.  He handed the keys to his car to one of my friends who was helping to park all the vehicles. She came running to me, "Robert Juniper just handed me the keys to his ROLLS ROYCE !!!"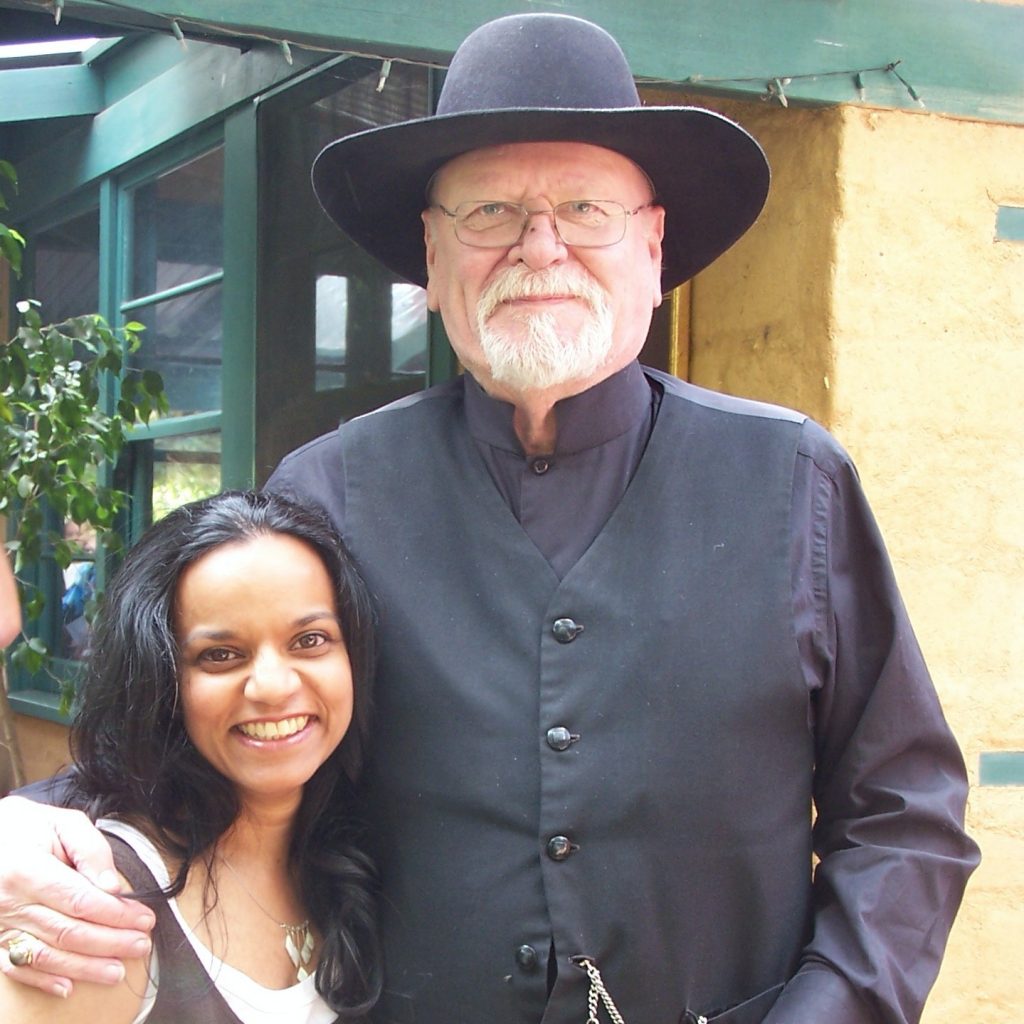 Barely recovering from seeing one of Australia's "living legends" strolling around my first art show, I nearly died when he bought four pieces of my art! I was still a student and just like that, my work had became part of the famed Juniper collection! I felt like Alice in Wonderland.
What brought him there? It was the sheer audacity of my sister, Susheel. She knew someone who knew him, and somehow was bold enough to get the invitation to him.
My sister is amazing: Clever, quirky, creative, ridiculous, funny, gifted, visionary. And she has an amazing garden. Together with Kevin, her husband, they have created a space that brings to life Emerson's words, "the earth laughs in flowers." You feel the joy of nature and as you stroll under the sweeping boughs of a giant mulberry tree, your eyes feasting on luscious, laughing flowers everywhere you look … (and so much more, I won't spoil it for you, come see for yourself!)
As if her garden isn't enough of a creative extravaganza, Susheel is also a painter, and she is showing her art for the very first time – also around the outer walls of their home, like I did, all those years ago. Except this time, we are doing it together!
So, if you feel like having a unique experience in a stunning garden, pop over this weekend to 220 O'Connor Road, Mahogany Creek in the Perth Hills. Meet my zany, unique sister! Smell the roses. Look at our art, and browse among many other gorgeous handicrafts and plants that are for sale.
And the best part is that you can even stop and have some delicious homemade cake and tea and know that each morsel of cake is being eaten for a worthy cause, as the proceeds from them are going directly to the Esther Foundation – Women's Recovery Programme. (No better reason to eat cake, right?!)
Eleven exhibitions later, I'm back at the beginning … delighted to be showing my art in this beautiful space.
And I'm so proud of my sister!