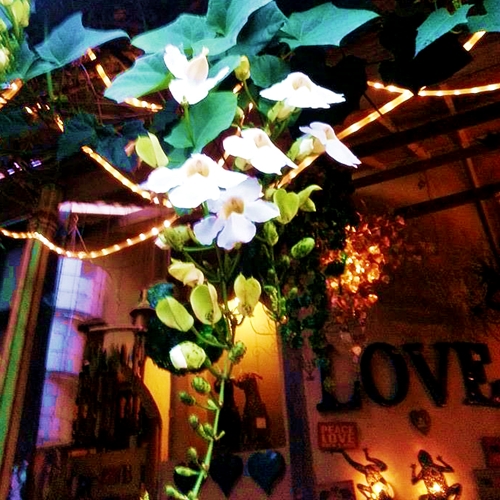 Twenty minutes. That's all I had from when I put the phone down to when I had to be there. Blair was leaving his shop in twenty minutes and I would have to wait 2 whole days if I didn't make it in that tiny window of time.
Blair is my framer. He'd just finished stretching an oil painting I had purchased and delivered to him the week before. My heart was racing as I jumped into my van and drove off to pick it up. I was so excited it felt almost like going to meet a long lost friend. Or lover. Or both.
"Gosh, it's like I'm about to meet a part of myself that I've been reunited with. What is going on?"
I walked into Milford Framer's and there it was – leaning up against a shelf. We stood together looking at it, Blair and I. He must have framed thousands of works in his time but there was a kind of reverence as we stood before this huge, unusual painting.
"What do you think?" I asked Blair. "It's amazing," he replied. I could tell he was in a state of awe, this man who must have had literally thousands of pieces of beautiful art pass through his hands. We discussed it for a bit, he asked where I purchased it and who the artist was. Huda Fauzen in Ubud, Bali. I replied. I saw the look of quiet surprise when I mentioned Bali.
"It's not the usual Bali painting, is it?" he said. "No, that about sums it up," I replied.
It's called Metamorphosis. It captures everything about our lives right now. Transformation. Change. Greg's passing. The mysterious unseen processes at work in our existence.
Butterflies have always been my daughter Mary's symbol. Not just because they are exquisite but because they are a symbol of hope and renewal. The best kinds of symbols.
When she saw the painting, she said, "Mum, it feels like we've known this painting all our lives, and we're just seeing now for the first time." I thought that was beautiful.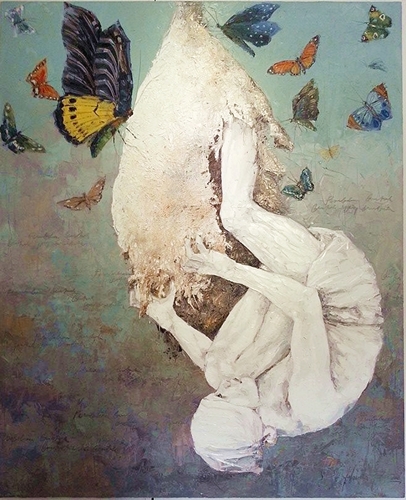 I acquired Metamorphosis in Bali this February when I spent six days in Ubud. It wasn't a holiday. I was meeting my sister and her husband there and we were hoping to discuss our plans for setting up an Educational Foundation for the children of Bali.
My sister and her husband have been living in Sumatra for decades and have dedicated their lives to the service of the people of Indonesia, particularly the underprivileged children. Their existing Foundation now runs 15 schools in remote areas of Sumatra. They are moving to Bali in a year or so and together we hope to build something wonderful and lasting and I want to dedicate it to Greg's memory.
When I left Perth for Bali to meet them, I had nothing but this longing in my heart. No plan, no idea. Just hope. Hope that I could do something to give back. Some service that Greg would be happy with.
It was my second trip to Bali. The first one was a magical three days with my daughter where we saw only the beauty and wonder of Bali. Waterfalls, volcanoes, water temples, flowers. This time was different. Raw, with all its shades of colour, including the colour of poverty.
I watched my amazing brother-in-law connect with the people of Bali at every opportunity – when we stopped to eat, when we asked for directions. Crowds would gather around him and he would envelop these strangers with his love. With an ease and grace I was unfamiliar with, he would ask them about their lives, their hopes, their aspirations and then encourage them to lift their hearts above the poverty and lack of education into which they were born, and know that they were capable of so much more. He would delve deep in minutes in order to better understand the people he wants to serve. It was watching love in action in a totally different way.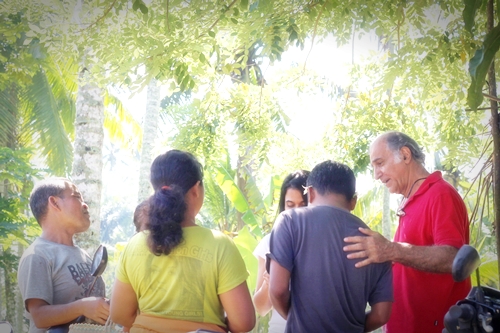 This experience in Bali was a profoundly energy shifting one. I felt Greg's presence around me, almost a part of me, more deeply and with much greater intensity than ever before. But instead of the familiar accompanying grief, it was more like being wrapped in love, joy and gratitude.
I felt his answers when I spoke to him. I felt his guidance all around me. And I felt more joy than I have in a very long time, perhaps ever. I laughed a lot. Possibly more than I have in my whole life. One morning I awoke with pain in my sides, and then I realised it was from laughing so much the day before. I felt a kind of release from the pain and grief that had been weighing on my heart for so long, for the many years long before Greg died.
In Bali I felt the enormity of gratitude for the people around me, for the way my life has unfolded, for the love and kindness in my life, for the care Greg was taking of me from the World of Mysteries, for the people he has sent to help me and me them – it was at times overwhelming.
I came home with a heart that was very full.
This feeling, one of being wrapped in love, has stayed with me ever since. I feel Greg's absence, but its flavour has changed. Instead of a pain in my heart, it is a light in my heart. I think of him and I miss him with my whole being, I often weep for what we have lost, but I now know for sure: I have gained so much more than I have lost. His consciousness resides within my being, closer than we ever were in life. Nearly a year after he left my side, I feel more supported and loved than I have ever felt before.
I still have Greg on my team. But this Greg is different. Transformed. Only Joy. Only Love.
And I feel wrapped in it.
____________________________________
If you feel moved to, do leave a comment here.