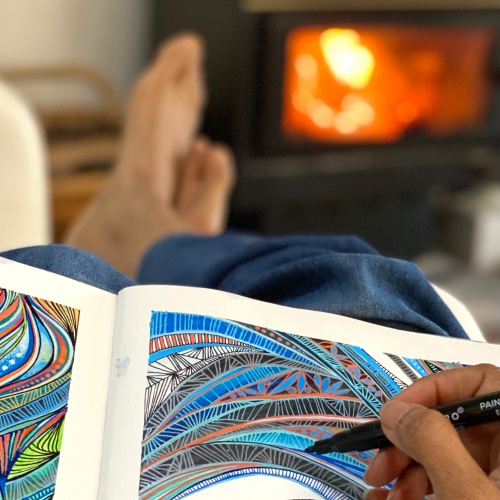 I've been hit. Finally. After two years of feeling ever so slightly superior that my less-than-robust body had managed to avoid the dreaded virus, I have been knocked over … and it seemed like very nearly knocked off. 
Three weeks in from a positive RAT, I'm still coughing, and still weak. I count very little things – like cooking and eating a meal – as big victories (but not tasting, I can't taste anything … oh god, I hope that comes back soon!). Managing to put the bins out, and then having to rest, huffing and puffing, legs wobbly, is worthy of applause. Actually, make that a standing ovation, please.
Covid seemed to have affected a lot of things in my body … a lot more than many other triple-vaxxed people, anyway. If you're one of those who "just got mild symptoms like a cold" I'm trying very hard not to hate you, but help me out, and don't tell me about it. I don't want to hear the thinly-disguised-slightly-superior tone in your voice. I know it's thinly disguised cos I was a version of you. I managed to avoid being hit by Covid for two years. I know it was probably just dumb luck, but I suspected that maybe I had immunity superpowers which the vax just enhanced. 
I was wrong. (But I'm very glad I was triple vaxxed, cos I feel sure if I wasn't, I'd be a statistic.)
This is what I looked like literally the day before my positive RAT result: I was so happy to be surrounded by art, while immersed in the Van Gogh Live exhibition. It's me when I was innocent and trusting. Just three weeks ago …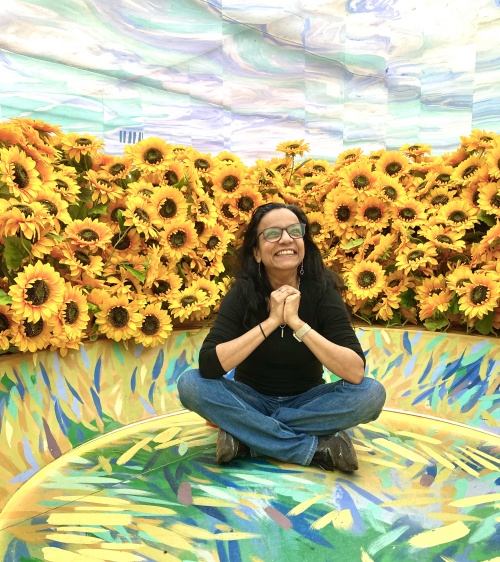 The next day, my life fell through the Covid Black Hole in the Universe, and I kept falling. I'm not going to show you what I look like now.
Unable to work in these past few weeks, I have had a lot of time to think. And I realise that a few things have kept me from going completely mad. I thought I'd share them with you, as a way of reminding myself not to go completely mad.
The first: I discovered audiobooks. I was too ill to read, and I slept most of the day like a dog, (or more accurately  like a dog with no way of going out for walks) only waking to eat and toilet. Sleep, wake, toilet, drink, rest, listen to story, sleep, and repeat. The audiobooks (
Louise Penny's Three Pines books
) felt like friends. It helped that I had actually already read all the physical books, so I was familiar with the stories as I wasn't taking much in. I allowed myself to be transported to a beautiful village in the eastern townships of Quebec, to sit in a bistro eating croissants and drinking cafe au lait by the fire, solving unlikely mysteries with interesting, funny people, while in reality I was trying not to die of Covid. 
Then a funny thing happened. 
During my brief waking moments, I found myself started to get very distracted by the patterns of leaves on my doona cover.  (This could be because my world had been reduced to basically staring at my doona cover.) After a few days of this I realised I needed to hold a pen and start drawing while lying here and staring, (between coughing and sleeping).
So I did, and I'm so glad I did. It felt like I'd found a magical connection to myself. Cos the reality is, being so unwell made me feel like I had lost myself. And being sick, in isolation, in a cold house (I didn't have the strength to light or maintain the fire) messed with my brain. For start, I had transformed into a resident of Three Pines, Quebec, and my friends were all fictional. The pen and paper and drawing helped me connect with the real person who lived in Glen Forrest, Western Australia. So my art became the Second Thing that Saved Me, helped me hold on to the memory that I was an artist, that I had a life and I would find my way back to it. 

In the early stages, I could only manage simple line drawings with a pen and pencil.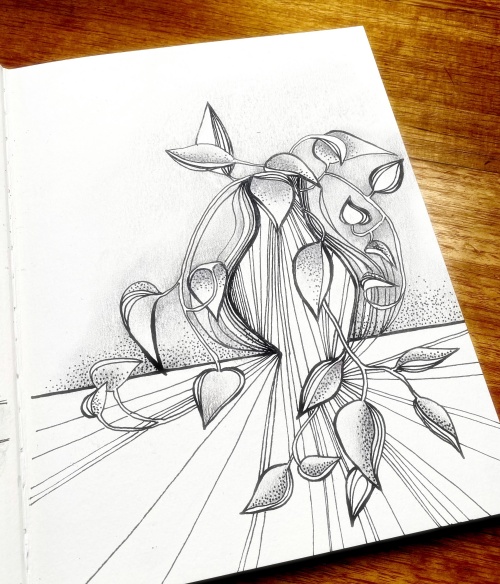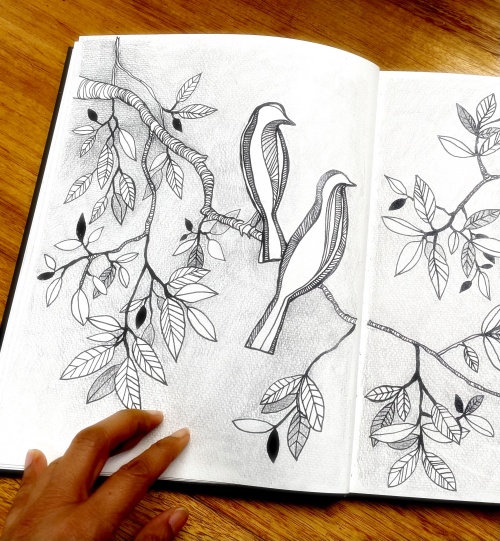 In the last few days, as I have gained a little more strength, I have graduated to colour, using
acrylic paint pens
, not brushes and paint, so I'm still art-ing while lying in bed or on my sofa.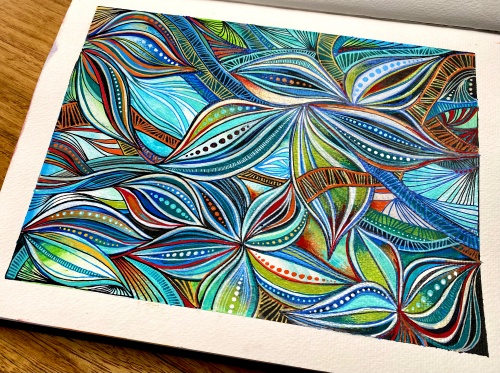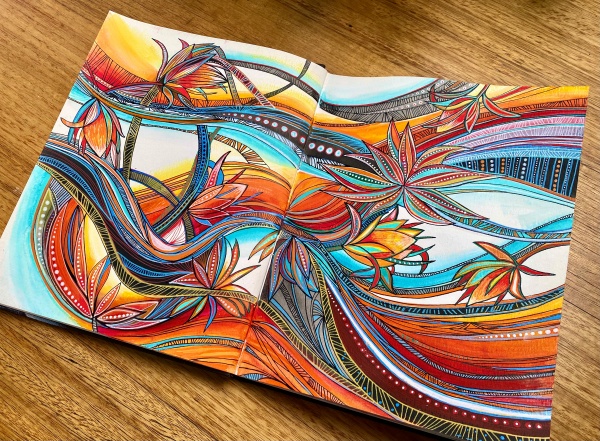 The Third Thing that Saved Me, in an unexpected way, was receiving an invitation to exhibit my paintings. It was kinda crazy as I had trouble staying awake, let alone walking, and yet I accepted – which meant I had to select, label, catalogue and pack 14 paintings. It may not sound too hard to you, but when walking to the loo and back was a major accomplishment, it was big. 
I managed it in small tiny steps. Did what I could lying down (all the paperwork). Ordered boxes made to size from
The Box Man,
so that I didn't have to cobble together packing for each piece. And slowly, slowly, slowly, between bouts of fever and coughing and body pain and fiery throat and wobbly legs, I got it done. And again – it connected me with my real, actual life and what artists do: we make art and we share it. So thank you Tara Chambers for inviting me to exhibit in the Mainstreet Gallery of Mukinbudin! You helped me hold onto my sanity whilst in the 'Covid Black Hole'. 
And the fourth, and most important thing – the kindness of friends and relatives that kept in touch with messages, food and checkins. The neighbours that dropped off panadol or walked the dog. An old friend who drove for an hour to drop home-cooked food at my door. The students who sent me kind, understanding messages when I had to reschedule classes at the last minute. Thank you to all of you, as I climb out of the Black Hole, and find my way back to the sunflowers. I do it with a new appreciation for the power of this virus – and the massive suffering it caused (even though compared with some, my experience was rather minor). 
And thank you, reader,  for sharing my experience. I feel so much better having unloaded on you! So much so I'd love you to  share your experience with Covid, and yes – even if it was just a "mild cold", tell me
all,
and ignore my grumpy assertions that I don't want to hear of it.
Share your comments, and don't hold back
… 
With love,

PS I'm resuming my private students over the next few days, and my studio classes resume in Spring.
You can check out what's on offer, including the new workshop, Family Ties, over here
.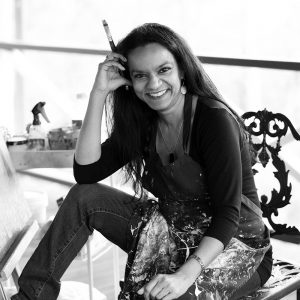 Thank you for reading my post!
I'd love to meet you in my home studio
in Perth, Western Australia,
Where you can view and buy my art,
or we can make art together
amongst eucalyptus trees and bird-song!
More on my art + classes

www.maliniparker.com