My little dog Layla is 14 years old. That's 98 in human years. She's partially blind, quite deaf and she often trips over nothing.
These days, Layla spends much of her time walking around the house aimlessly with a mournful expression on her face. A discerning watchdog no longer, she barely gives me a tail wag and a smile when I come home.
There are only 2 things that are guaranteed to perk her up. The prospect of a walk … or the prospect of food.
More on this later.
——————————————————————
Between the ages of 18 and 24, I moved 5 times. Did I say "moved"? I meant I had moved country 5 times. All my belongings, everything. That's  25,000 km of moving stuff and organising visas and making friends and moving my heart … all squished into 6 years.
Thirty years later, I watch as my Mary, at the very same age, moves out of home. I marvel at her presence of mind and self-possession as she navigates the arduous process of moving to another country… (taking her beautiful young dog with her).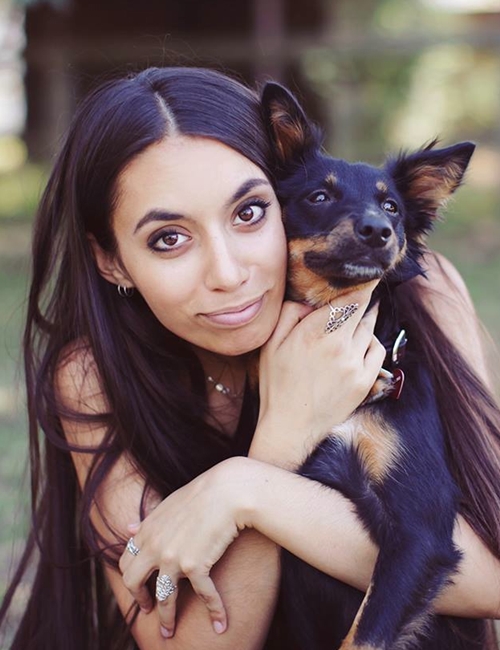 Mary is blessed with great organisational skills and a high level of self-awareness, so she navigates this move with her eyes and heart open, aware that it's exciting, but it's painful. As it should be. Change is hard for any normal human being.
I, on the other hand, was a bit of a late bloomer when it came to self-awareness. It sounds amazing that I moved countries 5 times by the age of 24. Change should have been hard, but in reality, it wasn't, because I wasn't terribly conscious.  I just did it. I  don't think I felt things too keenly when I was her age.
——————————————————-
So now my only child has left home. I've well and truly caught up in the 'self-awareness' thing, and I now feel all my emotions all too keenly: A mixture of pride and gratitude that she's made it this far through a decade of torturous mental health challenges, and bloomed into an awesome, beautiful, courageous human being… and a terrible ache in my heart that my baby has left home.
Don't get me wrong. I was all prepared for this. For her to leave home and all. To move out. Well, move to the next suburb. Umm … She's 14,500 km away!
Greg would have been bursting with pride to see how far she's come… and how far she's gone. In the two years since he died, his daughter has blossomed indeed.  I imagine he is actually terribly proud of her, (if one can feel pride in non-corporeal form).
As for me … it's as if I have only just gotten to know the real Mary, the one that was beneath the layers of depression and anorexia, and she's now she's in England and I'm in Perth … and I can't sit on the edge of her bed and stroke her dog and share my latest bright idea with her, as she pretends to listen while she checks her Instagram feed.
So I'm not kidding myself that this is easy for me. But as the days pass in my new 'alone' state, I start to recognise that while some days are defined by 'The Ache', and there are also some days, when pain in my heart is just a familiar companion (along for the ride but not steering the ship).
On those good days? There's a surprising number of things that help. Forgive me, but I'm going to list them, (because making lists are one of those things!) :
Reminding myself that every Life Change carries with it enormous potential for Wonderful-ness. I've navigated some Big Losses in my life, but they have all opened the door to Big Gains. So I know deep inside, that being unable to see around this corner just means that life is about to unfold in a surprising and possibly wonderful way. I am holding onto that thought.
Walking. Just that. Walking is my Pensieve. It's where I empty my thoughts. It's my Prayer Place. It's where I meditate best. I even sometimes write when I walk. (I walk slowly!). Walking saved me after Greg died. "Solvitur Ambulando" is Latin for "it is solved by walking" and Thoreau, Jefferson, Hemmingway, Nietzche, all men who seemed to know a thing or two more about life than I do, proclaimed the same thing: Walking makes everything better. As I walk, I am grateful that I live right next to the beautiful Swan River, that I often see dolphins frolic alongside me. That there's coffee just around the corner. That I can actually walk, when so many can't.Which brings me to my daily Go-To-For-Soothing-The-Ache:
Counting My Blessings. Research has shown what my mother used to (most annoyingly) remind me of constantly – dwelling on what is good in your life, no matter what, is the best way to get through a bad day. Now neuroscience has caught up with my mother, and tells us that being grateful for what we have, deeply, fully, regularly grateful also has the power to completely re-shape our thinking and help us flourish. Don't believe me? Read this. Sometimes when The Ache is so huge all I can do is repeat out loud what I'm grateful for – from the water that flows from my tap to the vitally important flushing toilet. Too many people in the world have neither. Indoor plumbing. What a marvel.
Reaching Out. I've often felt that I am blessed with family and friends that are far more loving and kind than I deserve. Spending time with them has been a balm. As one of these dear ones reminded me – we all need each other. And when someone you love has died, or left or moved on, The Ache can be dimmed by the love of those who are still around. Or when your sister drops off your favourite soup.
Painting, Writing … Creating. Last week, I taught a workshop called Finding Your Way Home. What a beautiful balm it was to witness our art and stories unfold as we re-connected with the lost parts of ourselves. As Liz Gilbert asserts in her marvellous book – There is Big Magic in our creativity.  While writing this, I've also been working on the largest painting I've ever attempted. Guess What? I'm feeling better already :)————————————————–
All the change I've been part of has carried with it a gift. I've become what Ariane de Bonvoisin calls, in The First 30 Days, a "change optimist". I now believe that good things happen when something changes. No matter what.
My old dog Layla can't quite get her head around all this change. As I write, she is literally pacing the house, walking around in circles, whining, waiting for her next meal (her last one was 10 minutes ago).  I can totally relate. Those five things above are important and all, but who am I trying to kid? I'm rarely happier than when I'm eating.
Apparently Layla and I have a lot more in common than our looks 🙂
I read and respond to every comment, so I would be delighted if you felt moved to leave one here.