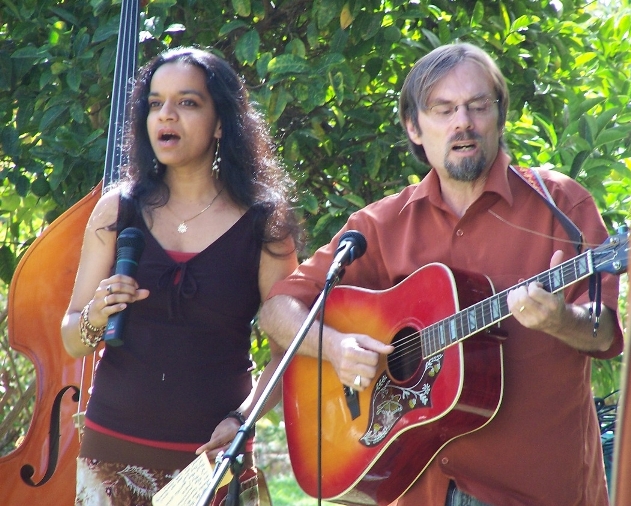 If you've been following my journey, you might know that I came to visual art via a rather circuitous and scenic route, making stops in the field of science and then the performing arts. Along the way I gathered up degrees in one and used up a lot of adrenaline in the other, until finally coming to a rest (quite literally – I was VERY tired for seven years while I had Chronic Fatigue Syndrome) in the little seaside town of Albany on Western Australia's southern coast. There I found the great love of my life. Oops, make that the second great love of my life.
Art.
My heart exploded with creativity, while our dining table, lounge room, study, all available floor and wall space, exploded into an art studio. I've never looked back.
The thing is, singing has been part of my life since I was 9 years old. I met Greg (my husband of 27 years) through singing. I love singing, but the fire it ignited in my belly seemed to burn a hole in stomach 🙂 Head over here if you want to detour into that story.
So, with apologies to the brilliant musos of the world, here's why I like being a painter more than being a singer:
If I forget the words I want to put into my painting, I can make up new ones. This also works on stage, but only very rarely.
If I have an off day, I can paint over the rough bits. The added layer creates depth in the image. Or I can start another painting. Or both. This can go on roughly indefinitely. A song recorded badly lasts roughly indefinitely, but not in a good way.
The more you paint, the better you get. This is pretty much universal, as long as you're alive. I think there may be a 'use by' date on voices. This could explain why Greg no longer gives me lead roles in his shows 🙂
I can paint in my pyjamas and also in my fancy clothes. As I have no fancy clothes, and I sleep in anything I lay my hands on, I can paint in anything. Singing in pyjamas only works only if you're a banana.
It's easier not to become a raging egomaniac as a painter. If you're a good singer, thunderous applause and standing ovations will greet your work. Then it's all the drugs and the buying of the secret tropical getaway islands just to escape your life.You will never have this problem as an artist 🙂
And there you have it… five compelling and terribly serious reasons why I love what I do more than what I did! I'd love to hear about your Big Switch!