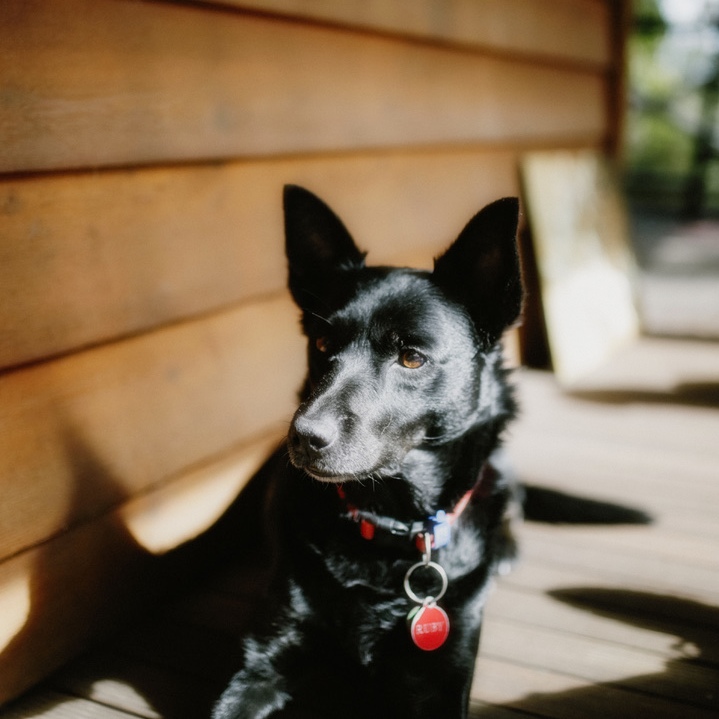 I didn't know whether to yell at her or weep at the chaos she was causing. Paint was flying in all directions, all over my dropsheets, all over the uncovered bits of Persian rugs that I hadn't bothered to protect cos they weren't in 'the danger zone'.
Ruby was standing right on my wet painting – a large canvas, covered in wet, squishy texture and colour. It was drying flat on the floor in front of the fireplace, and there she was, four paws planted right smack in the middle of the canvas.
I watched in horror as she grabbed a tiny little bean bag between her teeth, flung it up into the air, and then repeated that over and over again shaking the paint off it each time. Her shiny black fur was covered in paint, and so were her paws and tail. And she was having the time of her life!
I was stuck between the proverbial rock and a hard place. If I yelled at Ruby to stop, it would scare her and she'd flee, leaving a trail of painty paw-prints all over the rest of the house AND the ten or more other paintings that were also drying on the floor.
If I didn't, she would continue her super fun let's-fling-this-tiny-bean-bag-all-over-this-wet-squishy-canvas-game. Uncertain even at this stage if the painting was recoverable, I knew if I gave it a few seconds, all uncertainty would end. My painting would be completely destroyed. Even if I could restore the image, seventeen kilograms of dog pushing her paws repeatedly into a canvas was not a problem I had encountered before. I didn't want to start now.
The thing is, Ruby playing in paint, joy and abandon written all over her blue and white painted nose and tail was such a delightful, comical sight! A serious, dignified and elegant creature, Ruby has a "give-me-a-REAL-job-I'm-a-working-dog" vibe, and she never gets up to any mischief. Well, almost never.
So, I stood very still, smothering my laughter so as not to alarm her. She realised something was up and stopped mid-fling.
Taking this as our cue, with quiet voices and lots of hand gestures, a friend and I quietly worked out a strategy to limit further damage, cleaning the floor, her paws and the rugs as best we could.
With Ruby only slightly resentful at the indignity of wet cloths smooshing her paws, and more than a little confused at the fuss, she accepted her fate with dog-type resignation. And I resolved to embrace this turn of events as a new opportunity to learn how to be "detached from outcomes." With fingers crossed, I hoped I would be able to incorporate her art into mine!
I'm glad to report that the story has a happy ending, and the finished painting was titled To Boldly Go 🙂
It was Ruby and my first collaborative painting. It became Ruby's first sale at the exhibition, in what I hope is a very short-lived career as canine creative.
I've always had to dry my paintings on the various floor spaces of my house.
Back when I began making art, some eighteen years ago, our little dog Layla learned very quickly to tread carefully between the paintings. So did the family. Amazingly, there were very few casualties, as human, canine and art managed to co-exist in relative peace. And it made the space cool and creative.
But it was also very challenging for everyone. (Apparently, most people resent having to watch their feet the entire time while walking from kitchen to lounge). And although I'm a messy painter, I have a very low tolerance for physical clutter in my living spaces. It really makes me irritable.
I've just realised that my family had to put up with a lot for a long time: No dining table, no floor, and grumpy me.
So, for eighteen years, I have planned, schemed, yearned and dreamed of my own dedicated art-space. At first it was just for one little room that I could call my own, but gradually, that vision expanded into a place that I could invite others to create in too.
It would be a bright and welcoming space. Have a beautiful view that filled me and everyone else with a sense of possibility.
AND … the pièce de résistance: it would have a GINORMOUS Sink!
It was a tall order. An impossible dream.
So, pushing dreams aside, I soldiered on, creating art my kitchen table, or in the occasional backyard shed, creating eleven art shows, and hundreds and painting which all had to dry on the floor of my home for nearly two decades.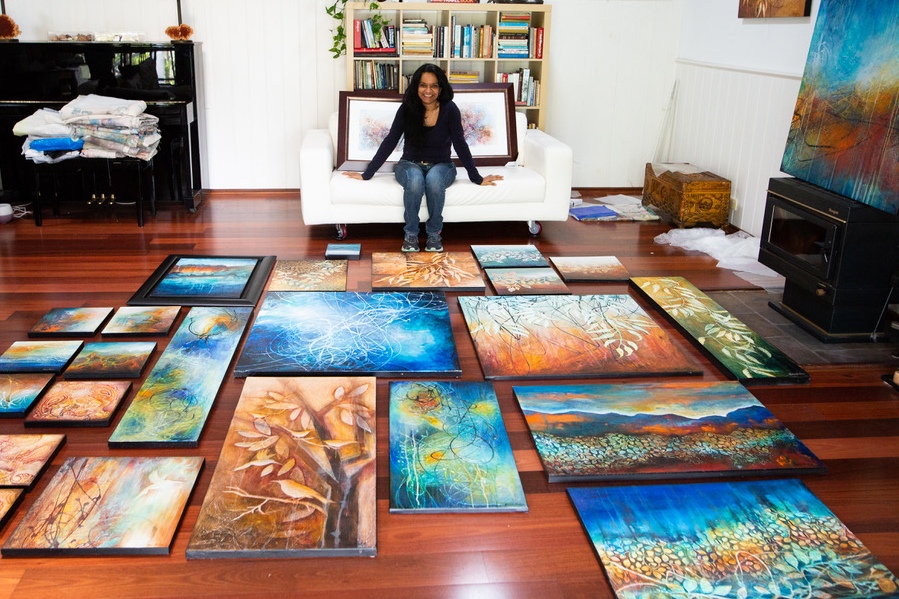 But not for much longer.
It's taken time for this studio to go from Impossible Dream … to Improbable Plan … to Oh-My-God-There's-A-Studio-in-my backyard … to IT IS HAPPENING RIGHT NOW!!
And I can't wait to share it with you.
I hope that …
You will enjoy the sweet rustle of breeze playing in the jarrah forest when you step onto the deck.
You will feel like you too can soar as you watch the colourful finches and laughing kookaburras in the trees.
You will be calmed and delighted by the glorious fragrance of the Australian eucalypts all around us.
You will re-connect with the sacred within, as you re-connect with your creative magics.
You will be astonished at the beauty of your art.
You will feel like you are stepping into a Space of All Possibility.
You will believe that Improbable, Unlikely Dreams can come true, even if they take eighteen years.
You will marvel at the awesomeness of my two metre long sink.
And most importantly, I hope that Ruby will now stop painting 🙂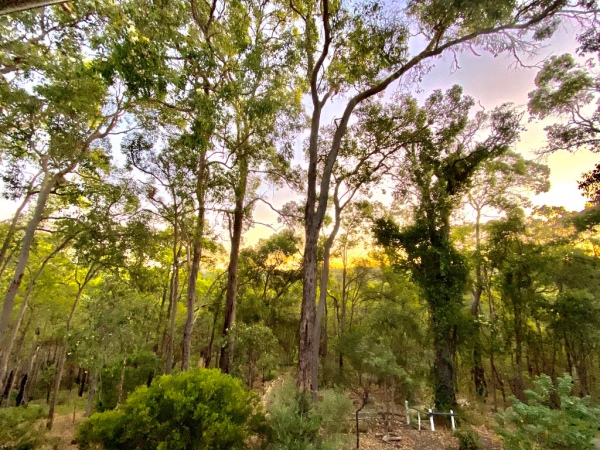 Would you like to attend one of my unique art classes in the beautiful Perth hills? And gaze out at that view, with the soundtrack of birdsong and the fragrance of eucalypts? Then check out all my art classes in Perth over HERE! I'd love to meet you and share a creative adventure!