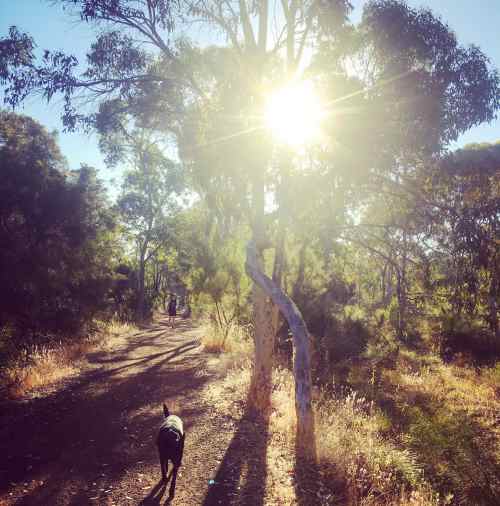 "Courage is being scared to death . . . and saddling up anyway."
–John Wayne
On my morning walks, it almost always occurs to me how difficult it is to walk and run on the red dirt of Western Australia.
Nature trails here in the Perth hills are slightly treacherous: hard and dry and uncompromising. Covered in tiny little slippery round pea-sized bits of rock. You need good shoes, and you need to pay attention.
It's not easy to walk when the ground is shifting beneath us. We have to adapt second by second.
And yet … when we look at the bigger picture of our lives, haven't we done JUST that? Haven't we adapted as the ground beneath us shifted?
Learning to walk. Going to school. Leaving home. First kiss. First heartbreak. First job. First child. Travelling. Dealing with Unbelievably Sad Things. Seeing Unimaginably Beautiful Things.  Learning to dance. Paint. Speak a different language.Surviving something we thought we couldn't.
The ground shifts. We adapt. We let go of our old selves every single time and become something just a little different.
Our lives are a tangle of new experiences and old learnings, past regrets and bold new moves.
I mention regrets cos there are a TON of things I wish I'd had the wisdom/discipline NOT to do, but I know this: I have NEVER regretted doing something that has taken me COURAGE to do. Never.

I used to be afraid of the creative process (so wild and free! So scary!) It's why I spent studying Science and accumulating degrees. All that logic and reason felt safe. But when I found myself learning to create art… everything changed for me.
If my old fears around the 'creative process' resonate with you, I've BEEN THERE! (actually, I LIVED there!). But when I finally stepped onto that "red-pebble-covered-dirt" and stepped right into my Creativity, yes, the ground shifted, but WOW. What rewards.
So, if you're ready to "saddle up" even though you might be scared…
Here's  ONE DAY that could change everything for you.
For the past nine years or so, I've introduced about 1500 men and women their creativity in this action packed, ONE day INTENSIVE workshop, called PAINTING FOR BEGINNERS. This is where you come if you want to learn a bunch of "HOW TO" stuff like making unique, awesome, abstract art QUICKLY, and easily. PLUS – what paints to buy, how to balance a composition, the basics of colour, brushes… and so much more. You make FOUR paintings in one day. AND you bring absolutely not ONE single art thingy. (And Pssst: You can even be as scared as you like, and still come, cos I'll look after you!
"An exciting and motivating day… I attend so training sessions that one comes become quite jaded with them. The positive and warm manner in which you engaged with us was refreshing and inspirational." – Peter, photographer
WHEN: Sun March 17 (3 left), Applecross, Perth
COST: $369 (full price $395)
PREREQUISITES: None at all.
TO BOOK: CLICK HERE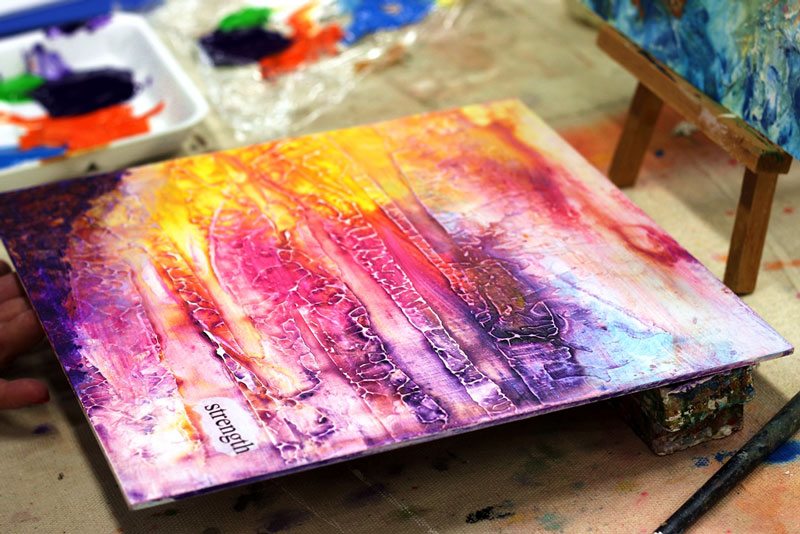 And if you're after a different sort of workshop – START WITH ART might be for you.
This is the one where we
set intentions that gently guide us through the  twists and turns stretching out before us.
look forward to the rest of our lives with hope and and courage, instead of a slight unease at all the uncertainty.
use the magical force of Creativity to create a blueprint for our journey forward instead of kind of lurching from one challenge to the next.
make a LOT OF ART!!!
Throw in the Swan River, a sandy beach at our doorstep, and a $100 Early Bird Discount…
"I came ALIVE and felt a sense of Peace … A Magical two days." P. Grewal
"Thank you so so much for the most amazing art weekend ever!! Painting had become a drudgery which I had been avoiding for more than 12 months but after the weekend I was inspired & reignited with a desire to paint some more!! When I have time!! I always love attending your workshops. Your anecdotes & metaphors are a great teaching tool. Plus you are truely inspirational and I admire your courage to share challenges you've endured & overcome. The weekend was pure joy & so much more than simply an art workshop but rather a personal life development mini retreat for me. I went home feeling energised, enthusiastic, courageous & ready to step forward boldly. Thanks again Malini. Can't wait for the next one!!" -A. Fowler
WHEN: April 6-7, Applecross, Perth. (3 left)
COST: $350 (Full Price $450).
PREREQUISITES: None at all.
TO BOOK: CLICK HERE