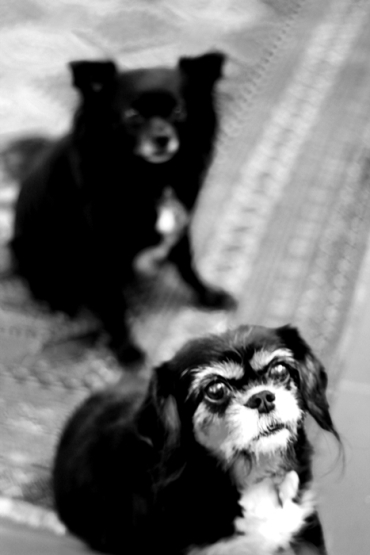 "I like nonsense, it wakes up the brain cells… it's a way of looking at life through the wrong end of a telescope. Which is what I do, and that enables you to laugh at life's realities." -Dr Suess.
We have two little black dogs. They are noisy, smelly and annoying, but they make us laugh.
The truly remarkable thing about our dogs is their laser focus. For such lazy and indolent beasts whose main preoccupations are sleeping, scratching, eating and excreting, it is remarkable just how quickly they can go from being completely unconscious to fully alert and nearly hysterical with the delights of duty. By comparison, it takes me a good two hours to fully wake up every morning.
And then there's the possibility of cheese.
Nothing makes them sharper, more alert, more mentally disciplined and focused on the task at hand, then the possibility of that tiny morsel of cheese being thrown down for them by Greg every morning. They sit there, facing Greg as he eats, fixing him with their dog-stare-telepathic-command. If Greg took an hour to eat, they would sit transfixed for the duration. All for the mere possibility of cheese.
I'm faced with so many more exciting possibilities than cheese, every single day. So I ask myself, why can't I have THAT kind of laser focus?
I'm not asking for much, just the mental discipline of my dogs.
But it seems that laser focus is not mine to have. I have the wide beam focus of a cat. Given the chance, I'd sleep wherever I pleased, completely ignore everyone who walked in the door, walk around yawning and giving orders to my minions, curl up in a warm lap and purr contentedly as my long furr is brushed for me.
I have, however, two things in common with my dogs. We are both hairy (the long, black sort, that sheds everywhere), and we are grateful.
Like my smelly, furry hounds, I really do appreciate the little things.  And the older I get, the easier it is to add to my gratitude list. There are days when it takes every ounce of me to to drag my thoughts away from sad things, (there are so many sad things), but I still manage. I'm told that having an 'attitude of gratitude' is good in all kinds of ways. It will make me a happier and healthier and who knows, probably get the dishes done faster 🙂
So, in no particular order, here are just some of the things that I'm ever so grateful were part of my life this year: