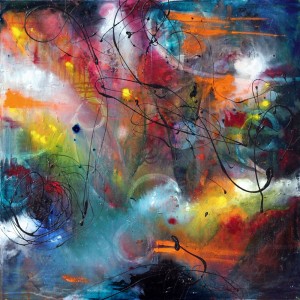 The other day my big sister glanced round my house and commented, "Your art has become a lot more colourful, hasn't it?" I dismissed her observation, wondering briefly if what she actually meant was, "you used to do such DULL work!"
But then I started noticing things. I'd reach for some bright orange or blue and a voice in my head would say, "Are you sure? Not too bright?" and I'd dismiss it. The paintings are coming out bolder, more celebratory, and yes, much more colourful.
She'll never hear it from me, but my big sister was right 🙂
I'm guessing this is due to a number of things. It's been a difficult few years and I've only just started painting again in full force since Greg's cancer was diagnosed. Hard to paint and teach and keep an eye out for Greg (especially with all the emergency hospital admissions – ten last year?) … and do the dishes, the washing, the groceries, pay the bills, be a mum, a friend, a daughter. My painting took a back step.
But Greg's cancer seems to have gone into hiding. Perhaps it's gotten scared off by Greg's attitude – his prayerful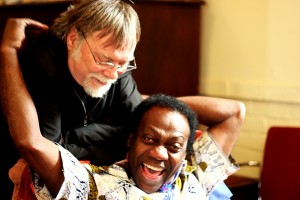 acceptance, his meditation, the treatment he's received (which includes loving friends and family, acupuncture, medication and energy healing) and most importantly, his defiance of the odds and immersion in his creativity. His scans are stable. His oncologist has done an unprecedented thing and taken him off his chemotherapy for 2 months … and then, who knows? This time last year, he was most definitely dying. Now, he's rehearsing for his very own big musical production The Servant.
Well, if he's making art, so can I. In Very Bright Colours.

But I suspect there's another reason for the technicolour turnaround. For the past few years, I've witnessed the art being made my students during my intensive workshops: Beginners, making the most gorgeous, incredible work, riots of colour and life and energy that burst out of these brave souls in one day, and blow me away each time. All that accumulated inspiration – hundreds of students making over a thousand paintings, right before my eyes. It was bound to happen.
All the while I thought I was teaching them, they have been teaching me.
I'm frequently heard saying at the end of a workshop that I want to take all their work home. And I do want to! How could you not? They inspire me, uplift me, and fill my heart with joy…
So Greg and I are making art, and if, as someone once said, "Making art is a gesture of hope"…
I might add, "I think it saves lives 🙂