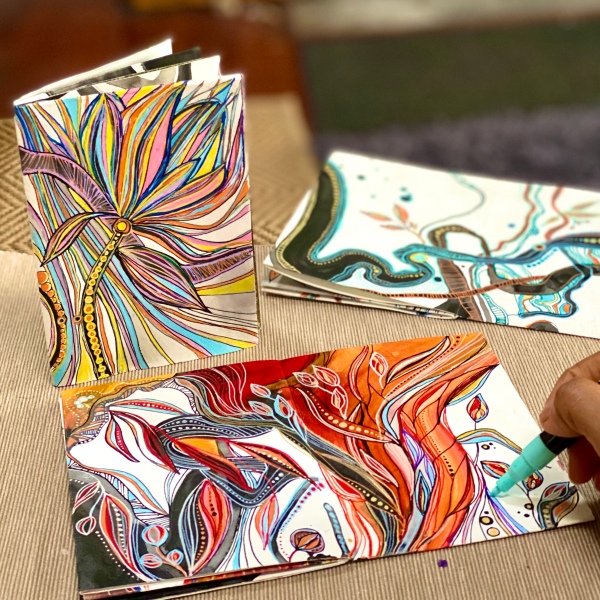 I have a new obsession: creating tiny, 8 paged sketchbooks. Made from just one sheet of paper, folded four times and strategically snipped in one spot, I cannot claim to have invented this idea, but I am entranced by the simplicity and the immediacy of it.  
So, instead of painting large works on wood or canvas as I would normally be doing, I lose myself in small, intricate, detailed pieces. They surprise me. I'm not accustomed to creating art on this reduced scale, with none of the textures and few of the motifs that generally come from my hands.
***
Ruby Dog, my sweet and loyal companion for the past five years, is ailing. Her health has been fading for some months. She is now completely blind and mostly deaf. In the past few weeks, her mobility and cognitions have declined very sharply indeed. Poor continence has also been added to the mix. I am grateful for medication and hormones, which have improved her continence and comfort. Nonetheless, the ebbs and flows and minutiae of her care preoccupy me. Not only heart-breaking, they are time-consuming and disruptive as well. 
But just recently, my heart and hands seem to have found a way to process the challenging transition that my beautiful dog is going through. Coloured significantly by Ruby's decline, these tiny sketchbooks seem to capture life's drama, complexity and uncertainty.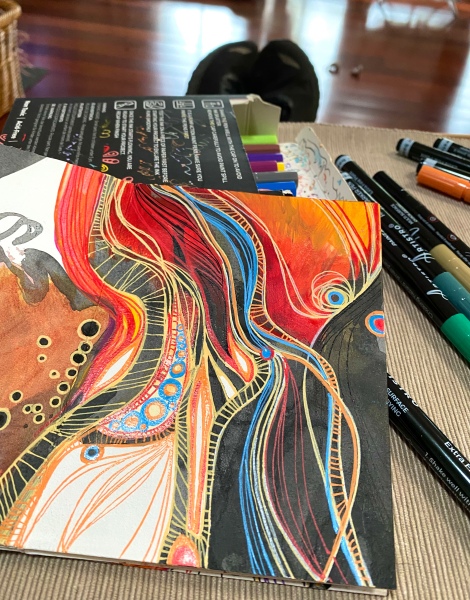 Even as I pick one up to add to it, I have no idea where my pen will go … just as I have no idea how I will tackle the uncertain days ahead. 
Caring for a dog in decline is a bit like caring for a beloved family member: with two essential differences. First, being a dog, she can't vocalise her needs. It's all guesswork. And secondly, her life and death … literally whether she lives or dies … is not up to the vagaries of Fate. It is up to me. I get to decide when to end her life. 
It is a horrifying responsibility.
They say the time to make The Decision is dependent on the animal's quality of life. Well, her once agile, vigour-filled days are gone forever. She can neither see nor hear me and seems perplexed by the simplest of choices.
Where is my bed?
Do I sit on my sofa or on my bed? 
Is it here? (walking into the piano)
Clearly not. 
Wait.
What was I doing? 
I'll just stand here for a bit. Maybe it will come to me. 
(she stands like a statue, facing a wall).
Oh-oh! I need to pee. 
Where do I do that?
Maybe I do that right here.
Oops. That didn't feel right. 
I think I need a nap. 
Where's my bed?
Sometimes I can relate to the conversations she appears to be having in her head. Fortunately, I haven't started peeing on the living room floor. Yet.
***
Ruby was a dog that was SO disciplined, she ONLY went in the morning and evening, and never in my garden. My property is 3,300 sq m in size, so that's a lot of land NOT to use as a toilet. Now the living room is fair game.
Her life has been reduced to two 3 minute walks for toileting and a great deal of excitement around mealtimes.  (I can relate. A little too much.)
And yet … even though her cognitions, continence and vigour are compromised, Ruby seems to be happy. She wags her tail when I pat her. Sometimes slipping down the stairs and tripping over nothing, she even wags her tail then. She still enjoys rides in the car, thoughtfully gazing out the window on a view she can no longer see.
As I guide her (for the tenth time today) away from a wall and back to her bed, I wonder how much worse she has to get before I am forced to make The Decision.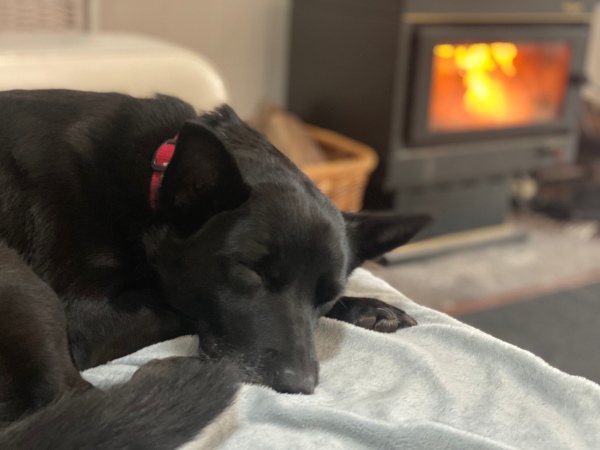 Ruby has been one of my anchors throughout the last few years. I rescued her from a lifetime of neglect and abuse when she was already six years old. It wasn't long after my husband, Greg died. A month after getting her, the family dog, Layla died. Then my mum died. Then I moved house (twice). 
Through it all, Ruby was a constant, intuitive, quiet, strong, yet oh-so-sweet dog. She had that beautiful vulnerability often reported in rescued dogs. Grateful for the safe, loving haven I provided, she proceeded to rescue me right back.
She was my buddy as we learned to walk the rugged trails of my new home in the hills. Together we discovered gorgeous walks in the forest, both of us marvelling at the wonders of nature we perceived around us. Admittedly, hers was confined to seeking out other dogs' pees, while mine took in the light through the trees or the droplets of water hanging off gum leaves.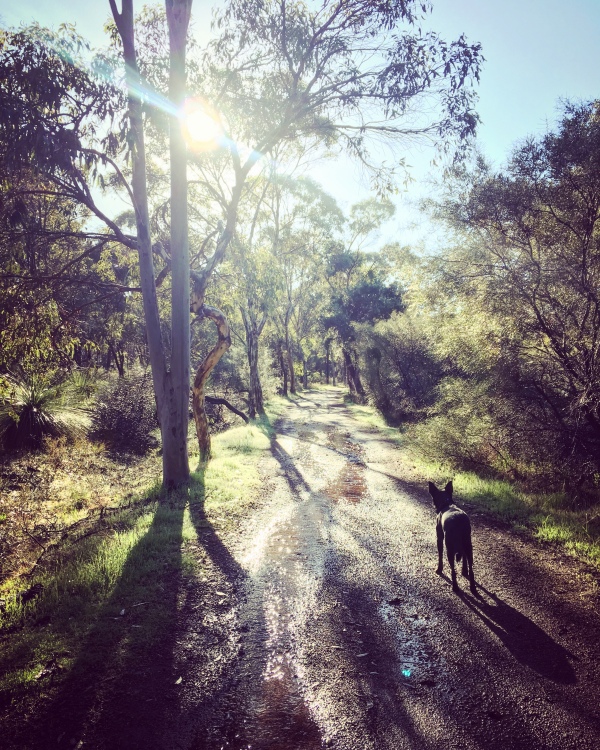 After the terrible mistreatment she had received for most of her life, Ruby blossomed from an emaciated, anxious creature into a grateful, sweet companion. If I ran, she ran. If I walked, she walked. If she wandered too far ahead of me, a simple "slow down Ruby" would change her pace. I never had to teach her this, nor did I even use the same command each time. Mysteriously, she understood any version of that instruction.
She charmed my students in my studio as she gently greeted each one with a sniff and an enthusiastic tail wag. Her acute sense of hearing and deep bark made me feel safe at night. 
She thrived under the consistent, compassionate routine I gave her. And so did I.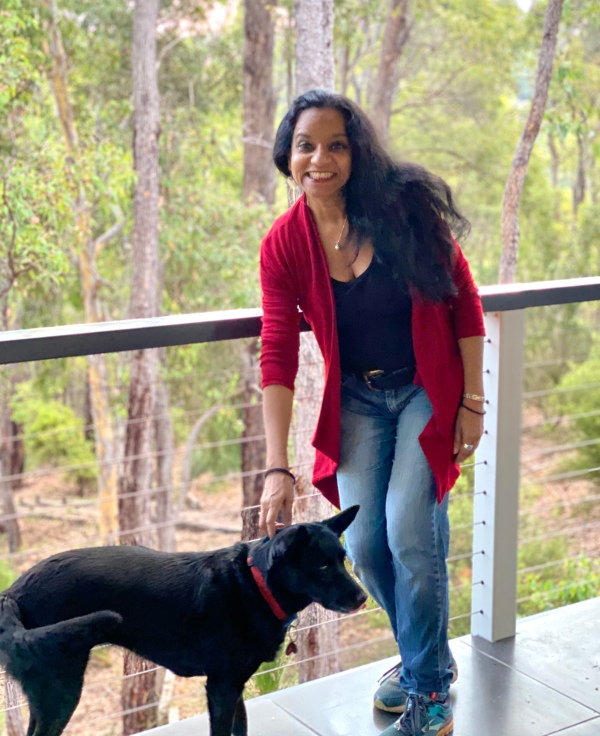 Lately though … I confess to feeling more than a little worn out by the constant vigilance caring for another involves. Remembering those four years of being Greg's carer in his cancer years, I am a little ashamed that this feels like Groundhog Day.
But who is to say when we have reached our 'quota of caring'? Phrased in this way, the idea seems ludicrous. (And someday, I may need to be led back to my bed after accidentally peeing in the corner of the living room!)
***
I have learned a lot from this loyal, stoic dog. And she is continuing to teach me as she enters the last phase of her short life. Especially when I ask myself this question,
"IF this were happening for a higher purpose, what could that be?"
The answer is multi-layered: Polishing my Resilience. Reminding me of the fleeting nature of life. Practising Patience. Love. Kindness. Compassion. Being able to say goodbye and thank you, slowly and gently, to a small, trusting creature who has given me so much and asked for so little.
And then there's the art: my new 1-page-8-page-tiny sketchbooks that are filling up with intricate, detailed work as she sleeps next to me. There's something in the intense yet relaxed process of creating these pieces that both speaks to and dissipates the sorrow I feel around this transition.
It appears that Creativity is once more a light that is helping me navigate complex emotions and uncertain times.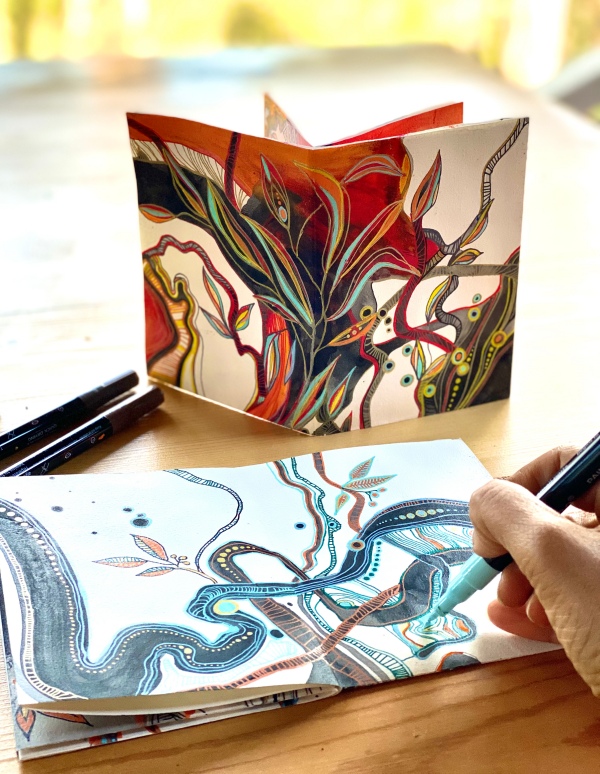 ***
Hi, I'm Malini, artist, writer and teacher.
Thank you for reading my story!
I'd love to meet you in my home studio
in Perth, Western Australia,
where we will make art together
amongst eucalyptus trees and bird-song!
More on my art + classes
www.maliniparker.com