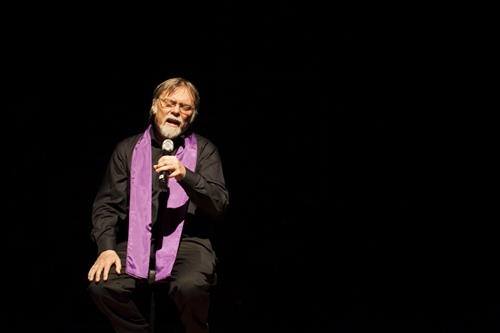 Yvonne is one of my closest friends. Many, many years ago, one hot summers day, we decided to go out for a swim. Yvonne swam like a fish. I did not. After watching my efforts for a few minutes, she observed, "Mal, you swim like a drowning rat!" (It's been over 25 years and we're still friends – but only just 🙂
This past October felt, at times, like a whole month of Malini playing The Drowning Rat. I never went near a pool once, but I sure was battling to stay afloat. It was the month that Greg, my husband, staged his musical. He was supposed to be dying of cancer, but instead pulled off an amazing feat – rehearsing, directing, singing, holding large chunks of data in his head, taking bows and being fairly awesome. It was all I could do to keep up with him and not drop dead myself.
He may well still be dying of cancer – we'll find out after Nov 9th when they do the next CT scan, but he's sure had a good run so far. It hasn't been all butterflies and daisies, mind. We've lived through some hellish periods in the last two and half years. Multiple surgeries and dozens of emergency hospital admissions. With the diagnosis of terminal cancer comes a roller coaster of hope and despair, unbelievable kindness from friends and strangers, and a lot less sleep then you've ever had in your life. You learn one of life's greatest lessons – how to live with complete uncertainty. Or you give it a damn good shot, cos if you don't, it takes over your entire being. And I refused to give myself over to the illness that was trying to kill my husband.
Now, just two weeks after the show, Greg is all set to climb Bluff Knoll, the highest peak in Western Australia, this weekend. He has a small army of people going along to support him. They'll probably carry him if they need to. Greg's held the thought of climbing this mountain since the moment he was first diagnosed. As the months and years rolled by, it seemed increasingly unlikely. He became wheelchair bound, then was on two crutches for a very long time. And then morphine, three times a day. When Greg wasn't looking, I cried with my girlfriends and came to terms with what I needed to.
This year has been different. Just to be contrary, Greg planned The Servant to coincide with the month (June) when his time was supposed to be up. As it approached, he realised he wouldn't make the deadline, another major surgery had gotten in the way. So he pushed it back to October. Rehearsals were often a worry as Greg struggled to stay focused and remember the parts. There were days when he was weak from chemo and his thinking fuzzy. He'd give us instructions and I could see the confusion among the cast as he didn't always make perfect sense. Just quietly on the side, I'd get questions like, "do you really think we can pull this off? Do you think Greg can do it?" and I'd shrug and say, "What does it matter? It's keeping him alive."
As the months went by, I realised how true that was. And in the aftermath of the show, (which was a sellout success), part of me looks back and wonders how he did it. Was it the acupuncture and the energy healing and the chemotherapy and the generally amazing medical care that he's received?
Or was it the potent combination of meditation and prayerful acceptance?
Maybe it's been the total immersion in his creativity. Perhaps every cell in his body has been kept distracted – writing music, designing stage lighting, working on a script – they haven't had time to get up to mischief and enact their devious plan to kill him from the inside.
And is he really going to climb a mountain this weekend?
I say to myself, "What does it matter? It's keeping him alive :)"