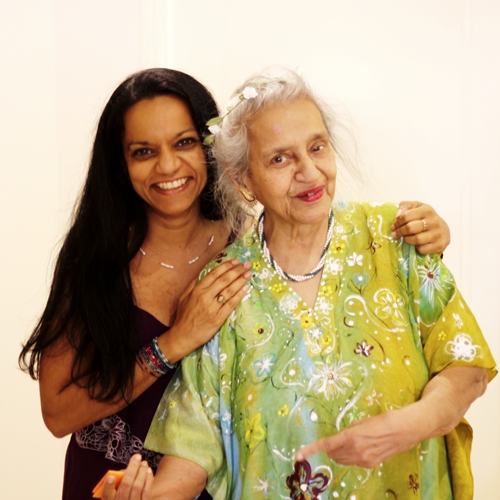 Almost all my memories of mum involve gardens. Mum always loved flowers and leaves. When I was growing up,  our family home was on the beautiful island of Penang, where it was incredibly hot, but tropical downpours were heavy and constant and it was easy to have lush gardens.
Ours was magnificent! I remember masses of plants and flowers that seemed to be chosen not just for their fragrance but it was as if mum had a little competition going with herself as to how many different colours of leaves she could grow in one garden.
Later, when she joined us in Australia, I still remember her delight at finding beautiful leaves on her daily walks. She would go into raptures over their shape or colour, always so present to the wonder of it all. Mum didn't need an epic wilderness adventure to get her thrills. She found awe and beauty in a single leaf.
Mum has Alzheimers now. I see her about once a week, and we have hilarious conversations. She never tires of observing,
"You're not wearing lipstick!" or asking me indignantly, "Why are you wearing BLACK, who died?"
To which I invariably reply, just to appease her, "Greg died, mum. Do you remember my husband Greg?" (as if that explains why I'm wearing black, which is doesn't!).
And then she always says, "oh Greggo! He died-ed. That's sad."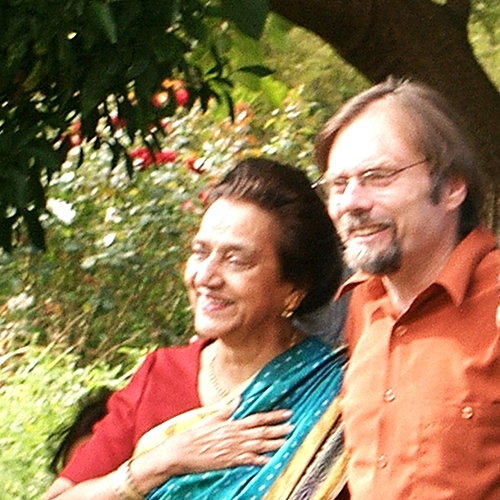 So, inexplicably, she remembers Greg … Even though, she is often completely taken aback when I remind her that I am her daughter, mainly it's because she can't believe she has a daughter who in her eyes, is so old.
I kind of get it, in her state of child-like wonder at everything, it makes no sense to her that she should have a grown up daughter who has a daughter of her own.
Mum was and remains, my greatest teacher. She didn't teach me to paint, in fact I never saw mum paint in her life. But it was her wonderful attitude to life that I learned most from. It was an attitude of gratitude (before attitude was the buzzword of the day). And mum was a creator. She rarely remembers this, but she created magnificent gardens, amazing flower arrangements, beautiful cards of pressed leaves and wonderful publications of stories, quotes and prayers. She was a brilliant photographer and developed all her own images in the dark room my father built for her at the bottom of the stairs. I spent my childhood in the dark with her, watching the magic of images appear in the photographic solutions.
Her brain might be a little bit different now, but there is a core of serenity, a love of beauty, (and a cheeky sense of humour) that is very much intact. Just a few days ago, I caught her charming the receptionist at the doctor's surgery with, "my dear, I HAVE to tell you something important … you have the MOST beautiful eyes!"
And when she comes over to my house, she always exclaims how much she loves my paintings, never failing to ask who painted them, always seeing them as if for the very first time, every single time. It's frustrating to have to repeat the answers over and over… but how wonderful to be in such a constant state of awe and wonder.
(I'm slightly miffed, I have to admit, that she is always taken aback when I tell her that I painted them.)
"You're a clever girl, you are!" she says … to which I reply, "I learned it all from you, mum" and she looks at me, eyes wide in disbelief … I'm not sure if she is incredulous that I learned such things from her, or if it's because she's astonished that some strange, old, mildly familiar Indian woman just called her 'mum' 🙂
Leaves and flowers and textures appear in so much of my art, and if you ask me why they are there, it's because of my mum. She turned 90 on April 6th.
What a lady.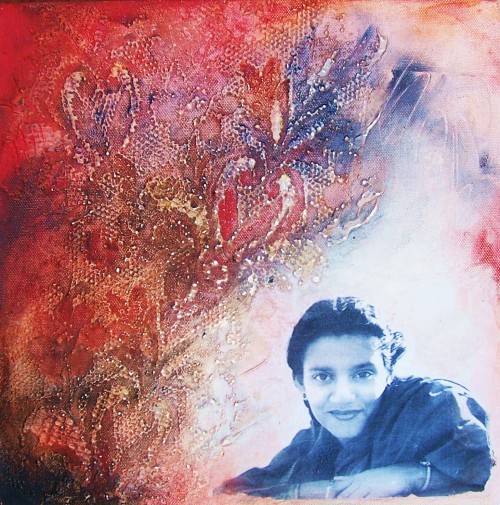 If you enjoyed reading my story about my lovely mum, I want to hear about yours! Leave a comment over here.