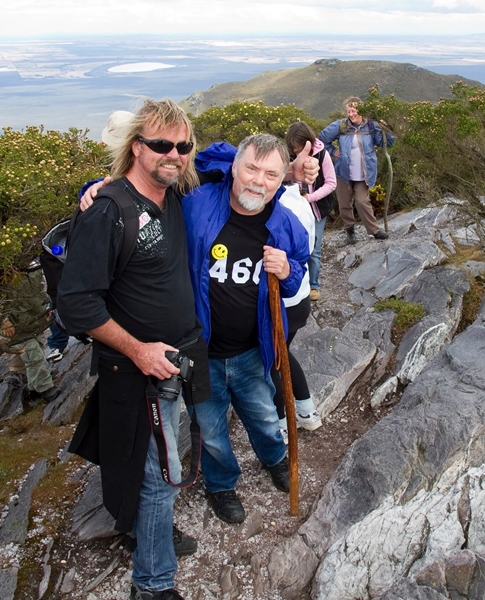 Love is underrated.
Not the romantic kind, that gets far too much rating! No, the kind of love that got my husband, Greg, up THAT mountain, and back down again. Safely.
When Greg starting telling people that he was climbing Bluff Knoll on Nov 4th, it seemed like an impossible dream. He was so sick with chemo, and he had a musical to write and stage. The show was a mountain in itself!
Well, he pulled off the show, (and it was a sellout). One 'mountain' climbed. Now for the actual mountain.
Many suspected that that bee in Greg's bonnet would get him there, so they showed up to keep him company. Some even climbed with him. Some never left his side.
It took him seven hours, (it normally takes 3) but he did it. Sunshine, wind, rain, hail, lightning and sunshine again – the mountain threw the works at him. So he threw everything he had, right back at it. He returned soaked to the bone, triumphant, humbled, exhilarated, exhausted, in excruciating pain, but he came back. He slept for 11 hours straight and woke up the next day barely believing what had happened.
Greg will soon forget the pain he suffered, the hailstones he slid on, the lightning, the wind and lashing rain. But he won't forget the love. That bee in Greg's bonnet got him to the foot of the mountain on Nov 4th, but it was love that got him up and back. He had loving hearts surrounding him, loving hands pushing him, pulling him and loving prayers from all over the world, keeping him safe.
If ever there was an event that was a metaphor for life, this climb was it. I find myself thinking of the last few years – of lashing rain, icy winds, lightning and thunder, and many MANY mountains climbed. I look back with gratitude that we made it this far and forward with hope that we'll have the strength to face what lies ahead. And I remind myself that love is seriously underrated 🙂