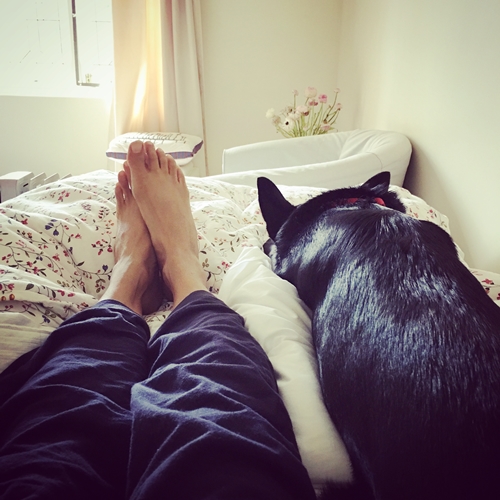 I'm sitting up in bed with my Ruby lying next to me, looking black and shiny and gorgeous against the white doona. Eva Cassidy is singing in the background. The melancholy in her voice doesn't affect me. I've already wept into my coffee this morning.
One moment I'm sitting at my favourite cafe, marvelling at the beauty all around me. Sunlight playing amidst delicate leaves above my head, the river to my left, glorious blossoms at my feet. I'm happy and contented. The next moment, my thoughts meander back in time …
We are sitting by a different shore of the same river. Greg is sitting beside me. It's Jan 2, 2013 – he's in year three of chemotherapy. Today he is joyful and feeling well, and we are counting our blessings. Perth is showing off – all glorious sunshine and 24 degrees and the river is sparkling. The air is shiny with promise and its easy to feel hopeful. We make plans. Maybe we will share a future together after all.
I come back to the present with a start and look at the empty seat beside me and that's when I start crying into my coffee.
————————————————–
Yesterday I met an amazing lady called Lisa for the first time. We had set aside three hours together but it stretched to five. At one point she suddenly told me that she felt Greg in the room with us and he was happy. Could I feel him, she asked. No, I said, but I talk to him and I feel his replies. I didn't tell her that I also wonder, even now, after all this time, if it's really him answering me or if I should be concerned about the voices in my head.
I guess I'll never know. When I choose to believe that it IS Greg, I feel comforted and protected and less alone. Lisa went on to say I had a whole "team" with me in the room. It was getting crowded.
Meeting Lisa was a curious and heart-shifting experience. (By the way, she was not a psychic. This was a business meeting.)
How wonderful to contemplate the possibility that the Unseen World is all around us, silently, mysteriously guiding, protecting, lifting us up, cheering us on.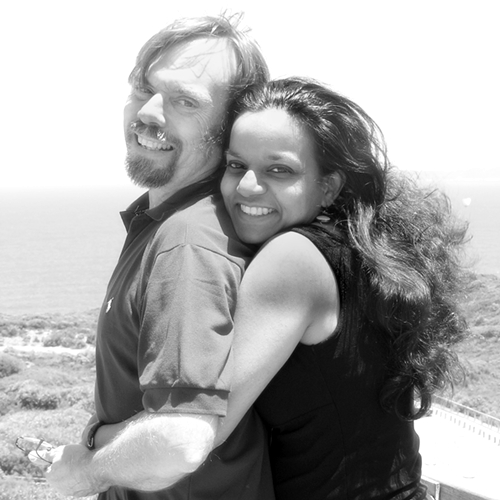 2016 has been one of significant losses for me. But if I reframe that, it's been a year of significant letting gos.
I let go of my little dog Layla. After nearly 15 years of loyalty, enthusiasm, service and a moderate cheese obsession, it was time to say goodbye. I buried her myself, in my back garden under a carpet of rose petals.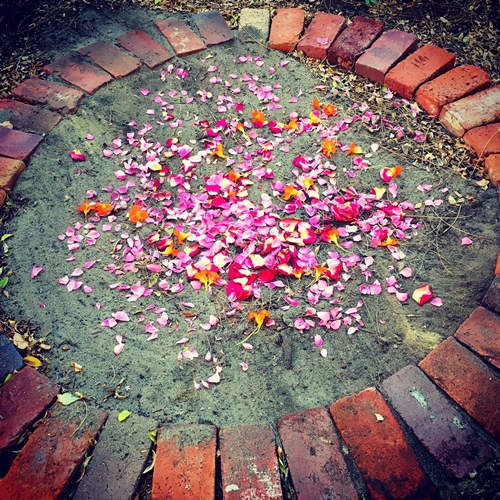 I let go of my Mary, and found myself completely alone for the first time since Greg died. She and her dog, River, moved to England, where River now spends her time in the lush, wild, rabbit-rich English countryside, never actually catching those bunnies, but living in eternal hope that she might 🙂
Mary came back for two short months to shoot some weddings. We talked and laughed and ate and watched the new Gilmore Girls (deciding we were just like them, only better). She's an international photographer now, and my heart can barely contain the love and pride I feel for this beautiful, enigmatic creature who, despite having travelled such a painful road in her short life, is funny and clever and loving and hopeful.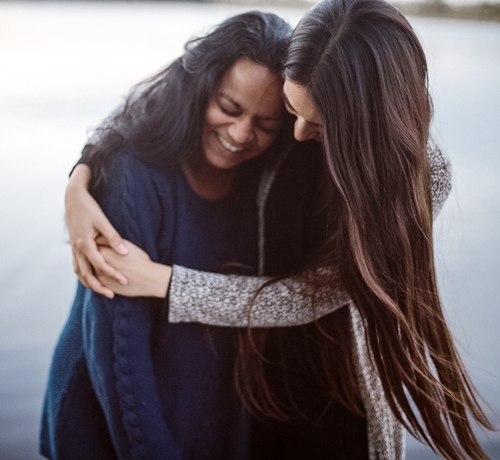 I lost my voice several times this year. A side effect of influenza  + the non-stop teaching I do in the busy, warmer months of the year. I also gave several public talks, one of them without a voice. It was an interesting experience to show up to a full house as the keynote speaker… with almost total laryngitis. I had two things in my favour – the first being a 'backup plan'. The talk was being held in a public library. So at the outset, I suggested to the audience that if they couldn't hear me, they might like to settle down with a good book instead. I was somewhat relieved that they chose to stay.
The second was that in the face of this strange phenomenon (of giving a speech that could barely be heard), I left myself outside the door. All I could do was show up, open my mouth and … whisper. The microphone amplified that whisper and the audience leaned forward and listened.
I was forced to rely on Divine assistance and to let go of all imagined outcomes. The result was hard to describe. We laughed and cried and most importantly, no one left. (Who knew that having a voice was not essential to successfully delivering a speech?!)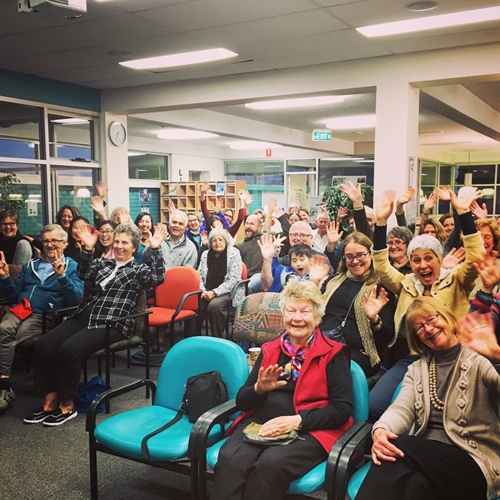 There were many other losses … but when I do the tally, many more gains.
So 2016, and the Unseen Forces that shaped you, thank you for the countless miracles I noticed and for the ones I didn't.
Thank you for letting me teach 26 live art workshops to nearly 400 students and witness the creation of over 2000 paintings. Thank you for giving me my 9th solo exhibition and for the honour of sharing my stories in four public talks, and one little book, (my first ever). Thank you for safely carrying me on 20 aeroplanes (that didn't fall out of the sky, not once), into 7 countries and over 70,000kms. Thank you for the gazillion cups of coffee by my beautiful Swan River, for the stunning sunshiny days and for the bountiful rainy ones. Thank you for allowing me to create art that found its way into other peoples' homes, around the corner and thousands of miles away. Thank you for letting me experience both the awe of the Grand Canyon and the wonder of the yellow flowers that carpet my back yard. Thank you for the amazing Educational Centre that opened its doors this year to hundreds of young people in Indonesia, dedicated to Greg's memory and his love for children. Thank you for keeping my mummy safe in loving, tender hands as her health declines, and surrounding her with so much kindness. Thank you for the blessing of continued bonds that unite family and friends and extend in my heart to every person on the planet.
And thank you for Ruby, my favourite miracle of 2016 – the beautiful black Kelpie that I rescued, and who rescued me right back.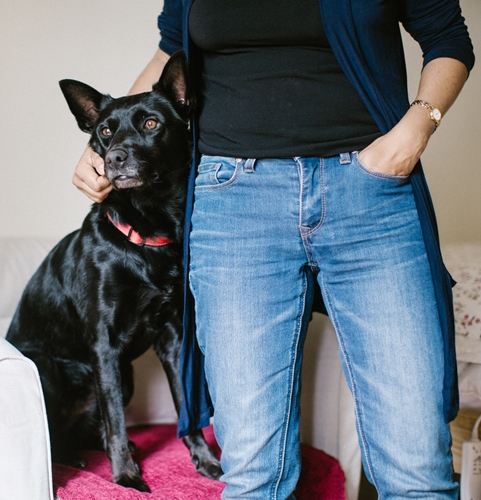 —————————————————
Thank you for sharing my reflections of 2016. If you'd like to say hi, just click here. I read and reply every comment.
If you'd like to explore your creativity with me, workshops commence in 2017 with the new Painting with Texture, in Perth by the river on Jan 28-29, and in Melbourne in the forest on Mar 3-4. The ever-popular Painting for Beginners commences on Sat Feb 11 in Perth.
If you'd like my little book, 5 Ways Your Creativity Might Just Save Your Life, just click here and it's yours!
Happy 2017!