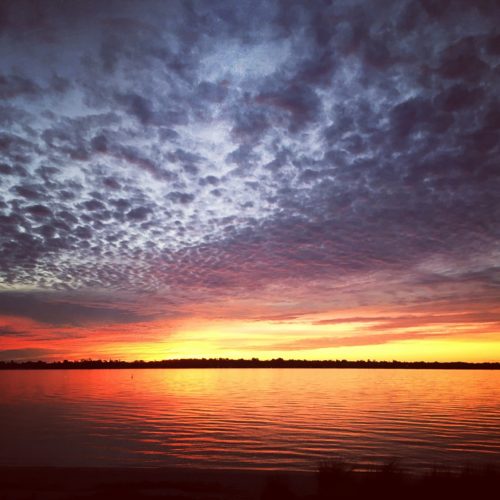 Wouldn't it be great if approached our days with Clarity and Calm?
If we had a blueprint for our journey forward instead of kind of lurching from one challenge to the next, coming up occasionally for air?
If we didn't keep making goals that we ultimately abandoned, but set intentions that gently guided us through the inevitable twists and turns stretching out before us?
If we looked forward to the future with hope and anticipation and courage, instead of a slight unease at the uncertainty it brings?
If we regularly combined creativity and purposefulness, reflecting on our desires and dreams, and making art that reminds us of each of our unique and amazing qualities?
Well, I would VERY much like these things so I designed a brand new workshop: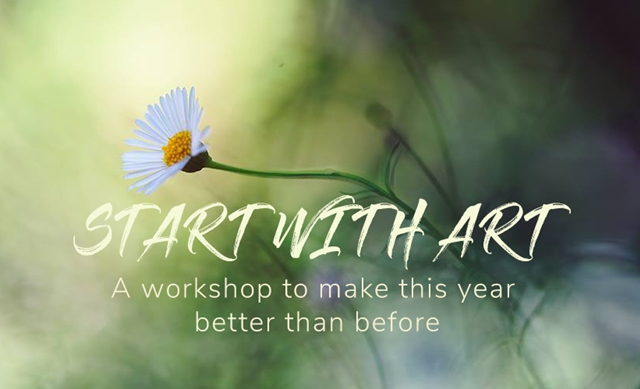 I've booked my favourite venue. (That spectacular sunset at the top of the page? Yep. That's where!) I've put together my simplest, most effective ideas for creating from scratch, no matter what your experience is … We gather, we paint, talk, laugh, eat and dream, alongside the tranquillity of the Swan River in Perth.
So is this for you? IF:
You've never painted before and you want to finally unleash your creativity in a supportive, calm, fun space.
You've been dabbling in art for ages but want the security and comfort of being gently guided to create and try different techniques.
You've lost your Creative Mojo and just want it back!
You've attended ALL of my workshops and have been waiting patiently for more!
And most importantly, you move forward with intention. With clarity. With purpose. With art.
… Any of those resonate? Then START with ART is definitely for you.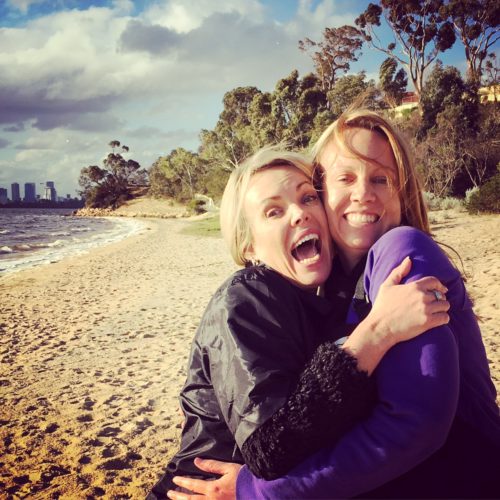 Here are all the details:
When: April 6-7, 2019 from 10-4pm both days (2 SPOTS LEFT)
Where: My favourite very-hard-to-come-by- venue, the Waylen Bay Scout Hall, 1 The Strand, Applecross, Perth.
How Much: my 2 day workshops always start from $450. But here's the BEST NEWS – I'm offering a  SUPER SUPER SPECIAL PRICE for EXTRA EARLY BIRDS of just …
$350!!! (that's $100 off the full price!!!!)
Places are limited in this workshop, so if you like the sound of it, EMAIL ME and book your spot. If you need a payment plan, we can work that out. If you want to secure your place immediately, I'll tell you how.
I'm so excited about this. START WITH ART is the workshop I've spent years creating, without realising it and is now my favourite! (and by the comments below, it's hit the spot for others too!)
If you feel like this is what you need, come join us in with art, heart, and magic-by-the-Swan-River.
EMAIL ME TO BOOK YOUR SPOT at the super special EARLY bird price of $350 (full price $450).
________________________________________________
Some lovely reflections from those who have already tried START WITH ART:

"I feel like I've made contact with a kindred spirit. Being in your presence has been such a pleasure and the two day workshop will always be very significant in the chapters of the rest of my life! I came ALIVE and felt a sense of Peace … an almost 'Coming Home" feeling… THANK YOU for who you are and how you make people feel. You are blessed with a rare gift…A Magical two days." – Preet 
"I thoroughly enjoyed myself … You are truly a gifted teacher, mentor, life coach and wise woman!  Thank you so much!"
– Crispin 
"Thank you so much! You have an incredible teaching style and a beautiful heart and presence about you. I can't wait to come again in the future." – Claire 
"Thank you for creating a safe, reflective and fun space for us!!!!" – Felicia 
"Thank you so so much for the most amazing art weekend ever!! Painting had become a drudgery which I had been avoiding for more than 12 months but after the weekend I was inspired & reignited with a desire to paint some more!! When I have time!! I always love attending your workshops. Your anecdotes & metaphors are a great teaching tool. Plus you are truely inspirational and I admire your courage to share challenges you've endured & overcome. The weekend was pure joy & so much more than simply an art workshop but rather a personal life development mini retreat for me. I went home feeling energised, enthusiastic, courageous & ready to step forward boldly into 2019. " -Ashima 
"I am writing to say 'thank you' for the weekend Art Workshop. I enjoyed myself thoroughly  … learning from you and spending time with all the beautiful ladies. It has been a very positive experience … something I am going grow from!" – Kuljit