"When something extraordinary shows up in your life in the middle of the night,
you give it a name and make it the best home you can."
– Barbara Kingsolver
In my childhood home on the island of Penang, there was one particular room that was filled with natural light, with a lovely view of our small fruit orchard. It was spacious and well stocked with cupboards of conveniently placed books and magazines. This room was my mother's ensuite toilet.I spent a lot of time in there, and most of it had nothing to do with what the room was designed for!
My favourite toilet reading was a HUGE Readers Digest illustrated encyclopaedia of the planets. I soaked up all the known facts about them, and everything made me giddy with excitement … things like you can't actually stand on the surface of Jupiter or Saturn, being gas giants, they don't actually have 'surfaces' … (It was rather apt that I was learning about gas giants while sitting on the toilet.)
Having very few interests, I knew more about the planets by the age of fourteen than I did about mostly anything.
Four and a half thousand kilometres away, in Perth, Western Australia, the man who would become my husband a decade later was also a planet-nerd. I'm not sure about his exposure to Readers Digest books, but I know he grew up watching Star Trek and dreaming about space travel.
One day in 2003 (by then we'd been married for 17 years), Greg heard that some comets were going to be clearly visible in the Australian sky, so of course he HAD to make sure he had good look! He needed a large telescope – no problem. My niece Shanthi had one. He'd just nip over to her house and borrow it. She lived one thousand kilometres north of Perth, in the town of Carnavon. No problem. We'd just drive up there and grab the giant telescope, hang out in the desert, and get a good look at the fiery balls without the distraction of city lights!
Greg had a way of making the most un-pleasant experience seem like the most un-missable adventure, so of course Mary and I excitedly joined him. What's 20 hours in a car in one weekend, really, when you have the chance to see comets?
After driving (for forever), collecting Shanthi and her husband Hoda, we stretched ourselves out on the desert sand and waited for the sky to darken and the stars to come out. Greg was busy setting up their telescope.
I'd never been in the desert before. The sky was indescribably beautiful as the sun set. I remember nothing about the comets we had come to view, but watching the colours change as twilight set in, and then the stars gradually blanketing the sky – that was pure magic.
All I wanted to do was capture the colours somehow, so that I could remember that experience. I didn't have a camera so I drew a pitiful diagram on a little scrap of paper, with lines and arrows and words describing the colours.
As soon as we returned home, I wanted to paint what I saw. But being a newbie artist, with nothing to go by except a few scratchings on that tiny scrap of paper, I really had no idea where to begin. The experience had been so sacred, so precious, I was terrified that trying to paint it would ruin the memory. So I had a brilliant idea! I'd use a damaged canvas that I was going to chuck out anyway as it had a hole in it! It would be my 'practice' piece.
I set to work painting those colours of the twilight desert sky. Very soon I hit a wall. The painting was awful. It looked NOTHING like what I remembered of that magical night. And the hole in the canvas was distracting me.
'Oh what the hell, I was going to throw this away anyhow… I'll grab some texture gel and try playing with it. Perhaps it will cover up the hole.'
I'd never painted with texture before, and had absolutely no clue what to do with this clear gel that I'd bought. So I smeared it all over the painting with a palette knife and then found myself grabbing and old comb and scratching long flowing marks into it to further disguise the hole.
Have you ever had one of those moments in your life after which nothing is ever the same again? A moment of clarity so pure that you wish you could live inside it for always?

That's what happened for me. Right then. The canvas with the hole. The painting that wasn't working. The magic of the desert sky. The weird clear texture gel. The scratch marks. It all came together to create a different kind of magic.
My obsession with texture had begun.
I've created hundreds of paintings since then, and it's possible that every single one has stemmed from that experience: Greg chasing a comet and me chasing the twilight desert sky. And that very first painting with the hole? Well, I learned how to patch the hole properly, and I sold it at my first exhibition.
Years later I was walking by the ocean near the beautiful coastal town of Albany where we lived. It was a perfect day. Blue skies, gentle breeze. On my right was the sparkling, turquoise Southern Ocean, under my bare feet, squeaky soft white sand.
But on my left … stunning rock formations. I couldn't stop looking at them. Millions of years of weathering and geological events had resulted in the creation of a giant, exquisite, textured tapestry of rock that was all the more beautiful for the darks and lights, the crags and dips. The ocean beckoned, but I couldn't take my eyes off the rocks.
And then boom. Another moment of clarity.
This rock tapestry was my life. If it didn't have all those dark and textured bits – the parts that I struggled to forget, the poor choices, the pain and regret, the highs and lows, the tapestry of my life would be flat and uninteresting.
It was the closest I'd come to accepting myself and being grateful for the struggle.
My obsession with texture took on new, deeper meaning.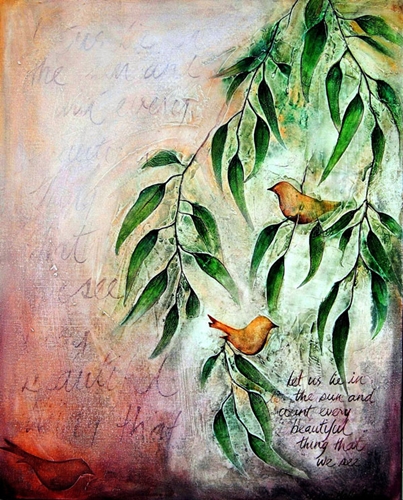 Many years after both these events I started sharing my obsession with others by teaching beginners how to paint with texture, as that's the only way I knew how to paint. These workshops that started in my backyard as a response to some urging from a friend to "teach her to paint", have now evolved now into a consuming passion that has helped over a thousand people to discover their creativity.
But honestly, the greatest Discoverer has been me. How could I have guessed that people could make such beautiful art, with no previous training, in just one day? Or that their collective creativity, enthusiasm and joy would carry me through the darkest times of my life, when Greg was dying of cancer and Mary was battling anorexia, and then over into the interesting years that have followed his passing?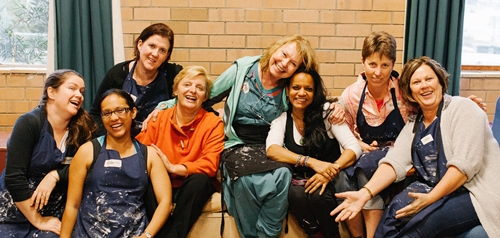 Greg lived his short life very much like that burning meteor he was so keen to find that memorable night under the vast Australian sky. He wanted to see the comets, so he jumped in the car and drove us 2000 kms to get a good view. He was maddening. He was impulsive. He was exciting. He was impossible to refuse.
Swept up in Greg's fiery trail, I'm so glad I didn't refuse. Neither of us knew it, but that trip, on that one night in the desert, that hole in the sky, that failed painting… would change the course of my life.
"Trust your heart if the seas catch fire,
live by love though the stars walk backward."
– ee cummings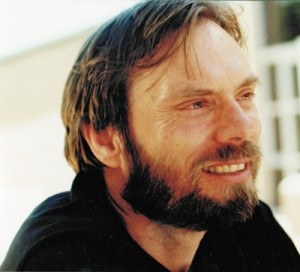 ——————————————————————————————-
If you'd like to learn my painting techniques, I'd love to share them with you! My art workshops in Perth and Melbourne are starting up real soon. There's the ONE day intensive specifically for Beginners, Painting for Beginners, or if you're keen to spend a TWO full days relaxing into your creativity under my guidance, (beginners welcome!) by the Swan River in Perth or in a forest in Melbourne, Painting with Texture is for you. Can't get to my live workshops? Get on my list over here and stay tuned for my next ecourse. You'll also receive my free book, 5 Ways Your Creativity Might Just Save Your Life. I can't wait to share a creative adventure with you!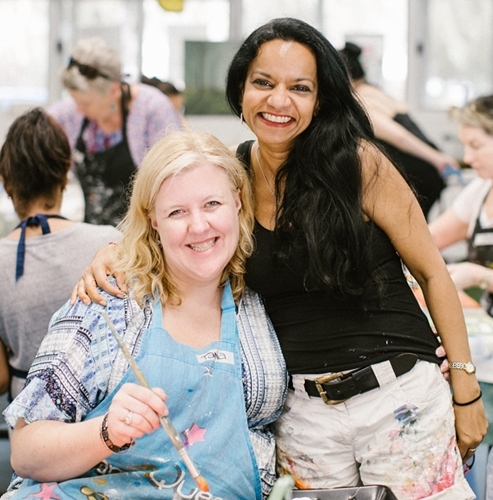 And thank you for reading my story! If you'd like to leave a comment, just click here… tell me about a changing moment in your life, or just come say hi!

Save