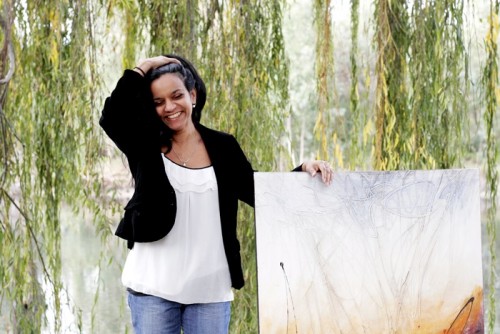 NOTHING ELSE EVER GETS DONE WHEN I'M PAINTING. It starts off just fine. I long to paint, then I get to paint, then I think "aaaah, this feels SO fine, why did I wait so long to do this?" then I Just. Can't. Stop. This means the family has dinner at 10pm if they're lucky and the dogs are beside themselves, cos if we don't eat, they don't eat.
ALL MY CLOTHES ARE RUINED. I pretty much wear the same thing all the time. So I paint in whatever I'm wearing, and now, all my clothes have paint on them. Including the very lovely (hand me down) Versace black leather jacket I was wearing when I got home just now and suddenly started painting.
I NO LONGER SLEEP. Painting wakes my brain up. I mean really wakes my brain up. And because of no. 1 above, when I paint, I keep painting… then I suddenly realise it's 1 am and I turned the electric blanket on 3 hours ago and now I've got paint on my pyjamas, and my brain just won't switch off. I know, I just shouldn't paint at night (see no. 1 above).
NO HOUSE IS EVER BIG ENOUGH FOR ME. I whinge and whine about not having a proper studio space to paint, but the truth is, no matter how large my space is, I will always need more space. We lived in a 3 storey house with panoramic views of the hills and the ocean when I first started painting thirteen years ago. It was huge, but the entire floor area of the house (and the dining room table and my study and all the walls and under the bed) were always covered in my arty crap.
I LOVE PAINTING MORE THAN I LOVE EVERYTHING ELSE (yes, I mean everything else). When Mary was little she said to me, "mummy do you love your art more than you love me?" Yep, being an artist has made me a lousy mother and wife and friend and I love painting so much that I actually don't paint very often, so that I can hang on to my husband, family and friends.
Don't become an artist 🙂