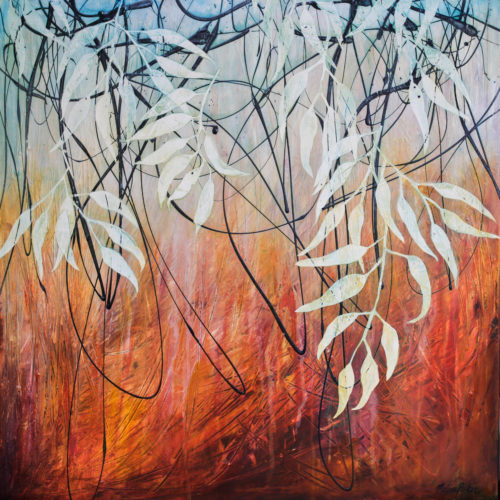 My 11th solo art exhibition opens tomorrow.
I've called it Coming Home. I realised this morning that it could sound pretty weird to some. So I'd like to tell you why.
Here's the story:
This show is my first in my new home, my first home in the hills of Perth, my first home purchased  on my own since my husband Greg passed away 4 years ago. It's been a long and surprising journey finding myself here, almost back at the beginning – my first exhibition EVER was also held in the hills, just around the corner at my sister's home, 13 years ago! In Coming Home, it seems I've come full circle.
I named this exhibition Coming Home for all of these reasons, but there are also two others, and they both point to the mysterious workings of the Universe.
When I first walked into this house in December last year, I had already seen 18 houses that I didn't like. As soon as I entered this one, I noticed 3 paintings on the wall that looked familiar. They were. They were actually painted by me, 12 years ago, and purchased by the then owner of this house. We had never met. I didn't know her. But for 12 years, my art hung in her home.
And then it became my home.
The second reason is one that goes very deep. As many of us have, I've seen a fair bit of adversity in my life. My own chronic, debilitating illness, my daughter's challenges with mental and physical health, my beloved husband's 4 year battle with cancer and his passing after 28 years together. And then I've had the past four years of rebuilding my life and my identity without him.
Through it all, I've witnessed firsthand the gifts that come with adversity. The courage and determination of my daughter. The indomitable faith of my husband. The immeasurable kindness of others as they supported us through our challenges. My own growth, as I struggled to survive. It's no coincidence that my art has themes of fire and growth, darkness and light.
I've used the indefinable magic of the creative process along with faith in an ultimately benevolent Universe to get me through – to "come home" to myself, to my own faith and strength, even when at times, faith and strength were only a tiny glimmer in my heart.
And I've held onto this quote from the Baha'i Writings, "My calamity is My providence, outwardly it is fire and vengeance, but inwardly it is light and mercy."
Fire and Light. Chaos and Growth. Despair and Hope.
These are the themes of my art, and the themes of my life. I hope you find joy in my work!

PS If you'd like to come along to my Open Studio and see Coming Home, all the deets are below. And you can fill your senses with delicious art, all over the Perth hills by visiting dozens of other open studios as well, for the next two weekends!