"There's one in every class," he said, shaking his head and looking annoyed.
Oh oh. What did I say? Day one, lesson one, and I've gotten on the wrong side of the first lecturer, AND the coordinator of the course. This is going to be hard.
It was my first day in art school. We had left Perth for the beautiful coastal town of Albany, seeking a sea-change and a balm to my body and soul after years of struggling with chronic illness.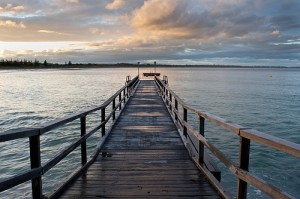 After much soul-searching, walks on the beach (and long conversations with myself!), I finally decided to be brave and take the plunge – and enrol in Visual Art and Design at Great Southern TAFE (it stands for 'Technical and Further Education').
It was a big deal…I had invested years of education in the Medical Sciences and was about to turn my back on it all for good.
When classes started, I was excited and enthusiastic, but also felt very much out of my depth. But this was 'just' a technical college, right? Should be a piece of cake after four different universities and three degrees, right?
So wrong! It was all this creative stuff, unstructured, un-boundaried and more than a little scary. And I was oh so very keen to 'get it right'. Probably a little too keen 🙂
Jim was the first lecturer in my very first class. And after he did his thing, I asked a question, obviously not a very good one – it wasn't exactly welcomed – and that's when I got his curt response. And what the heck did he mean, anyway, "there's one in every class"?  I decided we were NOT going to be the best of friends. I resolved to grit my teeth, hang in there and tolerate his lectures. It's all I could do, Jim was distant, inaccessible and … well, a little grumpy. Not, in my opinion, the qualities of a good teacher.
Man, was I wrong! We took awhile to warm to each other after that but I'm happy to say things improved considerably between us. In fact, it was Jim's instruction, during that first year of what became five years of art studies, that turned out to be the single most defining influence of my entire art education.
Jim was not your stereotypical zany, fun-loving, enthusiastic art teacher that inspired all their students with their passion for art. No, no, no. And he wasn't the sort that doled out praise and encouragement. He wasn't even particularly friendly. He rarely smiled, and he certainly never shared anything about his personal life. In fact, Jim was a bit of a mystery to most of us.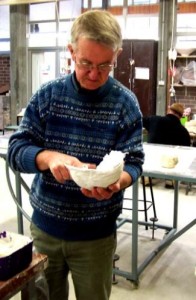 What he did have was that indefinable quality of a great teacher that makes a student actually WANT to learn. Day after day, I would watch as he would take each question asked (of course many of them were mine!), give it due consideration, and answer it precisely and accurately, never leaving anyone feeling they should have known better.
Did I mention he didn't smile? Well, Jim had the best POKER face around, rarely did he let on whether he liked or hated our work … But he had the ability to take each of our precious bits of creativity (and with them, our fragile little art-student-egos) equally seriously, and treat each piece with respect – even though it may have been the worst thing he'd ever seen, and probably often was.
His poker face was quite frustrating, because an interaction with Jim would go something like this.
You would nervously show Jim your work. He might then say, "Are you happy with that?" You would um and ah, and try to scrape around for some intelligent response that didn't make you sound big-headed or overly critical. Then there would be a long silence. And then perhaps, if you were lucky, a very quiet, understated, barely audible, "I am."
And you were left with a weird mixed feelings of being deflated (why hadn't he cheered and clapped?!), and a bit elated that he had actually, actually paid you a compliment.
The thing is, no matter how much you wanted his approval, Jim somehow turned things around, and directed his students to rely on our own analysis rather than to rely on someone else's approval. This was gold – a HUGE lesson for would-be artists to learn.
I still remember the first drawing I showed Jim. I was so excited to have done it – painstakingly copied from some picture in a magazine. I know now that this is THE most UNCOOL thing to do in art school! I can think of at least three other lecturers who would have quickly made that clear to me there and then. But Jim didn't flinch, he just studied it carefully, giving me considered feedback and quiet encouragement.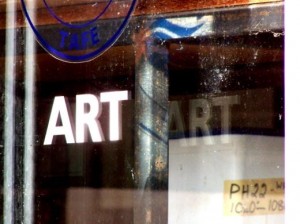 When Jim left TAFE, he had worked there for 22 years. I put together a farewell book with messages from students. We had a little farewell do, and I presented him with the book and said a few words. Jim approached me afterward with very bright eyes and gave me a hug. I nearly dropped dead on the spot! It was a special moment, and I'm glad we marked the occasion for him in a meaningful way.
I had no idea then that I was going to have students of my own one day…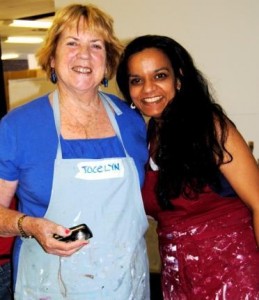 I marvel at how different our approaches are – like chalk and cheese, Jim and I. He was introverted and valued his privacy. I share openly and often with my students. I never saw him laugh. I joke around a lot – my cackle, unfortunately, can be heard for miles around! Jim was never, ever effusive in his praise, I go into raptures over my student's work, and often want to take them home with me! But my intensive workshops are now peppered with an assortment of artful gems that I picked up from Jim, mainly in that first year of my five years of art school. In other words, much of what I teach, I learned from Jim.
I had a lot of really great lecturers in my five years at Great Southern TAFE. But Jim was the one I showed my first tentative, stumbling drawings to, the one who guided my very first paintings, the one who first showed me how to throw a pot, the one who painstakingly taught me the finer points of form and function, the one who expounded most insightfully on the most about the principles and elements of design, and the one who truly nurtured my nascent skills in visual art with his steady, methodical and excellent teaching skills.
And if not for Jim, in that very first year, I may never have realised that I had reached that very important milestone in my journey, the one that said, "Aaaah, this is where you're meant to be".