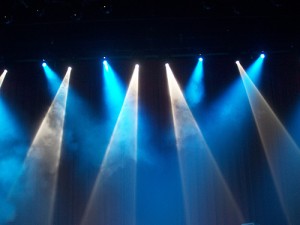 There was an expectant silence as the buzz of the crowd suddenly hushed. This was it. The house lights dimmed, we were in position. Months of rehearsal over.
My head was alarmingly blank. My stomach was a mess. There was a full blown war in there – between my nerves and my gastric juices. Just for a few seconds, I felt a warm comforting hand placed gently between my shoulder blades…A fellow performer giving me support.  It helped for a moment. But then it was gone…and I still couldn't remember a single line of the songs we were about to sing!
I thought to myself "once I connect with the audience I'll be fine".
Then the music began, the curtains opened, and the lights hit my eyes. I always forget how bright stage lights are. Behind them is a pitch black space full of people you are trying to connect with but can't actually see!
It didn't take too long before I relaxed into the performance with everyone else on stage. That was until the third act, and the first of my solos. And there it was again. The panic. I was certain that when I opened my mouth, nothing would come out.
It wasn't like I was new to the stage. It's just that it had always been this way. I'd been singing on stage since I was nine. They say that even the most accomplished of performers can get so nervous that they often throw up backstage, but the 'high' they get from performing makes it all worthwhile. Well, it didn't, not for me! At least, that high didn't cancel out the fear I felt in the weeks that led up to it, or the sheer terror in the moments before.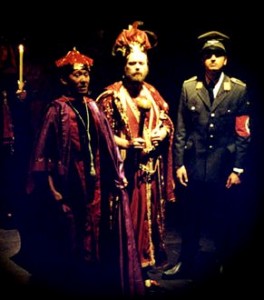 This time, I was playing the part of 'The Lady in White' in a musical written by my husband, Greg, called The Face of Glory. It was a fantastic production, and who knew Greg could write musical theatre? We had rehearsed for months, and 'The Lady in White' was loosely based around the real life character of a nineteenth century Persian poetess, Tahirih.*
I gathered myself and focussed on a blue light I could see in the back of the theatre. "Tahirih", I thought, imagining she was that blue light. "Help me do justice to your memory."
I calmed down immediately.  After that experience on opening night, each time I felt the panic well up inside, I would turn to the blue light and ask her for help. I felt a little silly, terribly unworthy and rather in awe of the role that was inspired by a woman of matchless courage, heroism and purity. But it worked. I felt Tahirih close to me, and I kept going.
Being on stage and performing before a live audience is an exceptional experience. Within the eye of the 'storm of nerves', there is a kind of serenity envelops you as its magic works its way through your system. It captures your heart and if you're very lucky, it moves your audience in a way that nothing else can. Especially if what you are conveying is meaningful, entertaining and elevating to the human condition. I've always felt that if you were fortunate enough to be given a talent, then it was your responsibility to use it, and if possible, to serve humanity with it. Otherwise, it's just a waste.
When I married Greg Parker, musician extraordinaire, it all seemed clear. Our voices blended such that we sounded much better together than either of us did apart (Greg may not agree with this, he was a pretty good singer all by himself 🙂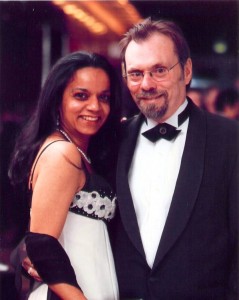 It seemed that our destinies were set – this is was what we were meant to do together. It didn't seem to matter that performing was agonising for me. Being with Greg gave me ample opportunities to serve humanity with my voice, as our common beliefs led us to share many adventures both here and abroad.
The trouble is, Greg was blessed with an unshakeable faith in his own skills. I was blessed with an unwavering doubt in mine. He didn't get pre-performance jitters, he lived for the spotlight. I felt nauseas every time I thought of it.
Nevertheless for years and years I kept at it, I sang, throughout my post grad studies, my first job, my pregnancy, I continued to sing. I had my beautiful baby, Mary, and I kept at it. I started to manage our stage productions, all the while maintaining a presence as lead vocalist in the cast. I even formed, with Vafa Ferdowsian, a dance theatre company, Dizzy Dance Theatre, and co-wrote COLOURS, our first production, staged at PICA.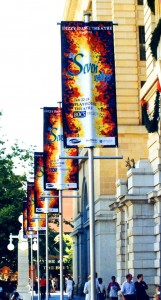 Dizzy's Dance Theatre's next big production, The Seven Valleys, was at the Playhouse Theatre, and it toured Western Australia. Then Greg's new show, Awaken, did a massive Australia-wide tour. Dozens of performances in cities all over the country with over thirty performers on a bus. A logistical challenge. I put so much work into that show, that my back gave way and I ended up in surgery shortly before the bus took off… without me. The tour was a fantastic success in many ways, including the two marriages that sprang from it! (There is nothing quite like sharing the intensity of performance in its capacity to forge bonds of friendship).
By this time, it was becoming clear that something was wrong with me. It took me awhile, but I finally read the signs and realised that this life was taking its toll on my health. These signs weren't subtle. I couldn't walk without aid, sometimes, didn't have the strength to hold a cup. (It was around this time that I came upon The Question that Changed Everything). My life was shortly going to become very different.
"If you are irritated by every rub, how will you be polished?" Rumi
I've identified seven milestones that led me to becoming an artist. This was milestone number 2, I call it the one that said, "Just because you can, doesn't mean you must", and it took years, surgery, numerous doctors, and a lot of pain, to decipher it.
When I did, I realised that just because I was good at performing and managing productions, and even enjoyed a great deal of the work, didn't mean I should spend the rest of my life doing it. (I still sing, but interestingly, performing no longer has any impact on my gastrointestinal function at all!)
Back then, there was a piece of the puzzle missing, and its absence had a profound impact on my wellbeing. That piece was using my own creativity, finding my own 'authentic voice' and ironically, it wasn't to be in music. I found that authentic voice in a beautiful coastal town called Albany.
Another story.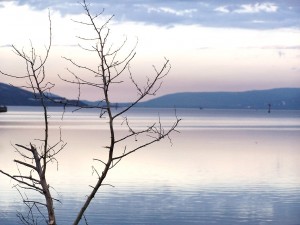 ---
*Tahirih was a phenomenon unparalleled in her time. She was a renowned poet, quick in argument and eloquent of speech, in an age when women remained veiled and secluded, denied education, and dominated their whole lives, first by fathers, and then by husbands. Tahirih was killed for her uncompromising demands for the emancipation of women.