Over the past seven days, I have read 17 books.
I was driven to binge-read Alexander McCall-Smith wonderful series, The No. 1 Ladies Detective Agency, as a distraction from an extreme and sudden injury to my back.
What happened?, you might ask…
Umm… I wish I had an amazing story! One that was compelling enough to match the white hot searing pain that coursed and pulsated through my hips over the past few days, every time I moved.
But no, there was no Big Event. Ironically, it was actually preceded by a Pilates class (during which I did feel a twinge in my back), followed by an enthusiastic and overly long day of preparing textured surfaces for my upcoming art classes… it was just a very busy day.
White hot searing pain does seem to be somewhat of an over-reaction to a very busy day. Apparently my back is a bit of a drama queen.
The level of pain was interesting. Every movement. Every, single movement, triggered it. Cleaning my teeth, making a cup of tea, sitting on the loo (boy, was that an experience!), getting in and out of bed, rolling over in bed… we use our back in almost every action, no matter how tiny,  and if you're MY back (the Diva of my musculature), delete 'almost'!
To be fair, my back has been doing a great job at holding me together; I'm just trying to teach it that it doesn't have to run the whole darn show! There's a choir of muscles here in this body, surely we can take the load off the self-proclaimed soloist, and do this together? Hence the Pilates – an attempt to re-train my body so that other muscles can share the load, so to speak. My back did not agree.
I've had long periods of debilitating back pain before, I've even had surgery on my back. Maybe my memory fails me, but I don't recall any event that has quite matched the extremeness of this one. However, the most interesting thing about this experience has been observing my own reaction.
In the past, no matter what the injury, I would respond to it with self-recrimination. "You've brought this on yourself, girl! When are you going to learn to take better care of your body?!"

You know that kind of self-talk: Blame. Shame. Here we go again.
This time, I bypassed that thorny path and went straight to Gratitude. And I had a lot to be grateful for. Like…
Imagine coughing and sneezing with an injury when even hiccuping caused blinding pain?! Well, there is an influenza epidemic that is sweeping through Perth, some say it's the worst one in a quarter of a century, but I didn't have the flu!
Feeding myself? I couldn't even make a cup of tea! Well, my sister cooked food, her husband brought it over – WITH a microwave for heating up the wheat pack, AND pain medication, AND two types of ointments to help ease the pain!
Alone and vulnerable? My nephews and nieces stepped in with pizza and laughter! One even brought his books around to my house, and set about studying here for two days so that he could be available to help me get in and out of bed, or lean on him as I hobbled.
Needing a distraction from the pain? My book addiction (combined with my less than brilliant memory) meant that I could lose myself re-reading the ENTIRE series of the No. 1 Ladies Detective Agency, and bask in the gentle kindness and wisdom of each story.
Worried about my dog Ruby? She is an Australian working dog – a beautiful black Kelpie. Intuitive, loyal and intelligent. But also the sort of dog that has been bred to spend hours running in paddocks, rounding up sheep. In other words, she needs to run, at least twice a day. I could barely manage a hobble. My neighbours stepped in and took her to the park for me. Ruby was fine. In fact, one day, TWO neighbours offered, and I accepted!
I had no time, no precious time to waste on blame, shame or despair. I was inundated with Grace.
Grace from above, Grace from below, Grace on every side.
———————————————————-
This year has provided a continuing lesson in letting go and trusting in the unfolding of life. I am in the process of selling the family home. Once I let go of it in my heart, its sale became a relatively easy process. And much to my delight, it is being purchased by the wonderful people who have been my tenants for the past few years!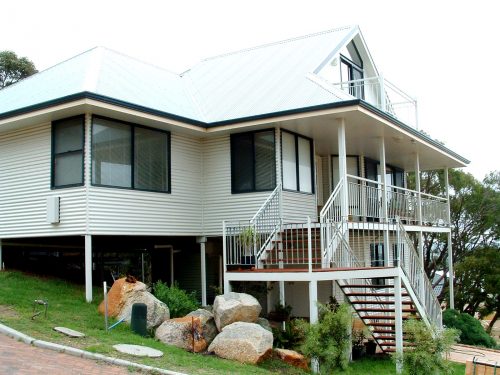 But as the settlement date draws closer, complications have arisen that have tested my patience. And then it occurred to me that all Big Transitions in life, things that involve a huge energy shift from one state to another – being born, dying, getting married, building a house, selling the family home – all these can be stressful and painful because they involve Big Change and Shifts.
I'm taking that as a metaphor for what's happened with my back. I've changed. The shame of having "weak muscles", of having poor coordination, of injuring easily – is gradually being replaced with the acceptance of what is, of a gentler, kinder inner voice that speaks to me with compassion when I'm in pain, physical or emotional, and the conviction that this too shall pass. And that Big Shift in me, has been accompanied by Big Pain. Cool. I get it.
It also reminds me of the process of making a painting.

I have found that when I paint, at some point, the exhilaration of the creative process will inevitably be replaced by a voice in my head that screams, "what the HECK?! This is JUST not working!" Despair can block creative flow at this point.
But over the years, I have trained myself to detach from all outcomes and stay in the process. I quiet that voice of despair by reminding it that, "It's just a layer. Layers can be re-worked, covered, used as a spring board for change." I trust that I will find a way forward, even when uncertainty is all I feel.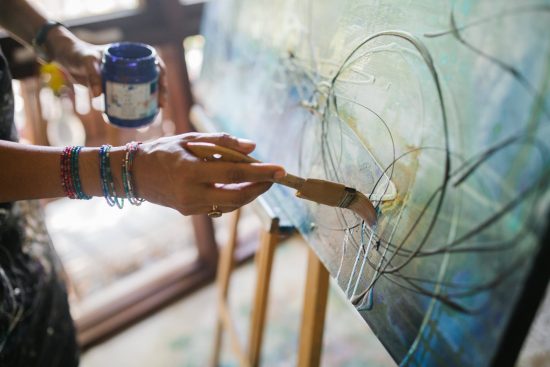 How do I do this?
I look for the bits in the painting that I love. I focus my energy on those exquisite details, even if they are barely visible to the naked eye. I use them to inspire me, to remind me that NOT EVERYTHING is not working. I step away from my frustration and despair, and look for that bit of radiance, that touch of light, that combination of colours which are lovely. I trust that there is light and beauty around the corner, despite the fact I can't see around corners 🙂  And I am grateful for these small things, for the magic of the creative process, and I keep working.
It's a framework that I know and trust.
What a marvellous metaphor for every single one of life's layers! We tend to wait for those Big Things – the Perfect Partner, the Wedding Day, the Amazing Vacation, the Dream Home, the Big Adventure.
But life is made of small good things.
The sister's soup. The neighbour's kindness. The exquisite bit of blue in the painting that makes the orange sing. The kind and gentle voice I am learning to use, to ease my way through a painful event.

Detach. Let Go. Trust. Be Grateful. Focus on the Small Good Things that are working.
And keep painting.
————————————————————————————————————————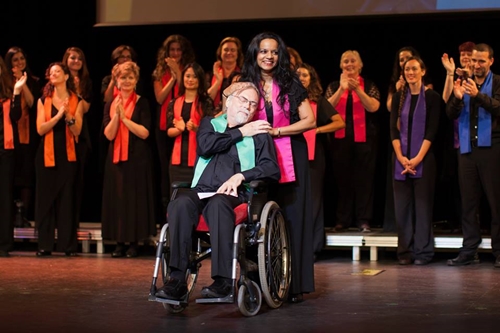 As I write this, I find that the extreme pain has abated enough for me to be able to perform with the New Era Baha'i Choir tonight. This beautiful choir was founded by my late husband Greg some decades ago and much loved by him til the end of his days!
Tonight's special event is part of global celebrations to mark the 200th anniversary of the birth of the Prophet-Founder of the Baha'i Faith, Baha'u'llah. (If you're curious, this is a great information site, and the Huffington Post covers this world-wide event over here.)
It's such a privilege to use my voice to uplift and honour the human spirit and our oneness and to be well enough to do this! And I am reminded:
A choir is made up of small good things working together. Just like a painting. Just like you and me. Just like life 🙂
——————————————————-
If you'd like to leave a comment or share YOUR small good thing, click here. I read and respond to every one!