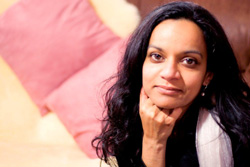 I'd imagine that people become artists because they just know that's what they have to do – and it's all passion and talent and skill rolled into a burning desire to do nothing else.
Not me.
I became an artist by accident.  It was a strange journey, via the Medical Sciences, full time motherhood, a long stint in the performing arts followed by a few years of debilitating illness, a move to the country, and then, equipped with three (non-art) degrees and several (non-art) professions, I finally started studying art…
But we're jumping ahead. About a year before I got to that point, I recall a 'changing moment' in my life. Of course I didn't recognise it as such then.
I had been ill with severe chronic fatigue syndrome for some time and was sitting with a yet another doctor in the hope that he would be able to help make me better. After the usual medical stuff, he leaned forward and looked intently into my eyes, for what seemed like a ridiculously long time. Just when I was starting to feel decidedly uncomfortable, he sat back thoughtfully, and said:
"Malini, do you have an outlet for your creativity?"
'What an odd question!" I thought.
I mumbled something, a little annoyed at his (rather non-medical) intrusion into my private life, and promptly dismissed the whole event. In fact, I took at as a sign that here was yet another GP that couldn't help me and I never went back to see him.
Fast forward a few years.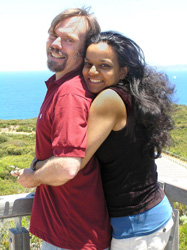 Seeking the proverbial sea change, I took myself and my family to Albany, a beautiful coastal town in the South-West of Western Australia. There I took the plunge and enrolled in art school. It was exhilarating! So much so that I keep thinking, "So this is why I was such an appalling scientist!"
Remember that feeling when you fell in love for the very first time? That's what it was like. Making art was all I could think about – first thing in the morning, last thing at night. It was a beautiful and all-consuming feeling. It was almost a struggle to do anything else. The year I had my first solo exhibition (while I was still a student), was the year I remember thinking "I'm well."
Of course, it wasn't just making art, a lot of things had changed to make me well but really, that doctor was on to something.
The thing is, it was adversity that first led me to art. I turned to study because I was too sick to work.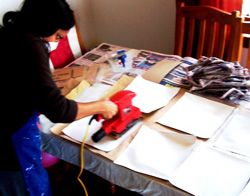 There were days when I couldn't walk without a walking stick, didn't have the strength to hold a cup and had to be carried to the toilet by my husband. But on the days that I could, I got to my classes and I made art.
Eventually, making art helped change both my life and the way I defined myself. I went from a mediocre scientist (who was terrible at maths!) to a chronically-sleep-deprived-mother to an overwhelmed-by-the-adrenalin-of-constant-performance-singer to where I am now: a very contented artist.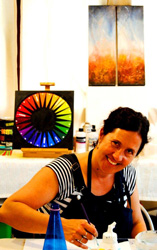 I am also a workshop presenter and teacher, one who guides absolute beginners down the path of making art via my intensive art workshops. Helping others explore their own creativity through my workshops has also become a consuming passion for me.
Someone once said, "Making art is a gesture of hope". I now regularly get to witness that hope in my students' eyes. And it's an honour and delight to take that journey with them.
When I tell someone I'm an artist, I can almost guarantee that the next thing I'm going to hear is "What sort of art do you make?" It's a simple, polite question. One for which I haven't yet worked out a simple, polite answer.
What I DO want to say is something like this:
"Well, it was adversity that led me to art, and ever since, it is adversity who has been my constant companion. So it's become the theme in most of my work – I try to paint the journey from adversity to 'the other side' and all that happens in between."
See what I mean? This is not a simple answer to "What sort of art do you make?"!
Adversity is never what it seems. I once heard it being referred to as 'a gift that is wrapped up in sandpaper'! It's a mysterious phenomenon – that humans need tough times in order to become tough. I find it is expressed rather eloquently in a passage from the Baha'i Writings, where the Divine declares,
"My calamity is My providence. Outwardly it is fire and vengeance, inwardly it is light and mercy."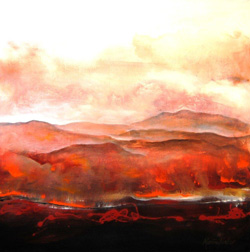 It goes on to suggest that we should embrace all the hard stuff, as eventually, it leads to eternal strength.
So I paint these intriguing, yet universal ideas: that beauty and growth arise from periods of darkness and despair.
If do it often enough, maybe I will finally 'get it'. Someday, when crap happens, (as it regularly does), my first thought won't be "I need to escape to a paradise island!" but will instead be:
 "Bring it on. Only good can come from this!".
So I'll leave you with this little suggestion: Go over to the closest mirror, take a long look into your own eyes and ask yourself,
"Do I have an outlet for MY creativity?"
That creativity – when it finds its expression – may not change your life completely, but it will help complete your life.
______________________________________________________________
PS I now live in Perth, Western Australia where I regularly run workshops for beginners … and in clear across the country, in Melbourne from time to time. I am also developing an e-course for those of you that live everywhere else in the world! You can find out more about my unique (and so, so fun!) one day intensive workshops over here, and my e-course over here. I'd love to meet you 🙂