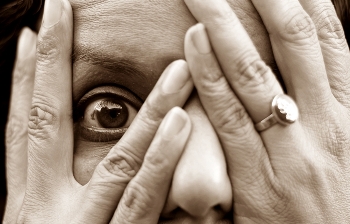 "Yvonne, I am panicking!"
My voice was slightly hysterical as I wailed to my old friend on the phone. "I don't know how to do this, I don't know how to start, it's terrifying me and I'm paralysed with fear."
Yvonne calmed me down and proceeded to give me some simple steps. She chuckled as I repeated them back to her so I would remember them.
I then tried REALLY hard to block out all the voices in my head that were screaming, "You can't do this, you've never been able to!" and I set about following her steps.
What was I so fearful of?
Sorting and Packing my house.
And yes, I'm only too aware that a "fear of not being able to sort my stuff and pack up my house" is a ridiculously indulgent one. Other people have real problems. Like no stuff. Or no house.
But there I was. I'd signed the lease. I was moving into an absolutely adorable blue cottage that was almost too pretty for me to live in.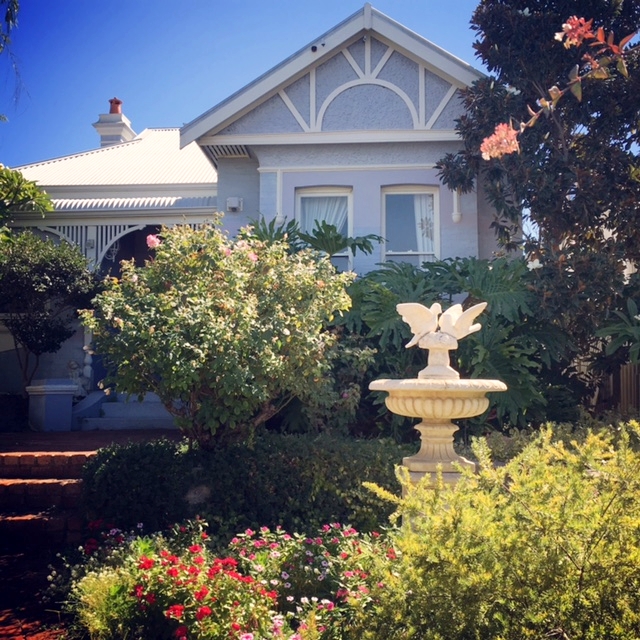 I felt completely and utterly panic stricken, but there was no turning back. It wasn't just my sorting and packing phobia, it was that I was doing this alone, for the very first time. No husband Greg – he died 3 years ago. No daughter Mary – she'd grown up, left home and moved to England. And I had 30 years worth of stuff from my life with Greg, 25 of those years with Mary, and 16 of those years as a visual artist – for whom Every Darn Thing is fodder for making art.
And let's not even get started on my mild obsession with books. Or the three generations of photographers in my family – most of whom took pictures before the digital era… (when photos were printed with "two for one" offers !).
Or the countless musical productions Greg and I staged, which generated a LOT of material … Or the memories and emotions tied up within each of those things.
We'd moved house 3 times in the last few years, the last move just 4 days before Greg died. Each of those moves were undertaken when our family was in a state of emergency, when everything was just packed and moved. There just wasn't time for any sorting.
How did we do those Big Moves? Well, Greg and I naturally generated 'community'. People gravitated towards our home partly because our doors were always open, but also because there was always some Big Project that Greg and I had dreamed up – projects which needed many more hands than ours to make happen. Those hands belonged to people that eventually became lifelong friends.
And then there was the Greg Factor. He was renowned for dropping everything to help someone in need, and he had a powerful, larrikin kind of charisma that drew people to him.
I, on the other hand, was very good at making lists. It was a magical partnership.
So each big house move we made just drew on the reservoir of kind, enthusiastic hands that were part of our lives.
But now Greg was gone. I was … just me. Paralysed by the fear of not feeling able to sort and pack one shelf, let alone an entire house myself.
I started on April 2nd, 19 days ago, with the piano stool. It was bulging with papers that had been there since my 25 year old daughter started playing the piano at age 9. I pulled everything out, spread it out on the floor, and started sorting. Within ten minutes I was sobbing. Memories of Mary's first piano exam. How scared she was. Of the years of anorexia and depression that made her stop playing. The handwritten notes she'd made when she started again.
I kept going. And then suddenly the piano stool was done. I had created my first bag of rubbish. And de-paralysed myself.
Pretty soon I had done several bookshelves. Discarded 150 books. Changed my ugly office storage system to something that I liked looking at. Sold the garden shed. Filed papers that had piled high on my desk. Wondered at the mystery of how and why I had acquired 15 pairs of scissors and 10 nail clippers. Sorted through enough stuff that I was ready to start packing…And then friends and family offered their help. Boxes, laughter, strong arms, willing hands.
There were also many more instances of overwhelm and fear, way too much coffee (2 cups is one too many for me) and too many hot soupy Asian noodles eaten at the end of the day when I was simply too tired to cook.
But as I write this, the house is now almost packed, as is my once overflowing studio. I've thrown away or given away enough stuff to fill a small country. And importantly, I have handled every single item and decided what to do with it. Myself.
So just in case future me tries to slip back into panic and forget my newly acquired Superpowers, (when the inevitable happens, and I have to move house again), I'm going to record forever the 3 main things that helped me get to this point. The first two are adapted from Yvonne's advice that fateful, first, panic-stricken day:
Start with just ONE shelf. Forget everything else. Go for the top right hand side, just cos it's the one you look at first, and you will feel great to see it empty. Have 3 boxes – keep/throw/giveaway. Pick each item up. Put it in a box. Then repeat.
Future me, remember this: Start with ONE shelf.
(This applies to everything in life.)
If panic threatens to rise up from the belly, then grip you by the throat and eyeballs so you can't see or speak, say this over and over again: "I am the boss of my stuff. It is NOT the boss of me. I decide. Live or die!"
Future me, remember this: Who's the boss? You are.
(This does NOT apply to everything in life!)

People are kinder than you think. When you ask, (and even when you don't), they will help you.
Future me, remember this: Take Action … then Trust you will be assisted when the load is too heavy to bear on your own.
(This definitely applies to ALL OF LIFE.)
I think there is a kind of magic in facing down a fear, no matter how ridiculous it may seem. I am so, SO tired, but I feel stronger and somehow more complete.
And soon, of course, the un-packing looms! I'm not sure how I'm going to tackle it, but perhaps I'll just …
Start with ONE Box, remember I'm it's Boss, and Trust.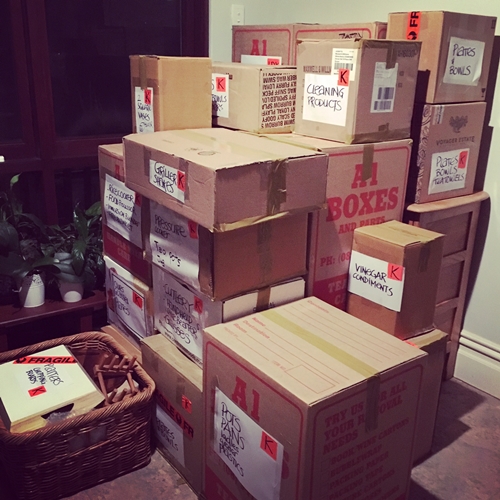 How bout you? Have you had any ridiculous fears that you've smashed lately?! Do tell… I'd love to know! Over here.
_____________________________
Are you curious about painting, but maybe a little fearful about the whole 'creativity thing'? I can help! I will take you by the hand, and teach you how to paint in my one day intensive art workshop, PAINTING FOR BEGINNERS. Big Magic happens in that one day! (and every time we use our courage). More HERE.