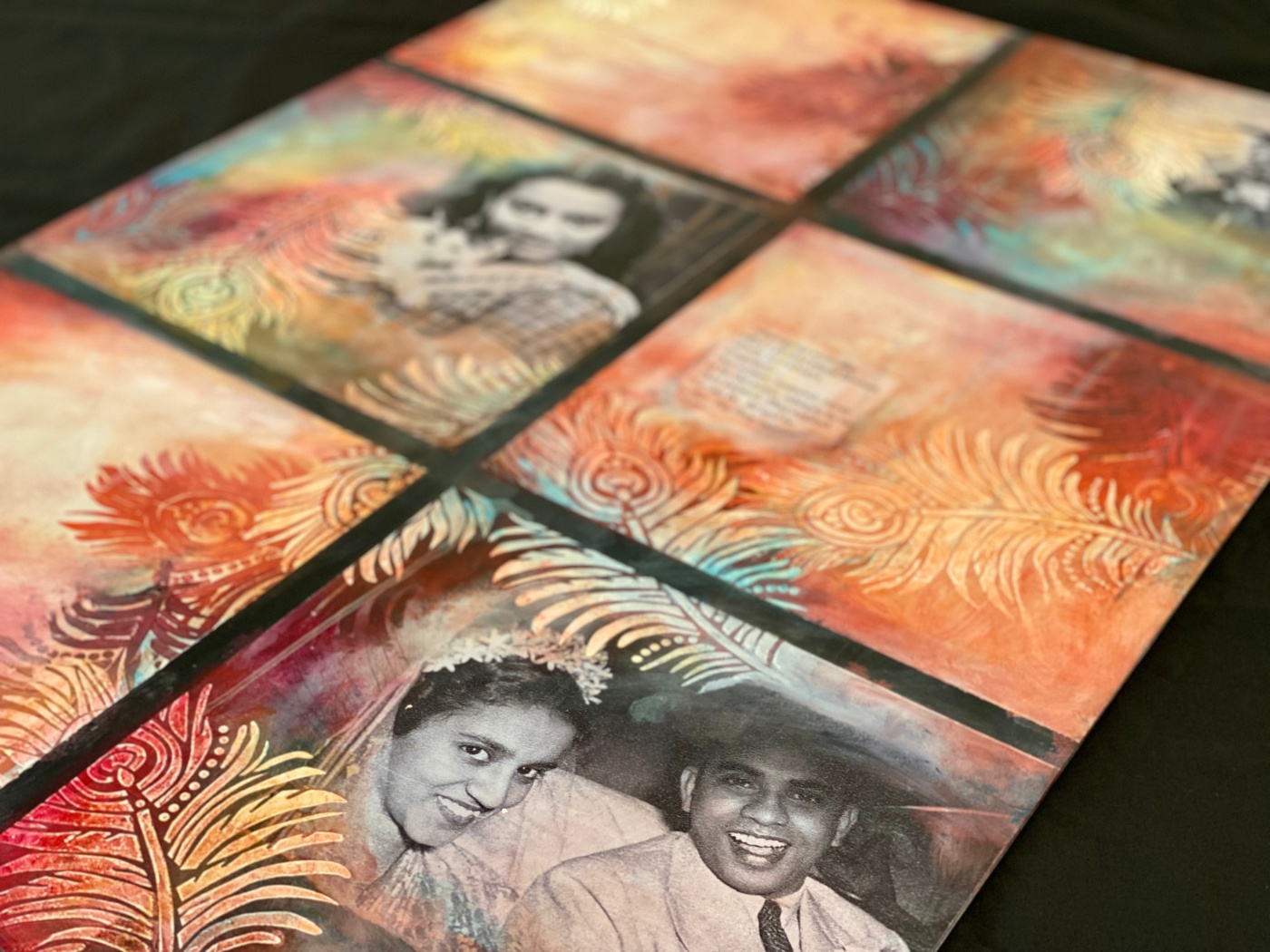 You've got a lot of photos. Most are on your phone, but there are some precious lovely images in boxes. And some of those really special ones are even in photo albums! 
You've wondered how they can be more visible … should you make a photo wall? Or maybe something more creative, but how? What?
Do you love fiddling about with paint and texture … or maybe you just love the IDEA of it, but you've never (or rarely) actually picked up a paintbrush. Who has the time? 
And then there's the images of people or animals that you love and now miss so much. How can you honour their memories? The ties that bind you to them forever?
Wouldn't it be wonderful if we could take these beautiful connections, these layers of life's gifts, and turn them into layers of art? ENTER my new 'FAMILY TIES' WORKSHOP.
"After a good dinner one can forgive anybody,
even one's own relations."
-Oscar Wilde
Family is the one thing we can't change (except for partners), we can't choose and we certainly can't fix! But family shapes us as much as all our life experiences and journeys (which we CAN choose and change!)
What I know for sure is that family …
Shapes us.
Overwhelms us.
Strengthens us.
Defines us.
Accompanies us.
Loves us.
For a long time, I have incorporated text and photographs into my work. It began over twenty years ago, when I first started making art, and found some old black and white pictures of my mother (that's her and dad in the painting above). I didn't want to stick them in an album. So I added some texture and paint and kept going.
When my daughter Mary became part of my art, it was fun combining images of her childhood with her babyhood, using colours she loved, and words to describe her.
Family has so many variations and subtleties, and it includes the furry ones too! Below is a painting I did of using images of mothers and daughters - my mum, Mary and me, Mary on her own and Mary with her baby - River dog!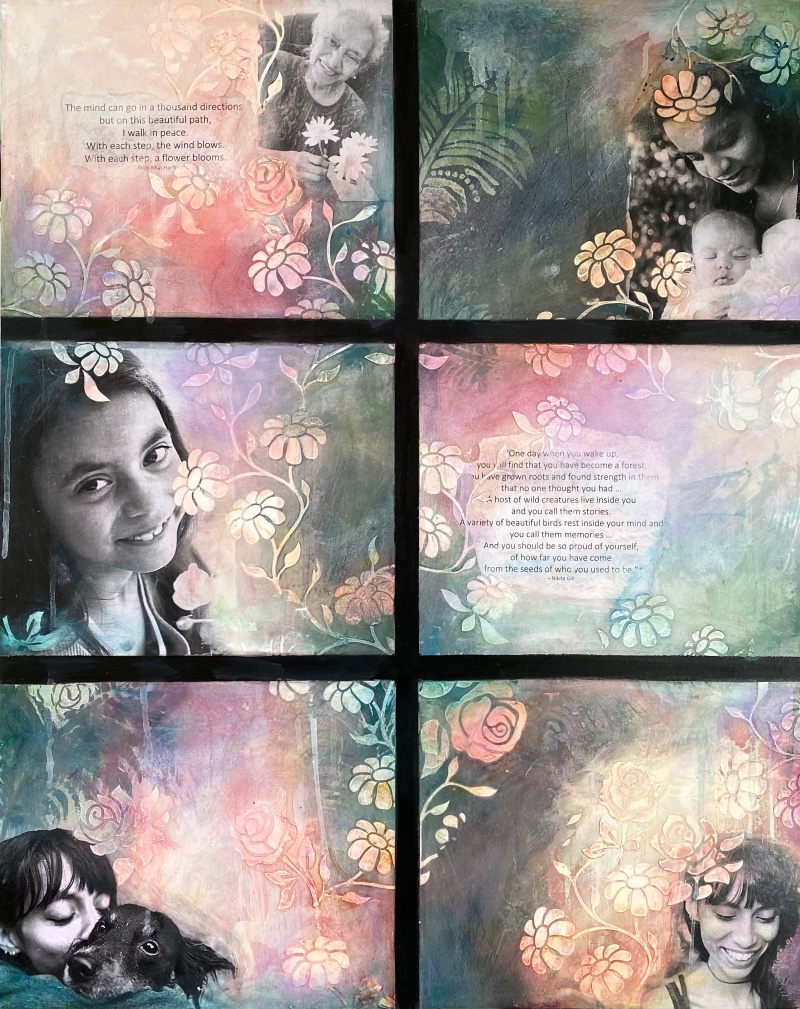 This workshop is all about using the beautiful connections we have in our circle - be it human or animal - related by blood or not. Who forms the matrix that gives our lives cohesion and meaning?
In this workshop, we will write, tear, glue, paint, swap stories and food, and create in words, photographs, paint and texture, deliciously personal art that celebrates our 'Family Ties'. I can't wait to see yours!
"As an absolute beginner it was amazing to spend a weekend learning so much so quickly and be able to come away having achieved what I only dared hope I might be able to do. The beautiful setting and Malini's generous and supportive nature create such a wonderful learning environment. I totally recommend her classes." -J.Simpson

WHO THIS ART
WORKSHOP IS FOR
This workshop if for you if you like the idea of blending photographic images with paint and texture, for a unique visual feast that is all about your family ties. You don't need any previous experience in art, (absolute beginners are always welcome!) or any special art supplies, as I will provide everything you need to make the paintings – but you will need to bring photographs!
SUPPLIED: Panels to paint on, paint, mediums, texture pastes, brushes, spatulas, palettes, aprons, a notebook for you to take MORE notes and ... chocolate ... and birdsong!
YOU BRING: You lunch, and your photographs. These are Photographs that you wish to embed and include in your paintings. These will need to be photocopied or laser printed on regular paper, and I will send you detailed guidance before the workshop so you know what's what.
LOCATION: My light-filled, peaceful, purpose built new studio in Glen Forrest in the Perth Hills, perched high amongst a glorious forest of eucalyptus trees and kookaburras, just 30 min from Perth CBD! (Because of it's location, the terrain is not wheelchair-accessible.)
UPCOMING DATES in 2024 will be announced in my newsletter. You can subscribe HERE, or 
email info@maliniparker.com to go on the waiting list.
PRICING PER TICKET (incl ALL supplies):
$597 (FULL price)
$547 (EARLY BIRD price)
$525 (SUPER DUPER EARLY BIRD price!)
"My eldest daughter kept asking if I had really done that!! But even more important than the product (which is nevertheless thrilling for me!) was the process. I love learning and you are such a great teacher. I also loved being with such an interesting group all weekend and experiencing the gradual unravelling of stories and emotions. Quite a weekend! Thank you so much." - A Lovely Student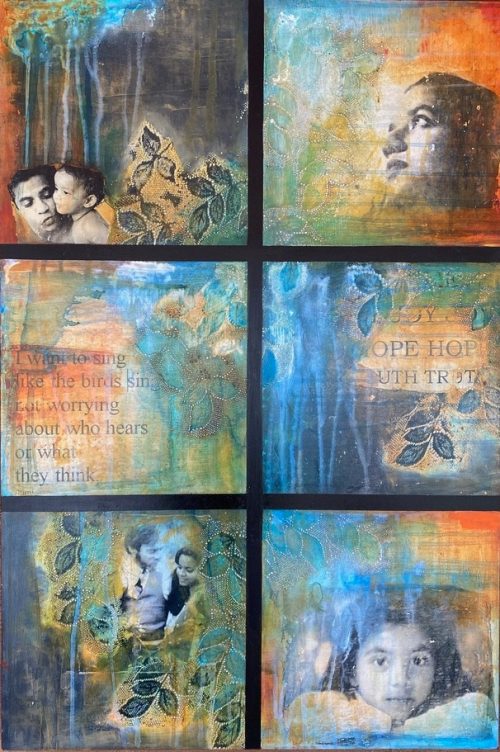 SUBSCRIBE TO MY MAILING LIST and GET MY E-BOOK FOR FREE
It's called 5 Ways Your Creativity Might Save Your Life and you can get it by dropping your details in below. You'll also receive my updates on events and inspiring tales to help you live YOUR creative life!