TAKE FLIGHT - FIND YOUR AUTHENTIC VOICE
"I have been painting since I was young but have never had any formal instruction. You will never know how far you have helped me come. Thank you from the heart."
– Harmony Matthews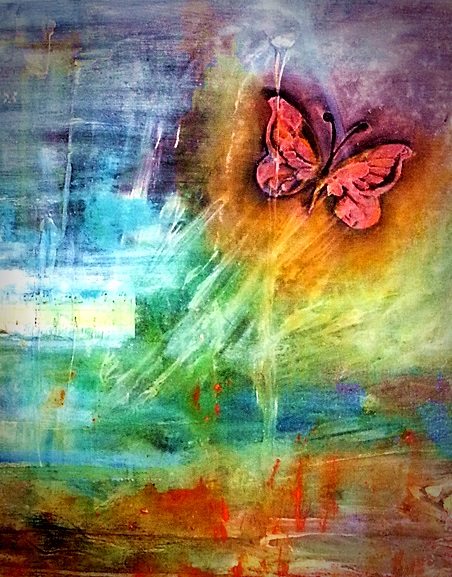 Take Flight is your chance to pause from the juggling act of  life for two full days and just focus on ONE thing:making art … and making AUTHENTICALLY your art. In an environment of laughter and friendship, learn to paint boldly and with more awareness of your own 'voice'. Here we delve into our stories, and come up with all those unique symbols and metaphors that reflect OUR own journey and no one else's.
The result? Art that is part-painting, part-story and wholly authentic.
"I learned so much the past two days, not only about refining the techniques you've taught us, but also how to put 'myself' into my paintings. TAKE FLIGHT was the final piece of the puzzle which tied everything I'd learnt from you so far together into a whole."
– Carina Uehr
WHO THIS ART
WORKSHOP IS FOR
If you have already done 1 or more workshops with me, you are ready to Take Flight if you …
Want to dispel those fears around the creative process that are holding you back.
Are open to the surprising possibilities that creative exploration can lead to.
Would like to make art that embodies your story.
Would like to learn a few more tips and techniques from me.
Would like to identify and develop your unique style.
Are getting a little curious about the 'Artist's Life' – What's it really like, how do artists price and show art?
Enjoy the company of other like-minded, newbie artists who are keen to 'take flight' in a joyful, safe and fun environment.
WHAT PREVIOUS STUDENTS
HAVE SAID
"I just wanted to tell you how wonderful you made me and most probably all the others in the group feel totally special on the weekend.   I had some doubts about my ability to be any type of artist and possibly still have a bit of doubt, but you gave me the confidence to plug at it and see where it takes me."
- Maria Cullinan
"You have touched my heart and I will be eternally grateful for you and your passion to pass on your knowledge and skills to others. I feel a great sense of happiness, gratitude and contentment after participating in the Take Flight weekend. I really enjoyed the workshop and all of the activities… I feel inspired and motivated to continue my practice and to experiment with new techniques."
- Jenni Harrison
"I learned that fear is not to be feared.  Even just the fear of making a mark on canvas."
- Helette Engelbrecht
"Thank you for another weekend of golden moments  – I admire your enthusiasm and warmth, it spreads so easily amongst another newly formed group of 'arty friends'. It is amazing how we come together as unknowns and walk away 'knowing' much more than names and email addresses. This art world is another language of life and I love it so much! Thank you for this gift of discovery. For all we have shared so far I am indebted to your skill and gentle leadership."
- Robyn Marley
SUBSCRIBE TO MY MAILING LIST and GET MY E-BOOK FOR FREE
It's called 5 Ways Your Creativity Might Save Your Life and you can get it by dropping your details in below. You'll also receive my updates on events and inspiring tales to help you live YOUR creative life!