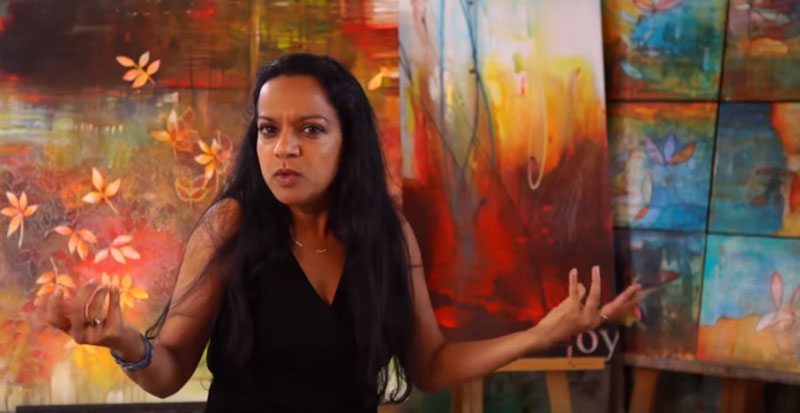 I speak in stories, sharing my insights on life and creativity, grief and recovery with personal anecdotes that will make you laugh and touch your heart as you recognise your own journey through my foibles! With a previous history of seven years of chronic fatigue syndrome, a decade of helping my daughter survive severe anorexia nervosa, and four years of nursing my husband through chemotherapy, I have a LOT of stories! And then there was also the soul-bending experience of losing him to cancer after 28 years of marriage.
Re-training as an artist, leaving behind a profession in the biomedical science, building my artistic and teaching practice while looking after my husband and daughter, was no walk in the park. How did I do this? It was a combination of trust, faith, and creativity that fuelled me, helped me navigate the adversity and see the threads of Grace that have woven their way through my journey.
Regardless of what I've been through (or perhaps because of it), I believe that this is a life of awe and wonder, and I would love to share my stories with you. If the idea of 'walking the practical path with mystical feet' is something that appeals to you, then I may have something to offer.
I HAVE SPOKEN ABOUT:
These and many other topics –
Creativity and Courage
The Surprising Benefits of Making Bad Art
How Your Creativity Can Save Your Life
Creativity and the Spirit
5 Things I Learned From My Mother – a Personal Perspective on International Women's Day
Detachment from Outcomes – the Secret Sauce to Life
What It Means to Me to Be an Australian
Embracing Change – Turning Points in My Daughter's Long Battle with Anorexia
THINGS YOU MIGHT BE WONDERING ABOUT:
In general, it costs AUD $750 plus accommodation to book me to speak. However, I also set aside 3 presentations a year for small groups and causes close to my heart, that are offered free of charge.
If you're interested, please contact me via email – I'd love to hear more about your event and work out if I'm a good fit. If I'm available to speak, and the topic is one I feel I can contribute to, we can discuss the nitty gritty!
WHAT PEOPLE ARE SAYING
"Malini is an exceptional speaker. She is authentic, sincere and has the rare gift of captivating her audience through her eloquence and charm.  Even with a voice barely above a whisper from laryngitis, she still managed to enthral the audience with her moving stories and insights on creativity, adversity and life. The feedback from all the participants who attended her presentation was that she was 'amazing'!"
– Soraya Majidi, Albany Public Library Special Projects and Grants Co-ordinator
"Malini is one of those extra special speakers who just touches your heart before your mind can even work out why.  A master story teller of life she unassumingly models for us the art of weaving grace and gratitude with the poignant human experience of vulnerability and struggle . The aches and losses in her own journey are as real as they come, and yet wrapped in the beauty she uniquely creates as much with her sincere words as she does with her art."
– Beeta Vahdat, Influence Consultant & Coach, IMANI Strategic Communications
"Malini's journey thus far features themes we can all relate to ... crisis and victory. Her story alone is inspiring, touching, joyful and sad but what makes her stand out in her talks is the way she has been able to glean the lessons life has offered her through her numerous ordeals and craft them into a very personal and beautifully told story that touches all hearts."
– Anna McDonald, teacher.
"Malini is a genuine and engaging speaker. She speaks from the heart with great warmth with an amazing ability to share her message in a captivating and enchanting way that is extremely heartfelt and makes me want to hear more!"
– Chioni Hicks, Founder.
"A passionate and insightful speaker, Malini really connects with her audience, and takes them on a journey. It's a true pleasure to hear her speak."
– Phil Doncon, artist and performer